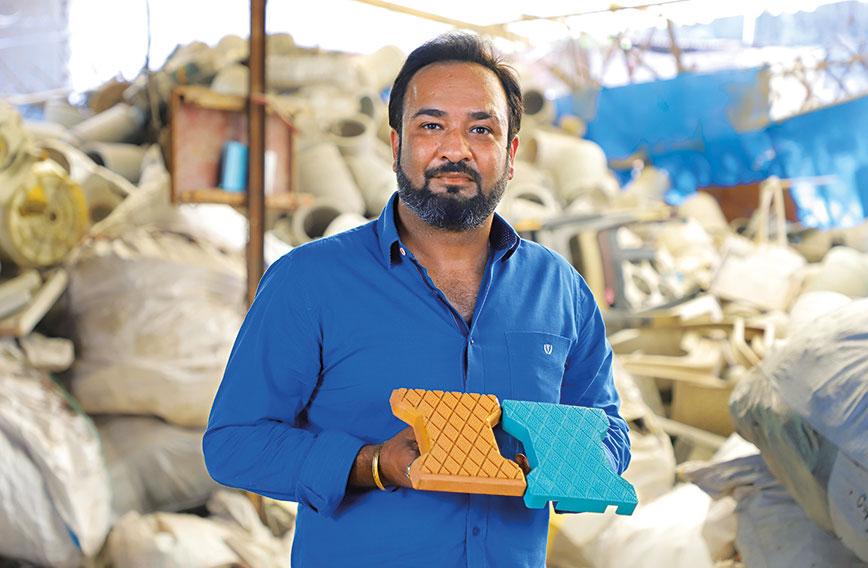 Paras Saluja with tiles made from plastic waste | Photograph by Shrey Gupta
Tiles from plastic for paths and roads
Rwit Ghosh, New Delhi
Published: Jul. 10, 2019
Updated: Jul. 30, 2019
ParaS Saluja is sitting coolly in a scrapyard in Ghaziabad, unaffected by the heat or the junk. His business, Shayna EcoUnified India, converts non-biodegradable plastic waste like polybags, packets of chips, plastic bottles and bottle caps, into attractive, colourful tiles.
Saluja with his friend Sandeep Nagpal started Shayna Ecounified India in July 2017. Till then, he had zero experience in waste management. He had been working as a distributor of pharmaceuticals. So why did he deviate and set up a social impact enterprise?
An avid mountaineer and adventure junkie, Saluja says he did the Everest Base Camp trek in 2015 and was shocked by the amount of plastic waste he saw on one side of the famous mountain. "I wanted to do something but I didn't know how," he says.
Soon after, he went off on vacation to Hanoi in Vietnam. He visited local markets and noted that at night those streets overflowed with trash but by morning they would be super clean. "How come Vietnam, a small and economically weaker country than ours, can keep its streets litter-free and we can't," thought Saluja.
Back home, he began browsing journals and newspapers, trying to figure out how he could make a difference. He came across information about the National Physical Laboratory of India (NPL). At that time, the NPL was working on technologies on plastic recycling. Saluja approached the NPL and said he was keen to work on recycling plastic waste. The NPL told him about a technology they had invented which could convert plastic into tiles.
Saluja and Nagpal bought the patent rights (on a renewal basis) from the NPL. In July 2017, the patent was transferred to their company, Shayna EcoUnified. They invested Rs 1 crore and began manufacturing tiles made of high-density composite polymer in February 2018.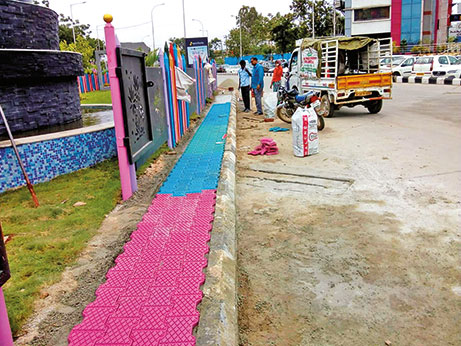 A pavement being built with plastic tiles (left)
A range of tiles is now produced — paver tiles, floor tiles, designer tiles and tiles for dustbins and toilets. Municipal corporations have shown the most interest because this process helps them get rid of plastic waste by converting it into tiles which they can use for building pavements. The Greater Hyderabad Municipal Corporation is using Shayna EcoUnified's tiles to pave pavements and make walkways in parks.
The Municipal Corporation of Gurugram has also shown interest. Shayna EcoUnified has picked up small projects in Mumbai and Nashik for private companies. In Himachal Pradesh, it has paved roads for a resort in Chitkul near the India-China border. It is also helping Tata Motors reduce its ecological footprint by taking plastic waste from its factory and turning it into tiles which the company can use on its premises.
Saluja lists the many virtues of his tiles. Normal T-shaped cement tiles weigh between four to five kg whereas his company's tiles weigh just 200 to 300 gm. Cement blocks come in just one boring colour — grey. His company's tiles come in three vivacious colours — green, blue and red. Besides, Shayna EcoUnified's tiles have been certified by the NPL to have a life of around 20 years with pedestrians trampling all over them. In contrast, cement tiles last for a mere three years after which they need to be replaced completely.
However, most homeowners are reluctant to use tiles made from plastic. They would much rather use marble or ceramic tiles. "They think that since our tiles are made from waste, they must be cheap. People don't understand that creating waste is free, but sourcing it is not," says Saluja.
In fact, buying plastic is expensive. High-density polyethylene (HDPE), like bottle caps, toys, chairs, and piping, sells for roughly Rs 50 per kg. Low-density polyethylene (LDPE), like plastic bags, costs Rs 30-35 per kg. Polypropylene (PP) waste is charged according to its colour and weight. Black plastic trash bags are relatively cheaper.
Initially, the company used to buy plastic waste from rag-pickers but they found that the quantity rag-pickers could supply was not enough. Tying up with municipal corporations is also difficult because the garbage arrives unsegregated.
Segregating plastic is a long and expensive affair done by hand. A single person can salvage roughly 500-600 kg per day. The logistics and expenditure of a segregation operation would have raised their costs. In the end, Shayna EcoUnified collaborated with a scrapyard owner who deals only in plastic and set up their machines there.
The collected plastic is segregated according to its polymer and colour. It is then broken down and shredded into small pieces or flakes and washed with detergents and sodium bicarbonate to disinfect it. Using specialised equipment, the flakes are separated and dried with heat. The plastic flakes are then mixed with fillers like fly ash and eco-friendly chemicals. Finally, the mixture is processed by a machine which converts it into plastic wires which are further broken down into pellets. These pellets are then melted and placed in moulds to create the tiles.
The tiles made by Shayna EcoUnified come in two formats. Both are of the same size: seven inches by six inches in a dog bone shape. The load-bearing capacity of both formats is different. One can take up to 20 tonnes, the other 40 tonnes. The company makes bathroom tiles and has begun talking to organisations keen to improve sanitation in government schools.
A larger plastic tile format, 24 inches by 24 inches, is also manufactured. It is suitable for making dustbins, small shelters and bathrooms. The additional benefit of these plastic tiles is that at the end of their life cycle, they can be broken down and remade.
In the past 15 months, Shayna EcoUnified has chewed through 275 tonnes of plastic waste and produced 600,000 tiles. Saluja is optimistic about his company's prospects, though they haven't been raking in profits. "We're barely able to keep up," he says, smiling. "In the next 18 months, we are 100 percent sure that we'll be making profits. We are in talks with so many companies and municipal corporations that even if we manage to strike a deal with 10 percent of them, we'll be doing very well."
Thanks to news channels and websites, Shayna EcoUnified is getting known in the right circles. Saluja and Nagpal are dedicated to their business. "A café we supplied tiles to in Ghaziabad has fallen short, so I'm going there to deliver it myself," says Saluja, pointing to the filled boot of his car. As he drives off, one can only hope that an effort like this pays off.