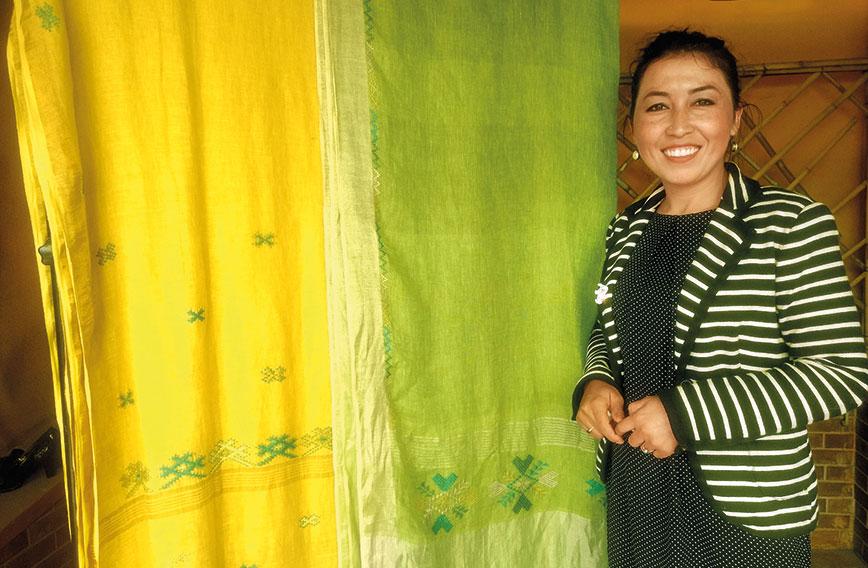 Salma Gul and saris with Afghan embroidery
Refugee enterprise in Delhi is Afghan by design
Rwit Ghosh, New Delhi
Published: Apr. 10, 2019
Updated: Jul. 01, 2019
Salma Gul, 32, lives in a small barsati in an inconspicuous lane in Delhi. An Afghan refugee, she fled her country in 2013, fearing for her safety. A fashion show put up by an NGO she worked for, Young Women for Change, was criticised by a conservative faction. Back home, she was a women's rights activist teaching embroidery to other women. As a child growing up under the Taliban regime, Salma learnt to weave carpets and embroider instead of going to school.
After five years in Delhi, Salma is finally finding her feet. She is part of a women's group called Atiqa that does intricate Afghani embroidery on a range of garments and has just concluded a successful exhibition-cum-sale at Dastkar's Basant Mela in February.
Atiqa in Persian means antique. Afghanistan is home to some of the oldest and finest embroidery techniques in the world, each with its unique history, style, design and colours. The craft, practised by women, has survived war and turmoil.
Sitting in her barsati, Salma describes the painstaking effort that goes into doing Afghani embroidery. She disappears briefly into a room and emerges with a bag of scarves. Fishing excitedly through them, she pulls out a bright red embroidered one. "This scarf is my favourite," she exclaims. "But no one has bought it, I don't know why." There is a flicker of disappointment on her face which is instantly replaced with a smile. The work on display is a sight to behold and laborious to make.
When Salma came to Delhi she would call home frequently to find out if it was safe for her to return. "The answer was always the same," she says. Slowly, she realised that going back home wasn't an option. She approached the United Nations High Commissioner for Refugees (UNHCR) and explained her situation. "It was hard for me in the beginning," confesses Salma.
One of the biggest problems that refugees like her face is earning a living in a new country. Salma, too, didn't know where to begin.
"I remember showing my embroidery work to my landlord," says Salma. "He told me that it was too expensive, and no one would buy it. People preferred cheap things to wear every day."
In 2017, while helping an Afghan friend, Salma came across the Ara Trust's Migration and Asylum Project (MAP), India's only refugee law centre, run wholly by women. MAP legally represents refugees, helping them through the UNHCR's asylum process and linking them to support services.
That day Salma's friend was wearing a dress with Afghani embroidery on it. It caught the eye of the lawyers who asked if she knew embroidery work. The friend pointed to Salma and said she was better at embroidery than her.
That was when the idea of Atiqa began to take root. MAP's lawyers understood the livelihood issues refugees faced. "Atiqa started off as a passion project. It wasn't something that we actively sought out or raised funding for," says Pallavi Saxena, a senior legal consultant at MAP.
Atiqa is now a collective of eight Afghan women who have bonded and found a semblance of home in India. Some of the women are survivors of domestic and sexual abuse and Atiqa serves as a safe haven for them.
Members of MAP raised the initial investment to source materials, get samples ready and give the women a small stipend. The pieces that the women made were then compiled into a photo book that MAP used to raise funds for the Atiqa project. Eventually, VGIF, an American foundation that helps in women's livelihood and empowerment, gave them a grant of $7,500 (Rs 5,22,000).
The original designs were very intricate, driving up prices. However, MAP linked the women to Dastkar, a non-profit that supports traditional artisans, and eight workshops were organised to enable the women to make their designs more affordable for consumers.
The effort that goes into the embroidery, though, isn't less. The embroidery on scarves, stoles and saris is amazingly detailed. The time taken varies. There are four types of embroidery: Gulatlaz, Kasheda Dozi, Bati Dozi and, lastly, Khammam, which is usually reserved for heirloom pieces like bridal wear.
Scarves and stoles take around four to five days to complete, whereas saris can take up to a month. The women have children to take care of so embroidery work is done during their free time. Salma spends all her available time on sewing and embroidery and coming up with new designs that can be replicated on garments. The women drop by to pick up the new designs.
Not all types of cloth are conducive to Afghan embroidery. As of now, the women work on linen, khadi cotton and matka silk. Since the work is time-consuming, in six months the women have created 68 pieces with Afghan embroidery.
"We've marketed Atiqa as a luxury boutique brand because of the time it takes," says Saxena.
Saris cost between Rs 6,000 and Rs 12,000 while scarves are priced from Rs 2,500 to Rs 4,000. Atiqa wants to reach a clientele who would appreciate their work. Their prices are at the upper end, but not completely unreasonable. This is, after all, quality artisanal work that is hand-stitched and of foreign origin.
Atiqa debuted their work at Dastkar's Basant Mela and got a good response. The saris, in pastel shades, caught the attention of fashionable young women. "We had just four left," says Salma. A second exhibition is being planned later this year. Part of the profits made at the exhibition were split evenly among the eight Afghan women. The rest was tucked away to buy raw material for future exhibitions.
Given that the initial investment on sourcing raw material and setting up for the exhibition was between $1,500 and $1,600, their return on investment was close to $3,000, a very decent margin of profit.
"Giving them wages acts as an incentive as they were willing to commit six to seven months without getting anything in return. The only payments they received were at the end, after the exhibition was over," says Saxena.
MAP's initial plan was to use Atiqa to create a Self-Help Group (SHG). The business is in a nascent stage. The women started work in August 2018 when they received funding and training via the workshops. "Ideally, we'd like to see Atiqa become a self-sustaining enterprise where we can do things like e-commerce. Unfortunately, that is not possible because the group isn't a legally registered entity and doesn't have any scope of becoming one as well," says Saxena.
The only option left for the Afghan women is to deal in cash transactions through their exhibitions or stalls at different fairs, thereby limiting their growth, says Saxena. However, a more pressing concern that Saxena voiced was one of exploitation, "At the exhibition, they were approached by boutique owners saying, you do this embroidery and we'll pay you. But we don't know the amount that they will pay." Since refugee women have no legal papers, it is difficult for them to take recourse to legal means if the boutique owners don't pay them.
This is also the reason why MAP is reluctant to hand Atiqa to someone else. This is the first and only project that the legal foundation has committed itself to. The status of refugees in India is very vague. But Saxena hopes that given enough time, these Afghan women will figure out how the market in India functions and make their way around it. This would also ease handing over Atiqa to somebody else.
However, MAP currently has no interest in expanding the scope of Atiqa because the kind of embroidery that the women do is what most of them have grown up doing, stuck at home during their country's time under the Taliban regime. Trying to teach someone Afghan embroidery from scratch would be a challenge. According to Saxena, expanding the size of the group would only make sense if new members were Afghans, especially since Atiqa also works as a support group for all its members.
India is not party to the UNHCR's Refugee Convention of 1951, a multilateral treaty that defines who a refugee is, what their rights are, and what the responsibilities of the nations that grant asylum are. This is also the reason why the legal status of refugees across India remains so tenuous.
Despite this, India has managed to be a good host to people from the Afghan community. Women like Salma and her Afghan compatriots continue to weave their intricate embroidery, hoping that someday it will be safe for them to go home. n