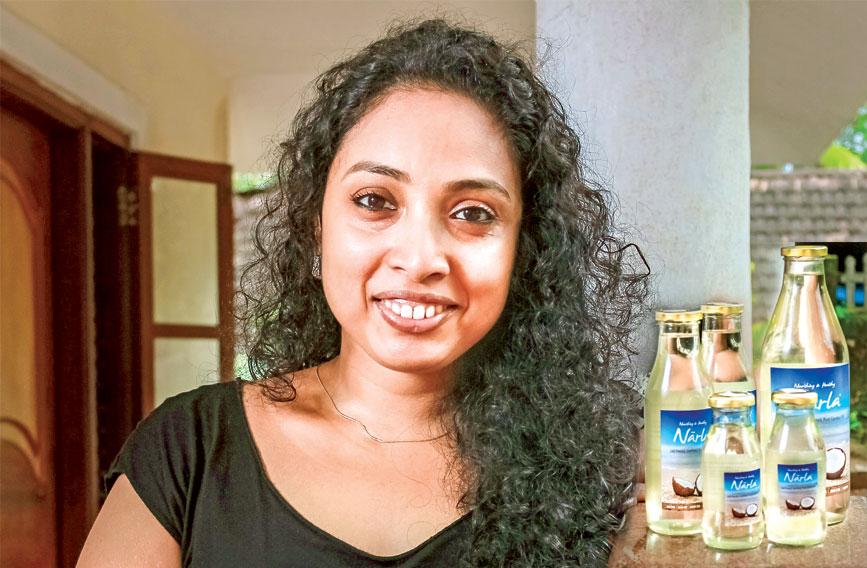 Bottling the goodness of coconut oil
Gauri Gharpure, Panjim
Published: Aug. 18, 2016
Updated: Jun. 15, 2017
Imagine leaving a corporate job in Mumbai to go to Goa for its coconuts. That is what Nilisha Ferrao, the proprietor of Narla coconut oil, did. Launched in 2015, Narla relies on best quality coconuts and stringently supervised processes to produce clear, cold-pressed, unrefined coconut oil.
Ferrao is an MBA from Symbiosis in Pune. She was working at Godrej Securities as a senior marketing manager when she left to start her enterprise.
The move to Goa and venturing into a business that involved coconuts seemed a natural choice. Growing up, she used coconut oil extensively and when she gave bottles of Goan coconut oil to friends, they were thrilled with it.
Ferrao realised there was demand out there for good quality coconut oil. Best of all, Goa had a profusion of coconut trees. "The coconut tree is the heart of Goa. So many coconuts go waste because farmers don't know what to do with them. It wasn't just good business. I also wanted to help farmers optimise the use of their produce," she explains.
In recent years cold-pressed, unrefined coconut oil has become a rage in the West. It is seen as a 'super oil' and 'super food'. The oil is prescribed for wrinkles, face cleansing and moisturising, for healthy teeth and gums and as a massage oil. Other common uses are for cooking, treating skin rashes and alleviating eczema. Rich in lauric acid and medium chain triglycerides, coconut oil is recognised for its antifungal and antioxidant properties.
Priced at Rs 590 for half a litre, Narla coconut oil is expensive when compared to most major brands. In Goa, villagers sell coconut oil filled in old whisky and brandy bottles in local markets and along the road from the airport to Panjim for one-fifth the rate. So, what makes Narla special?
Ferrao ...