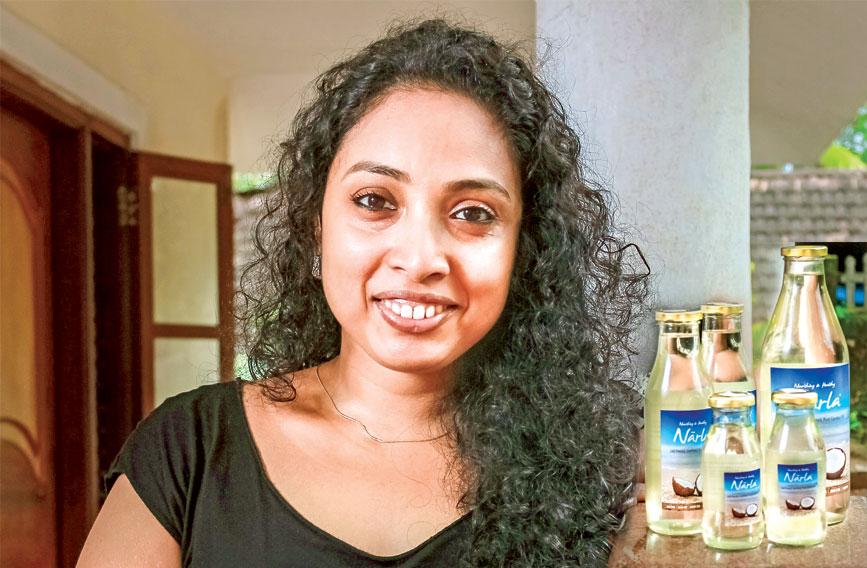 Bottling the goodness of coconut oil
Gauri Gharpure, Panjim
Published: Aug. 18, 2016
Updated: Jun. 15, 2017
Imagine leaving a corporate job in Mumbai to go to Goa for its coconuts. That is what Nilisha Ferrao, the proprietor of Narla coconut oil, did. Launched in 2015, Narla relies on best quality coconuts and stringently supervised processes to produce clear, cold-pressed, unrefined coconut oil.
Ferrao is an MBA from Symbiosis in Pune. She was working at Godrej Securities as a senior marketing manager when she left to start her enterprise.
The move to Goa and venturing into a business that involved coconuts seemed a natural choice. Growing up, she used coconut oil extensively and when she gave bottles of Goan coconut oil to friends, they were thrilled with it.
Ferrao realised there was demand out there for good quality coconut oil. Best of all, Goa had a profusion of coconut trees. "The coconut tree is the heart of Goa. So many coconuts go waste because farmers don't know what to do with them. It wasn't just good business. I also wanted to help farmers optimise the use of their produce," she explains.
In recent years cold-pressed, unrefined coconut oil has become a rage in the West. It is seen as a 'super oil' and 'super food'. The oil is prescribed for wrinkles, face cleansing and moisturising, for healthy teeth and gums and as a massage oil. Other common uses are for cooking, treating skin rashes and alleviating eczema. Rich in lauric acid and medium chain triglycerides, coconut oil is recognised for its antifungal and antioxidant properties.
Priced at Rs 590 for half a litre, Narla coconut oil is expensive when compared to most major brands. In Goa, villagers sell coconut oil filled in old whisky and brandy bottles in local markets and along the road from the airport to Panjim for one-fifth the rate. So, what makes Narla special?
Ferrao taps time-tested natural methods and carries out stringent quality control to make Narla pure and wholesome. Her mother helps with her knowledge.
She says local oil mills use leftover coconuts and don't really check for fungus or dryness. Often, water is added if the fruit dries up too much to extract more oil. The outcome is fuzzy liquid that becomes rancid quite fast. "That won't ever happen with Narla. It is crystal clear, like water," she says. Customers also compliment her for Narla's natural fragrance.
Ferrao describes the process she uses. First, large fleshy coconuts — the ones used for cooking — are collected, sorted and selected. Ferrao currently sources coconuts from a small village in Canacana, at the southernmost tip of Goa, and provides employment to around 20 local families.
Coconuts are de-husked, broken up and dried naturally. "Most oil brands subject the fruit to artificial heat for drying. That is the main difference. Cold-pressed means we just use sunlight to dry the fruit," Ferrao says. Drying coconuts naturally is a long and painstaking process.
Any fruit that has caught fungus is discarded. Once the coconuts are dried, they go through another round of sorting and selection before being taken to a local mechanised stone mill for oil extraction. "The mill has to be clean. We usually go as early as 6 am to be the first in line and get the oil extracted through clean machines," says Ferrao.
The oil is then filtered through a muslin cloth and sent for packaging. No preservatives and additives are used. Narla is packed in glass bottles to ensure purity and a long shelf life. "Besides, glass is eco-friendly. That is important to me," Ferrao adds.
It takes a month for a coconut to transit from tree to bottle. Production varies depending on the quality of sourced coconuts and sunlight. In a good season, around 500 kg of coconuts are processed.
"For every two kilos of dried coconut meat, we get less than 500 ml of oil," says Ferrao.
Ferrao gets repeat orders. Most people use Narla for their skin. It is especially good for babies. "Narla has become a hit with young mothers because it cures diaper rashes like no other expensive cream can," she says. Even her sister ignored her advice to use coconut oil for her baby's rash. She kept trying out one expensive cream after another. But the baby's rash was stubborn.
"You know how it is. You don't listen to family advice. Finally, her friend called from Delhi and told her to use coconut oil and she used Narla. Believe me, the rash was gone the next day," Ferrao beams.
Health-conscious people on protein-based diets are also opting for Narla. It is a myth that coconut oil increases cholesterol. In fact, lauric acid helps prevent high cholesterol and high blood pressure.
Ferrao sells Narla at local fairs and bazaars in Goa and Bengaluru. Her product is also for sale on craftsvilla.com. She modestly downplays the success that Narla has achieved in such a short while and insists that she is still learning the ropes. She wants to start extracting virgin coconut oil from tender coconut meat instead of naturally dried coconuts and is researching processes and strategies.
Meanwhile, to upscale her micro business she has enrolled at the Centre for Incubation and Business Acceleration (CIBA) in Goa. She is also trying to find out how to get funding from government schemes for small-scale enterprises.
Ferrao knows there is huge potential to diversify. But for now she wants to focus on optimising processes and bringing down production costs so that she can pass on the benefits to her customers. "Coconut oil is so good, it must be used widely. I don't want Narla to be an elite product," she says.