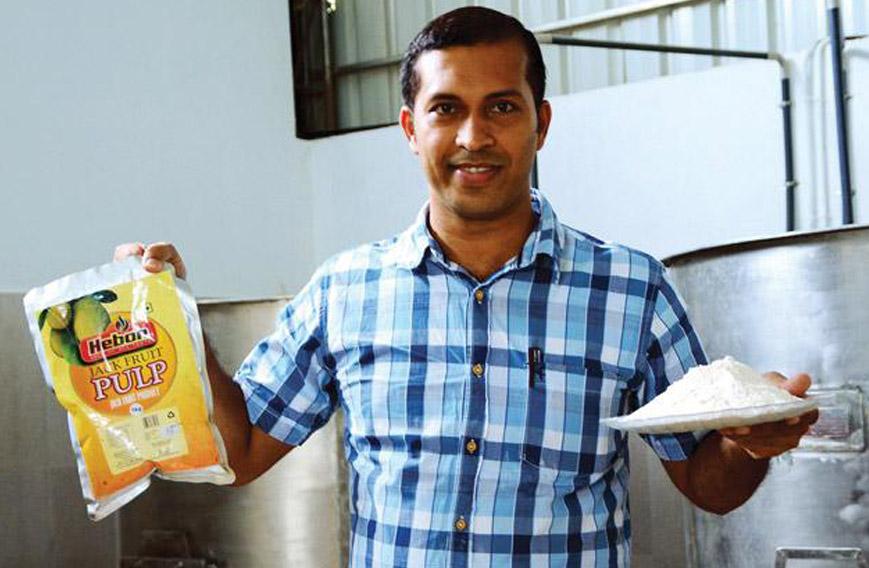 Jackfruit finds a company that knows to dream big
Shree Padre, Kannur
Published: Nov. 04, 2015
Updated: May. 02, 2016
After studying India's scattered jackfruit industry for more than a year, Subhash Koroth, 32, finally decided to take the plunge. This May, he invested Rs 1 crore of his own money and started India's first formal jackfruit company, Artocarpus Foods Pvt. Ltd., at Taliparamb, near Kannur, in Kerala.
The company has 4,000 square feet of built-up area and employs 15 people. Ten jackfruit products are manufactured in its factory including dehydrated raw jackfruit, jackfruit juice and pulp, jackfruit halwa, jack seeds as a masala for chicken curry and powdered jackfruit seeds. These are sold under the brand name of Hebon after being packed in attractive containers with eye-catching labels.
The products are not being exported. Koroth believes we should consume the jackfruit we grow. "We need to develop jackfruit products with high market potential and market those strategically. We can then use all the jackfruit we grow and stop the criminal wastage taking place," he says.
Koroth, who is from Taliparamb itself, studied electrical engineering in Kottayam and for a while marketed electrical and electronic products. But he wanted to sell products that were unique. "I was longing to produce something different, something no one really had but would want, something aspirational. In my quest I chanced upon jackfruit," he says.
Last year he visited jackfruit value addition units, machinery producers and possible buyers of jackfruit products and concluded that jack seed powder and pulp would sell. The major drawback of jackfruit products, Koroth realised, was that they aren't available throughout the year. So he decided to restrict distribution to a smaller region to ensure availability.
AWARENESS AND ENTHUSIASM
Not a week passes without a couple of people visiting Artocarpus Foods with dreams of starting a business like Koroth's. The reason is that a lot of awareness about the potential of jackfruit has been created in Kerala.
"Going by the enthusiasm, I think at least half-a-dozen jackfruit units will start next season," predicts Koroth, amused at the attention.
To top it all, Goa's Minister for Agriculture, Ramesh Tawadkar, recently visited Artocarpus with a large team of officials. He is keen to develop a jackfruit industry in Goa.
Koroth, who is managing director of his company, is not basking in all this attention. He is busy travelling all over Kerala, trying to introduce buyers to his products and providing samples of his two pioneering products, jack seed powder and jackfruit pulp, to food industries to experiment with.
In the next one year, he believes, at least 10 innovative jackfruit products will hit the Kerala market. "Many micro-enterprises have been using jack seed powder or pulp to invent new products. Most of them are happy with the end product. They are pucca professionals. They won't plunge into production immediately. They need time to survey the market and to design labels and containers. They will then draw up a marketing strategy to launch their products. One example is the jackfruit muffins being made by a leading bakery group in Kerala," he says.
JACK SEED FLOUR AND PULP
Artocarpus Foods is probably the first company in the world to market jack seed flour and jackfruit pulp. "A lot of consumers and people in the food industry are aware that maida (white flour) is not good for health. They are looking for an alternative and jack seed powder is ideal," says Koroth. "In collaboration with several food processing companies, we have successfully experimented with jack seed flour in a variety of bakery products. This has prompted us to produce jack seed powder in a big way." Unfortunately, no Indian seems to have seized the opportunity to export jackfruit flour as a gluten-free alternative to wheat flour.
Although a few companies in Maharashtra have started marketing jackfruit pulp on a trial basis, Artocarpus is selling this product more successfully and has managed to capture the Kerala market.
It was farmers and units in Maharashtra that processed the Alphonso mango into pulp who began pulping jackfruit in the last six or seven years. Now, around a dozen processors are producing an estimated 30 tonnes of jackfruit pulp every season. But they convert almost the entire produce into a sweet called phanas poli.
At least 70 per cent of jackfruit grown in India is wasted. Artocarpus is buying jackfruit from farmer groups for Rs 5 per kg. Its factory processes both soft-fleshed and firm-fleshed jackfruit. Next year, Artocarpus will, according to its estimates, require 100,000 jackfruit including tender ones. This works out to around 10,00,000 kg. Families living near the factory take the leftover parts of the fruit to feed their cows. So there is no wastage.
THE NEED FOR STANDARDS
Artocarpus has many valid reasons for not going down the beaten path taken by micro-enterprises. "There are practical difficulties," explains Koroth. "None of the products manufactured so far is properly standardised. This is because we don't have plantations that grow the same variety of jackfruit. Naturally there will be variations in colour, sweetness and other parameters. Unlike end products, if semi-finished products have slight variations in different batches, food industry owners don't mind."
Jack seed powder can be used to make chapattis, dosas, cakes and bread. Jackfruit pulp can be used in ice-cream, cakes, toffee, kheer, peda and other delicacies. "Even if 10 per cent of our bakery industry accepts jack seed powder in place of maida, the requirement would be quite substantial," says Koroth.
To meet the estimated demand, gearing up production of jackfruit pulp and jack seed powder is essential. To scale up, Artocarpus is keen to follow the franchise route and contract small units in different jackfruit-growing states and areas to process jack seed flour and jackfruit pulp.
"At the most, the entrepreneur will need to invest around Rs 5-6 lakh. We will provide training and machinery. They have to produce primary processed products as per our specifications. We will buy it all," says Koroth.
But Artocarpus doesn't intend to limit itself to manufacturing semi-finished products. It plans to produce two end products from next season – tender jackfruit preserved in retort pouches and vacuum fry jackfruit. Both will be marketed throughout India.
Koroth recently visited Vietnam to study its vacuum fry chips industry. He saw firsthand how four big companies there produce vacuum fry chips. Around 20 companies produce the chips in Vietnam and their daily production is one to two tonnes.
When jackfruit isn't in season, the manufacturing units produce chips from taro, lotus seed and sweet potato. Only eight companies are big while some of the smaller ones don't even have a name. They sell their products to bigger companies. With decades of experience, these units have mastered the technology and production systems required to make the chips.
Variation in raw material is a more serious issue in vacuum fry chips, says Koroth. However, he has a blueprint ready to start four production centres in collaboration with others in three jackfruit-growing areas of Kerala — Kannur, Kochi and Calicut — and one in Mysore. "Our target is to manufacture 700 kg of tender jackfruit preserve per day and 200 kg of jackfruit vacuum fry chips," he says.
Kerala is witnessing a jackfruit renaissance in recent years. "Alhough this is a positive sign, some of the products like jams, jelly and squash do not have a bright future. The demand for these is very limited. There is also no training available on commercially marketable jackfruit products," says Koroth.
Another big hurdle for the nascent jackfruit industry is the pre-processing of the fruit. There is no machinery available for cutting, peeling and cleaning it so the whole exercise is expensive. Wastage during long-distance transport is another headache.
Outsourcing the pre-production process is what made the Vietnamese industry successful. Koroth too plans to outsource cutting and peeling of jackfruit. The pre-processing centres will require Rs 50,000-1,00,000 as capital. They have to harvest jackfruit from rural areas, bring the fruit to their shed and cut, peel and clean it. "The centres have to supply the peeled carpels to us on a daily basis against which we would pay ready cash." Koroth hopes that, due to his groundwork, at least four or five pre-processing centres will start shortly.
AVAILABLE ALL YEAR
But, since jackfruit is seasonal, how can the pre-processing centres ensure supply round the year? Koroth laughs. "That is Kerala's uniqueness. Is October a good season for jackfruit? Everyone will say getting jackfruit from September to November is very difficult. But, look, this week we got two loads of jackfruit — a total of about 500 fruits. We paid the same price of five rupees per kg of whole fruit that we were paying during the peak season. In Kerala, at least in some pockets, jackfruit is available 365 days. In the last two months, when everyone thought no jackfruit was available, we produced 1.5 tonnes of jackfruit pulp."
Farmers and horticulturists can step in and boost production. Selected off-season cultivars can be selected and propagated. Planting these in Kerala's high ranges would certainly boost production.
Another option is cold storage. It is time agriculture scientists studied the feasibility of this method.
"India badly needs a jackfruit development board if jackfruit has to become popular faster. The board should encourage jackfruit plantations to come up, provide training and incentives, help create supply chains, and assist jackfruit entrepreneurs to go to exhibitions near and far to market their produce. The kind of rural economy and employment opportunities we can create, then, would be unbelievable," says this enterprising young man.
Subhash Koroth: 97456 54555 Email: md@artocarpus.in
Website: www.artocarpus.in