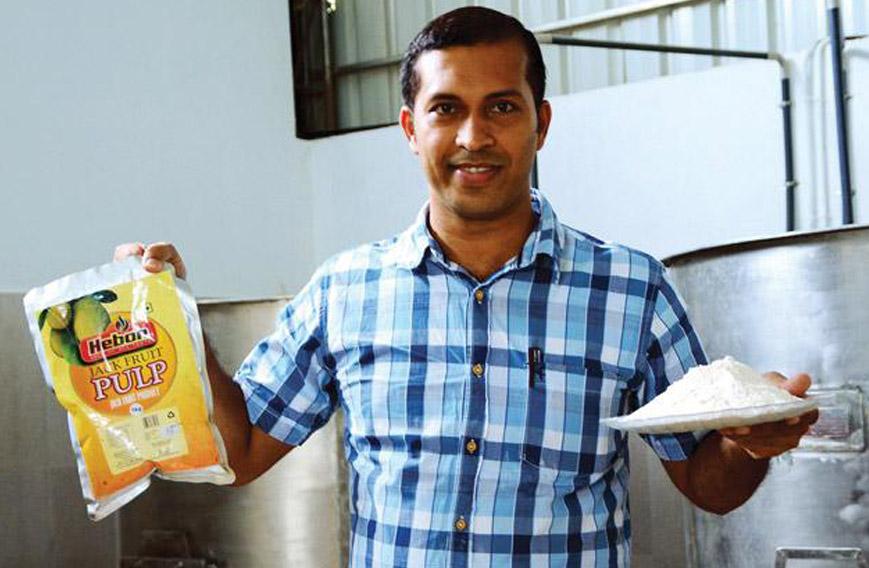 Jackfruit finds a company that knows to dream big
Shree Padre, Kannur
Published: Nov. 04, 2015
Updated: May. 02, 2016
After studying India's scattered jackfruit industry for more than a year, Subhash Koroth, 32, finally decided to take the plunge. This May, he invested Rs 1 crore of his own money and started India's first formal jackfruit company, Artocarpus Foods Pvt. Ltd., at Taliparamb, near Kannur, in Kerala.
The company has 4,000 square feet of built-up area and employs 15 people. Ten jackfruit products are manufactured in its factory including dehydrated raw jackfruit, jackfruit juice and pulp, jackfruit halwa, jack seeds as a masala for chicken curry and powdered jackfruit seeds. These are sold under the brand name of Hebon after being packed in attractive containers with eye-catching labels.
The products are not being exported. Koroth believes we should consume the jackfruit we grow. "We need to develop jackfruit products with high market potential and market those strategically. We can then use all the jackfruit we grow and stop the criminal wastage taking place," he says.
Koroth, who is from Taliparamb itself, studied electrical engineering in Kottayam and for a while marketed electrical and electronic products. But he wanted to sell products that were unique. "I was longing to produce something different, something no one really had but would want, something aspirational. In my quest I chanced upon jackfruit," he says.
Last year he visited jackfruit value addition units, machinery producers and possible buyers of jackfruit products and concluded that jack seed powder and pulp would sell. The major drawback of jackfruit products, Koroth realised, was that they aren't available throughout the year. So he decided to restrict distribution to a smaller region to ensure availability.
AWARENESS AND ENTHUSIASM
Not a week passes without a couple of people visiting Artocarpus Foods with dreams of starting a business like Koroth's. The reason is that a lot of awareness about the potential ...