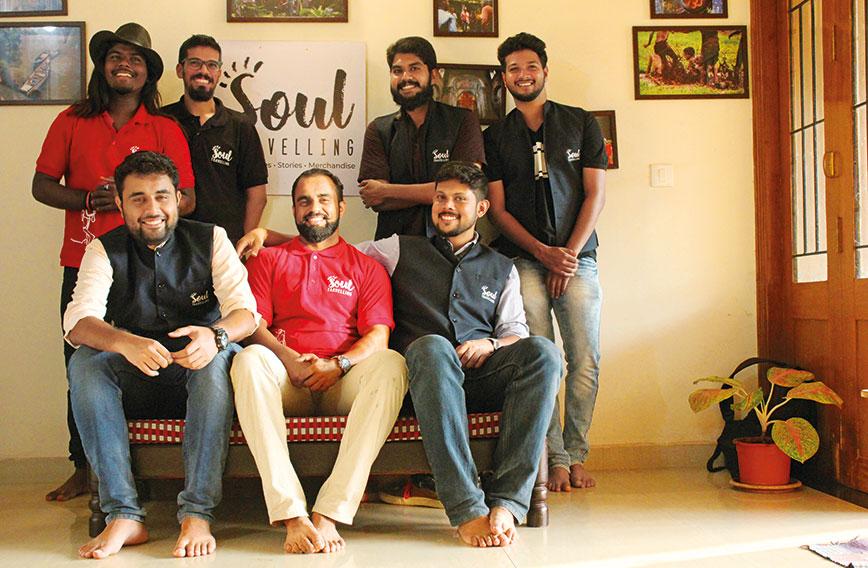 The Soul Travelling team. Varun Hegde is seated left.
Goa's walking company offers unusual experiences
Ashwini Kamat, Panaji
Published: Dec. 24, 2019
Updated: May. 28, 2020
When 28-year-old Varun Hegde decided to quit his job in Germany and return to Goa with the vague plan of setting up a sustainable tourism company, almost everybody advised him to reconsider.
His idea met all-round scepticism. Yet, two years later, Hegde's start-up, Soul Travelling, has successfully transformed wanderlust into an unusual enterprise with a promising future.
As an offbeat experiential tourism business, based in Goa, Soul Travelling offers curated walking trails and half-day experiences. These trails include community interactions and a delicious authentic Goan meal or snacks. The team operates over 25 carefully chosen routes across unique locales in the hinterlands of Goa with the intention of highlighting the true essence of Goa.
The tourism sector has been declining of late in Goa after the closure of the booming illegal mining industry. According to the latest figures disclosed by the state government as well as local travel and tour operators, the arrival of tourists, especially foreigners, in Goa has fallen by 18 to 20 percent since 2018.
Contrary to this gloomy picture, registration figures at Soul Travelling seem to be at an all-time high. Their clientele includes Indian travellers, people who have recently relocated to Goa, foreigners and local Goans. "Our core clientele right now are local Goans who have decided to explore their own world with us. At times, we land up learning so much from our Goan guests that it enriches our content further," remarks Hegde.
Raised and educated in Goa, Varun Hegde graduated in 2012 with a bachelor's degree in electronics and telecommunication. In late 2015, he moved to Germany for work. It was during his stay there that he set out on solo travels across 18 countries including France, the Netherlands, Iceland, England, Scotland, Spain, Sweden, Denmark and Austria.
All was going according to plan until one day it dawned on him that travelling and exploring was where his heart truly lay. Hegde quit his job in May 2017 and returned to Margao, his hometown, to start something different in the overcrowded tourism sector of Goa.
What prompted this life-changing decision? "Don't get me wrong," says Hegde. "My work in the IT industry was a lot of fun. The work-life balance was beautiful. There were just some factors which made me return. For instance, in India, our plan is always about working and then if there is time and money left, we end up travelling. But in Europe, I noticed that travel is an integral part of everyone's life. It improves you as a person and improves what you do in your daily life. I think that this notion needs to gradually seep into Indian life as well."
Once in Goa, Hegde teamed up with some friends and in August 2017, after a month-long brainstorming session, the group settled on what it could do. Ideas such as launching a backpackers' hostel and an aggregator model focussed on tourism were eliminated and the team decided to focus on walking trails, which are now the mainstay of the company.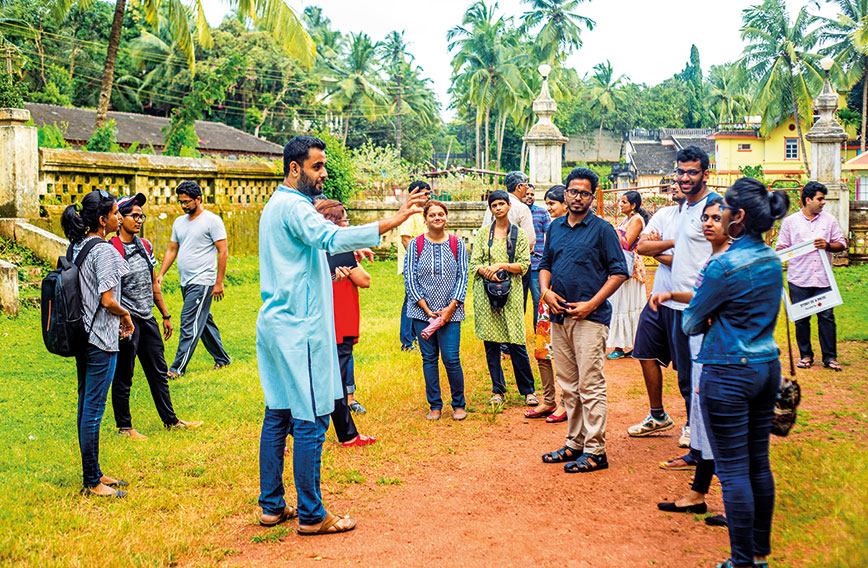 Tourists on a walk through a sylvan Goan village
When Soul Travelling hosted its very first walk on a wintry morning in October 2017 in Margao, only three people turned up. Disappointed, the team had no choice but to return to the drawing board and develop a proper business model. Their hard work paid off and around 26 people attended the second walk organised a week later.
"That is when we realised that only good content is not enough to keep a large group engaged for a long time," Hegde says. What attracted tourists, he realised, was the idea of a wholesome and affordable experience.
Tourists can go on an Old Goa-Christian Art trail for three hours or on a Latin Quarter walk for two hours and 15 minutes or admire the Houses of Goa at Chandor. Also coming up is a Secret Food Trail at Mapusa, The Three Kings Trail in Cansaulim and the Divar Exploration Weekend.
Everyone at Soul Travelling believes that travel should not be a luxury. Rather, it should be within one's means and hence, something that people can do more often. Every day, the enthusiastic bunch works to change the way Goa is portrayed and how tourism is perceived and undertaken in Goa.
"We urgently need to accept that the kind of tourism we have in Goa is unsustainable," says Hegde. "Goa cannot be just a party destination. In the rest of the world, they value everything big and small. In the catacombs of Paris, they have turned a giant ossuary into a tourism spot which generates high revenue." He believes that Goa has a treasury of unexplored unique locations. "There is so much potential in our cultural, historical and natural heritage that can be restored, preserved and marketed well," he argues.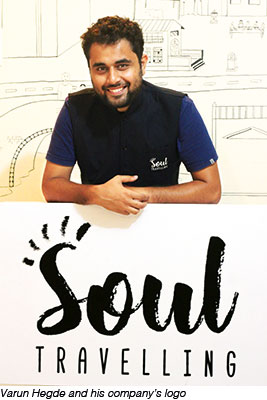 However, this was easier said than done. "It took us a long time to fine-tune a scalable business model to suit our vision of socially conscious hinterland tourism. Walking trails can be boring for a lot of people. So, we have learnt to treat every walk as a product designed to deliver a memorable experience. We now know how and where to launch a new trail, how to pull crowds, work the costing and we are still learning," says Hegde. The company's annual turnover, he says, is around `10-11 lakh.
At present, the Soul Travelling website accepts registration for trails and experiences across 25-plus locations covering every major town in Goa. On a weekday, around 15 to 20 spots are available for booking. During the week, 11 trail routes are open and special trail routes are offered over weekends.
Tickets range from `399, inclusive of a snack, for a local trail to `1,200 for half-day experiences, including an authentic Goan meal and transport. Explaining this system, Hegde says, "We generally pay all the traditional businesspersons who open their workspaces to us for our trails. This is our tiny giveback to them for keeping alive the dying arts of Goa."
Currently, the small team at Soul Travelling includes six full-timers and six part-timers, who conduct the regular walks and 20 local ambassadors, who guide special trails over weekends. The average age of the core team is 26-27 years, the youngest being an 18-year-old college student.
Most team members at Soul Travelling have joined after being regular guests who took part in the trails. At times, aspiring members suggest a new trail route that they could guide. It takes a month or two to recce the trail route, research for content and on-board locals for interactions before launching the new member or a fresh trail. Every trail experience is carefully worked out before offering it to tourists.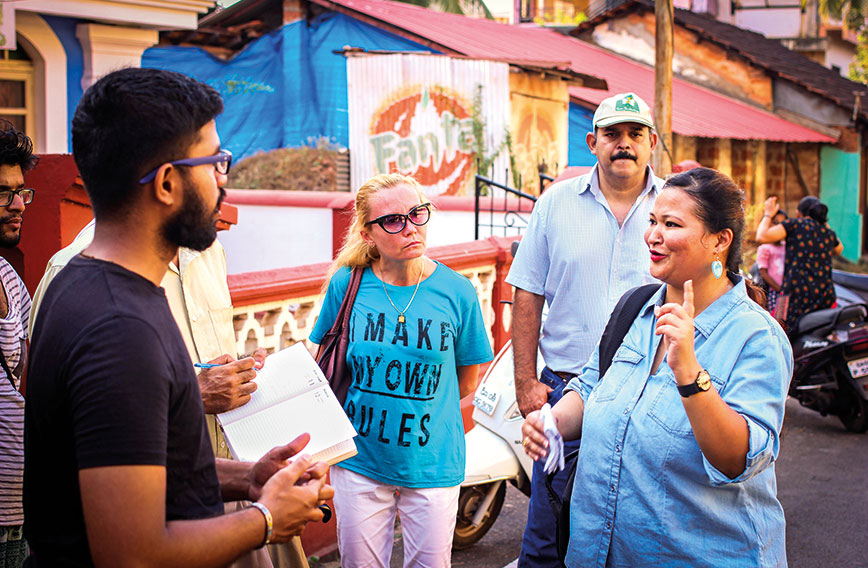 Every walk is designed as a memorable experience
The company has come a long way since its first walk and now boasts a complete repertoire of walking trails, food and tavern trails and half-day explorations. Each month is also marked by a "Walk with Legend", when prominent personalities take you down their local lanes and "Safarnama", an intimate gathering of travellers where people share their travel stories through photos, talks, music, poetry, dance and every other manner of expression. "Festivals of Goa", a series focusing on unique, lesser known festivals celebrated in the villages, has also gained popularity over the past year.
In February 2019, Soul Travelling hosted "Games of Goa", an event showcasing 20 traditional Goan games, both outdoor and indoor, with intriguing names like ticktem and logoriyo. Visitors could learn and play these long-forgotten games, which were researched and documented over a period of two months. The company now uses these games to conduct corporate training and team-building exercises.
In its third year, Soul Travelling is already working on an expansion plan. "We are toying with the idea of taking travellers on journeys to specific locations with subject matter experts. One can then travel to Egypt with an archaeologist, go on a culinary tour with a chef or a connoisseur and so on. We are also working to expand outside Goa in the next three to four months. We want to involve more people in spreading the idea that tourism can be undertaken differently," says Hegde.
The robust growth of niche travel in Goa indicates that people are slowly moving towards affordable and experiential tourism where they seek something more than mere sight-seeing. "There is a different level of bliss in being able to participate and take a small part of the place back with you. Also, knowing that you have contributed in preserving a world you love is a very empowering part of travel," says the young founder of Soul Travelling.
Contact: www.soultravelling.in
info@soultravelling.in; +91-7378301863