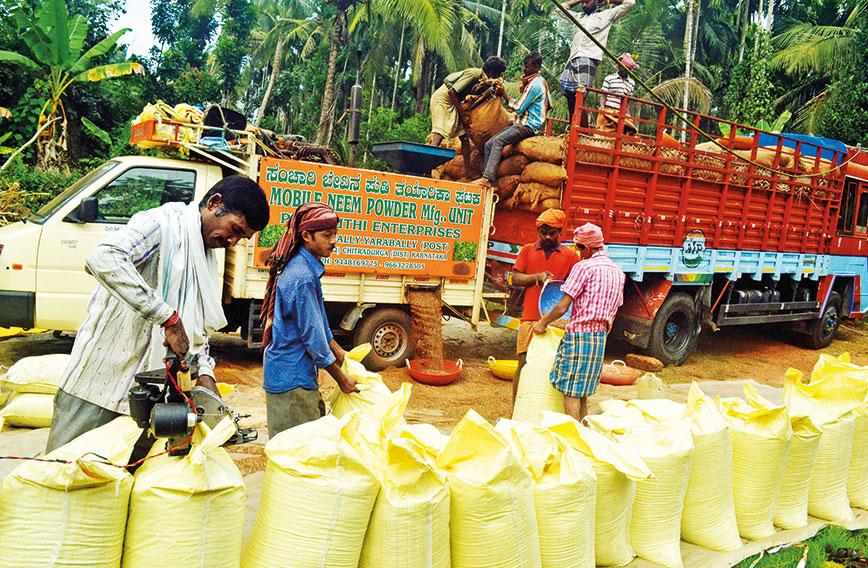 Workers filling gunny bags with freshly crushed neem powder
A neem factory on wheels! Fresh pesticide for farmers
Shree Padre, Ishwaramangala
Published: Feb. 12, 2019
Updated: Mar. 18, 2019
Three months ago, Nagaraju G.H. started an unusual venture, probably the first of its kind in India. He set up a mobile neem crushing factory mounted on two trucks, and he now travels to the doorsteps of farmers to supply neem seed powder to them.
Nagaraju provides a much needed service. There is high demand for neem oil and neem cake due to the rising popularity of organic farming. Both products are used as natural pest repellents. Along with spiralling demand over the past two decades, prices have risen sharply. The end result is considerable adulteration of neem products. For farmers, getting pure neem products has become very difficult.
Going house to house, Nagaraju shows farmers a video on how his neem powder is made so that they are completely reassured.
"I sold about 1,000 tonnes of neem seed powder last year. Next season, I hope to double my sales," he says. He plans to visit coffee estates in Chikmagalur and Hassan next month.
To get Nagaraju to come with his unit, the farmer has to place a minimum order of 10 tonnes. He then arrives on a pre-fixed date with two trucks. The first truck, a small one, is loaded with a crushing machine. The second, larger, 'support' truck has 10 tonnes of raw neem seeds. The unit has a staff of five consisting of a driver, two operators, one manager and two labourers.
The 45 hp pulveriser on the truck is a high-speed one. It crushes three tonnes of neem seeds in an hour. The 'support' truck is parked near the crushing unit. Two labourers continuously feed the pulveriser from bags of seeds on the support truck. The farmer has to provide five additional labourers to carry out the operation fast.
The seeds are crushed into coarse powder. ...