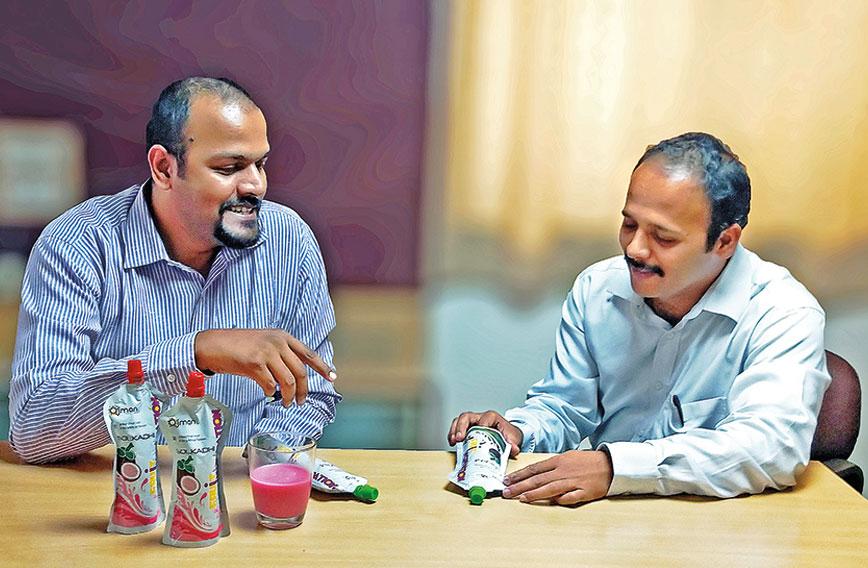 Sagar Gokhale and Ameya Kulkarni founded Ojman Foodbio which makes and sells sol kadi in hygienic cartons
Kokum booms and sol kadi is the winner
Shree Padre, Kasargod
Published: Aug. 23, 2019
Updated: Sep. 25, 2020
Kokum (Garcinia indica), an indigenous fruit with medicinal value, is becoming the nub of a rising beverage industry in the Konkan region of Maharashtra with two drinks, sol kadi and kokum squash, rapidly gaining popularity.
Every year, about 10,000 litres of ready-to-serve sol kadi are sold in Pune and Mumbai. These are modest estimates. In the Konkan region as a whole, about 20,000 litres are sold. The sol kadi business alone is estimated to be around `60 crore a year.
Sol kadi is made from kokum and coconut milk. Salt and spices like cumin, chilli and garlic are added. The squash is like any other. It is sol kadi that is traditionally consumed with meals in the Konkan and while its popularity has spread to Mumbai and Pune, it is unknown in other kokum-growing areas in the districts of Uttara Kannada and Dakshina Kannada.
Innumerable households in the Konkan region make kokum squash and sol kadi. In towns like Ratnagiri and Kudal it is said if you throw a stone it will hit a kokum unit! But many small units sell unbranded products and their packaging is unprofessional.
Taking sol kadi to a different level altogether is Ojman Foodbio, a company which started manufacturing sol kadi in 2017. It sells the drink in attractive cartons, similar to soft drinks. Ojman sol kadi even sells on e-commerce giant Amazon.
Sagar Gokhale, co-founder of Ojman Foodbio and a PhD in food processing, says the sol kadi business has steadily increased in the past 10 years. Currently, there are about 10 big players and around 100 microenterprises spread over Pune, Mumbai and Konkan selling sol kadi.
SMALL, SMART UNITS
Lalitha Khaire of Pune makes kokum squash under the brand name, Kokanraja. Her enterprise is called Pushpak Food Products. She claims that she was the first to set up a kokum unit, and that she sells 400,000 litres of kokum squash annually, making her the biggest producer of kokum squash.
"People in Pune are very health-conscious. They drink a lot of sol kadi," says Khaire. She sells sol kadi in 200-ml pouches, priced at `20 each. On average, she sells 500 pouches or 100 litres.
Khaire's sol kadi is sold to hotels, but her kokum squash is sold at shopping malls where she provides a 'buy one, get one free' offer. The enterprising Khaire is planning to bottle her sol kadi and is working on a design.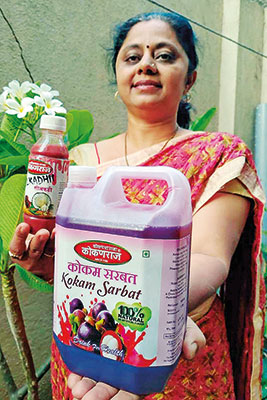 (Left): Lalitha Khaire with her brand of Kokum Sharbat
"Pouches are not suitable for modern trade. It is the middle and upper class who shop at malls. We are carrying out R&D so that our products get a longer shelf life and I can sell 5,000 bottles, that is, 1,000 litres a day," she says, confidently.
Her sol kadi, priced at `20 per pouch, has a shelf life of 30 days, says Khaire. She has experimented with PET bottles and plans to sell each bottle for `30 with a shelf life of six months.
Kokum squash is popular in summer but sol kadi sells through the year. In summer, demand for the drink rises. It is considered a mandatory drink after a meal, good for digestion. In Konkan homes, sol kadi is generally made fresh every day.
But it doesn't have much of a shelf life. Coconut milk without preservatives turns rancid. Kokum agal, a concentrate mixed with salt, is also available. It has to be mixed with freshly extracted coconut milk.
Sol kadi has also become an essential item on the menu in hotels that serve Konkani cuisine. Since coconut milk is an expensive ingredient, a 200-ml glass of sol kadi costs `20-25.
Abhijit Salvi runs Hotel Shuddha Shanth at Khed in Ratnagiri district. For the past two years, he has been making sol kadi after being trained by his father. The sol kadi they make is kept ready in one- and five-litre cans. A one-litre can is priced at `250, whereas five litres costs `700. You can also buy a 200-ml glass of sol kadi priced at `35 at their hotel.
Salvi used to make, on an average, 15 to 25 litres a day. Over the years, demand has risen, especially in summer. "During the warm season 100 litres gets finished in two days. Our main customers are travellers who buy cans of sol kadi," he says.
According to Salvi, his sol kadi has a shelf life of only three days at room temperature. In a refrigerator it lasts for 10 days. If coriander leaves are added, the sol kadi lasts just a day.
Salvi supplies sol kadi to a few hotels in Khed who place their orders in advance. "We have made sol kadi a habit for people. It has turned into an anytime drink. Most customers drink it as a digestive," says Salvi.
Saurabh Shendge has been running a family enterprise selling sol kadi under the brand name of Sharad since 2010. His small manufacturing unit, started by his parents, is now manned by his entire family. Shendge, a computer engineer, left his job to return home and improve the business. He has been boosting production and marketing since 2012.
The Shendge family has put together a simple low-cost machine that makes sol kadi which is sold in 200-ml pouches priced at `30 and one-litre packs that cost `150 each. In summer, their average sales are around 3,000 to 5,000 pouches per day. Sharad sol kadi has a shelf life of 15 days, if refrigerated. At room temperature it lasts only three days.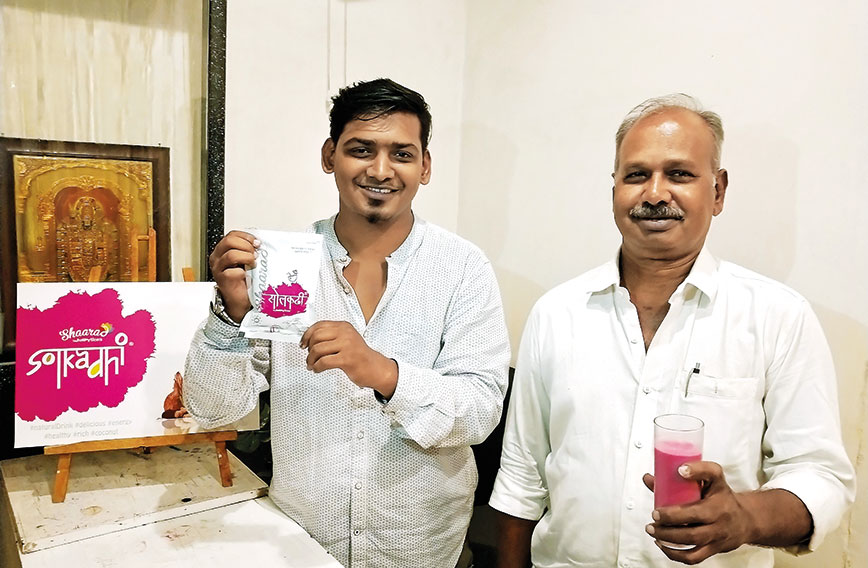 Saurabh Shengde sells sol kadi under the brand name Sharad
Shendge's main clients are hotels and restaurants in Pune and customers in Satara and Nashik. Pune has around 6,000 restaurants and Shendge's sol kadi is bought by 300 to 400 of them.
Apart from sweet shops, ice-cream parlours and Neera parlours, the youth are also consuming sol kadi. "New-gen users like it for its medicinal value and also because it is an Indian traditional drink made with natural ingredients. They stop their cars and scooters near Neera parlours to pick up sol kadi pouches," explains Shendge.
SOL KADI REINVENTED
Gokhale, who founded Ojman Foodbio with Ameya Kulkarni, recalls, "One of the problems we faced while making sol kadi was that its two components, coconut milk and water, would separate into two layers after 15 minutes of mixing. We spent three months solving this problem."
A 250-ml pack of Ojman's sol kadi costs `30 and has a shelf life of six months. "We sell about 10,000 pouches a year. The market is slowly picking up," says Gokhale. Through Amazon, Ojman's sol kadi is sold all over India. But the two cities that have shown the most interest in sol kadi are New Delhi and Hyderabad, according to Gokhale.
"Maybe people there sampled sol kadi elsewhere and wanted to try it at home," he says. Test marketing by his company in Mumbai and Pune showed that non-Maharashtrians really liked the drink. He believes that sol kadi's prospects are bright outside its traditional consumer base.
In fact, Ojman even exported small consignments to the US and UK two or three times. The response was good. But due to some drawback in the packaging they had to suspend exports. They plan to resume after improving their cartons.
"There are many sweet beverages in the market. But sol kadi is a combination of tastes — sweet, salty and spicy. Maybe the salt and spice needs to be toned down for non-Maharashtrian taste buds," reckons Gokhale.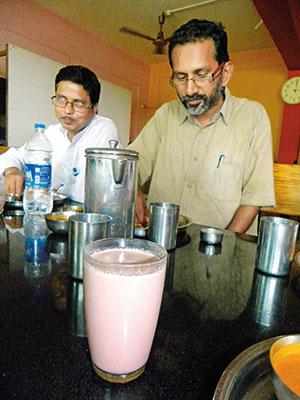 (Right): A cool glass of sol kadi
What property would he highlight to sell sol kadi to new consumers? Would it be taste or medicinal qualities? "Nobody has a soft drink for medicinal purposes. Taste is the only criterion. Of course, medicinal properties are an added bonus. Also, it's a natural drink made with the goodness of kokum and coconut," says Gokhale.
Advertising sol kadi, providing samples to consumers and creating a supply chain are some of the challenges which a company like Ojman would face.
Another concern is maintaining quality. Sources in Konkan point out that to cut production cost, some entrepreneurs use buttermilk instead of coconut milk. Also, to add colour to sol kadi, beetroot juice is being added.
Despite these glitches, the future of the sol kadi business looks promising. It is the newest entry into the range of healthy and 'cool' Indian drinks.