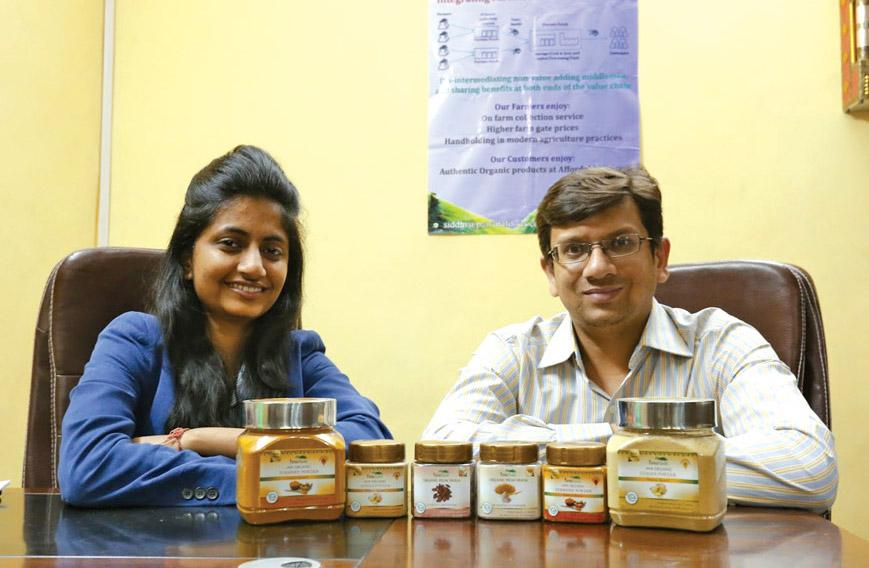 Bringing Sikkim ginger to the Delhi market
Subir Roy, New Delhi
Published: Apr. 08, 2016
Updated: Jul. 08, 2016
Parvata Foods has marketed 100 tonnes of 'Himalayan Ginger' in the National Capital Region (NCR) through Mother Dairy's 350 plus Safal outlets which offer fresh food and vegetables. The farmers who grew this organic ginger in Sikkim, now a totally 'organic' state, secured a high 65 per cent of the price which Safal paid to Parvata Foods. Farmers traditionally get no more than 30 per cent of what consumers pay.
The start-up will next target the markets of Mumbai and Bengaluru for processed spices and thereafter explore the prospects of exporting.
Parvata Foods Pvt Ltd was set up in late 2013 by two co-founders, Siddhi Karnani and Anurag Agarwal, who both graduated from the Indian Institute of Management, Ahmedabad that year. This is the first venture for both.
The idea for it came to them when they were touring Sikkim as part of a course run by Prof. Anil Gupta. Named Shodh Yatra, it seeks to energise potential young entrepreneurs into uncharted territories where there is scope for new ventures but the business model for them is yet to be developed.
Karnani explains, "Our aim is to build value chains in fruits, vegetables and spices from Sikkim and other states in northeastern and eastern India, thus elevating the living standards of farmers in difficult hill areas by integrating them with main value chains. The start-up processes the products to add value and then markets them globally."
Agarwal adds that the start-up has just set up a spice processing plant in Sikkim as a joint venture with the Sikkim government. In April it will launch its own brand which will market an assortment of spices and produce such as ginger, turmeric, chilli, buckwheat and black cardamom. Then the venture will come up with squashes. Right now the effort is to set ...