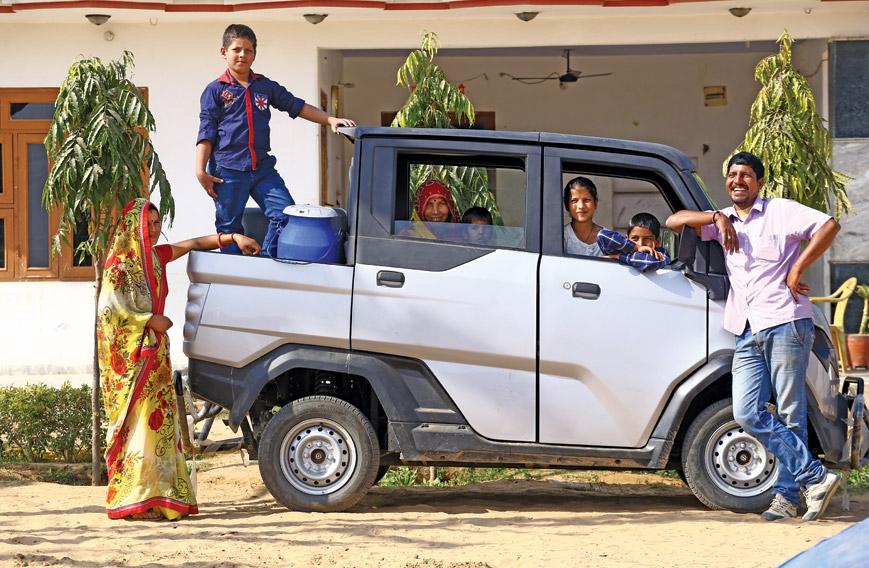 Multix as rural car gets big thumbs up from users
Civil Society News, New Delhi
Published: Feb. 08, 2016
Updated: May. 02, 2016
Ganesh Narayan Chaudhry is a farmer in Mahapura village of Jaipur district in Rajasthan. His is an even-paced rural existence where few things change. He grows his fruits and vegetables and makes his usual trips to the mandi where he sells to traders. A lot of time goes in tending to his fields. With 10 acres he is reasonably well-off but not rich. In his 40 years he has learnt the virtues of living within his means and not splurging on new possessions.
But when a dealer for the Multix, a personal utility vehicle, turned up last year, Ganesh Narayan was hooked. He kept the vehicle for seven or eight days to do trial runs, but he knew right away that this was what he needed.
The Multix instantly meant many things to him. It could be used as a small car in which he and his wife and two children could travel. On mandi days, it was perfect for transporting fruits and vegetables. He could take it into his fields because it was rugged and could cope with varying terrain. And, if the need arose, he could also use the Multix as a generator to power his home or run a pump set. At around Rs 2.32 lakh, its price was just right.
The ease with which Ganesh Narayan made his decision has much to do with the humungous amount of homework that has gone into designing and pricing the Multix. Unknown to him, his needs and preferences had been closely mapped for more than a year by Polaris as it conceived a vehicle for launching in rural India.
Polaris is a global company with more than one avatar. It is better known in India for IT consulting and software. But it is also a manufacturer of high-end all-terrain vehicles ...