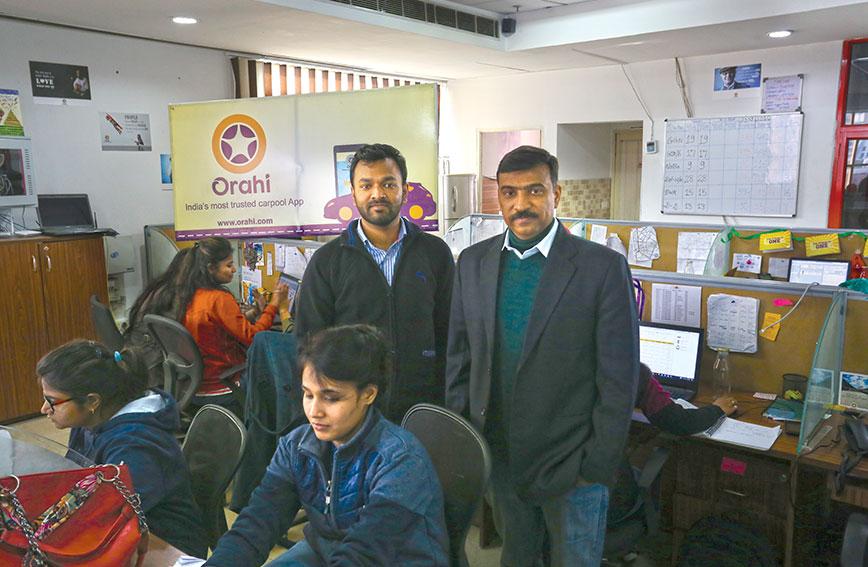 Sameer Khanna and Arun Bhati, co-founders of Orahi, at their office in Gurgaon
Orahi has made carpooling a smooth ride in NCR
Kavita Charanji, Gurgaon
Published: Jan. 31, 2017
Updated: Jun. 15, 2017
For a large section of National Capital Region (NCR) residents, the daily commute from home to office and back is a hellish experience. People are stuck in traffic for hours in their cars amid clouds of noxious fumes. But there are few options. Public transport is crowded and awful.
Arun Bhati and Sameer Khanna, two tech-savvy entrepreneurs, have developed a user-friendly app-based carpooling platform called Orahi which is making it easier for office-goers to commute. Carpooling reduces the number of cars, thereby reducing air pollution, and makes sound business sense as well.
"We say you are not stuck in traffic, you are the traffic," says Bhati, Orahi's Chief Operating Officer (COO). An alumnus of IIM Calcutta and former Ericsson employee, he was rated among the top 100 technocrats of India by Exhibit magazine.
With almost 100,000 registered users, Orahi, which is based in Gurgaon, has rapidly emerged as the most popular player in the NCR's carpooling business.
Flexi-timings, flexi-members, safety, fuel economy and cashless payments are the main draws of Orahi, say users. Besides, the platform is a good social leveller.
Vivek Agarwal, assistant manager at Blackberrys Apparels, makes the daily two-hour commute of 45 km between his home in Vaishali, Ghaziabad, and Gurgaon twice a day. "There are so many things that have happened with Orahi. With four co-travellers the daily commute has become easier for sure but networking is great too and I have made so many friends along the way. Sometimes we stop off to get a bite to eat," he says with a smile.
Unlike other carpools, the service offers flexibility. Agarwal is a member of an Orahi chat group that offers him freedom to decide when and with whom he will make the Ghaziabad-Gurgaon commute every day. "We don't have to fix rides for a ...