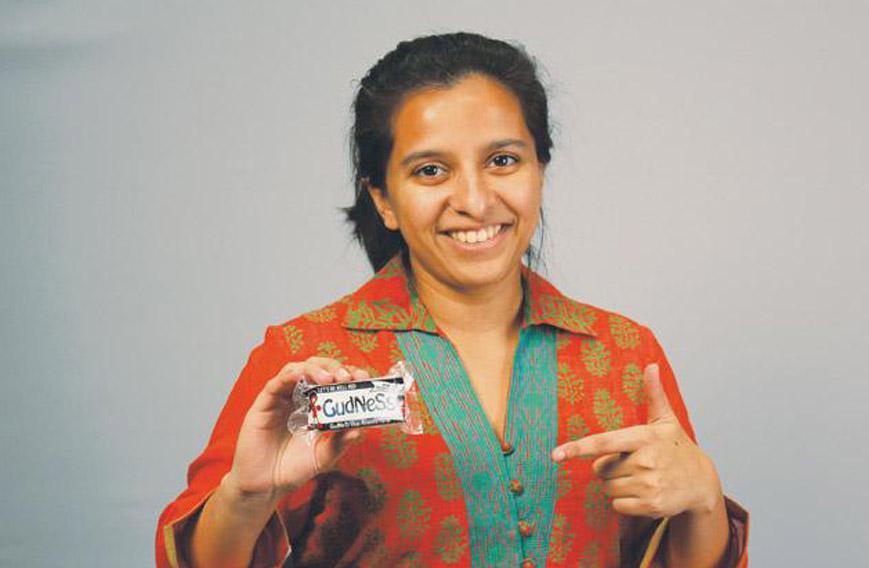 GudNeSs for Rs 10 with all the iron women need
Arjun Sen, New Delhi
Published: Oct. 13, 2015
Updated: Nov. 30, 2016
A bar made from jaggery, nuts, seeds and multiple grains and available for just Rs 10 could be the low-cost solution to the problem of anaemia among Indian women.
Produced by Rajvi Mehta, 20, the bar is inspired by the chikki, a tasty and popular confectionery. Just five bars a week can provide anaemic women with all the iron they need in their diets.
In 2010, Mehta, a Mumbai girl studying biochemistry at Brown University in the United States, found that she couldn't walk up a flight of stairs without feeling exhausted. She began to experience multiple episodes of fainting and chest pain. Back in India during her long winter vacation in December of that year, she discovered that she was suffering from Thalassemia Minor, a genetic disposition to anaemia.
"When I discussed my blood test results with physicians, I realised that I was one in over 900,000 million people in India who experience these consequences of anaemia on a daily basis and are unaware of their condition," Mehta told Civil Society. That was when she decided to do something about it.
"I wanted to do something to help the situation and so I thought of Let's Be Well Red (LBWR), initially as a project that filled gaps in previously failed government programmes. A market scan of government health programmes found that some had neglected nutrition completely in their treatment regime. Others distributed iron-fortified flour and rice, but these programmes were unsuccessful due to the lack of awareness about the optimal dosage needed to satisfy the daily iron requirements," Mehta said.
RISING ANAEMIA NUMBERS
In fact after spending thousands of crores of taxpayers' money, the actual incidence of Indians suffering from the debilitating effects of anaemia has gone up. According to the National ...