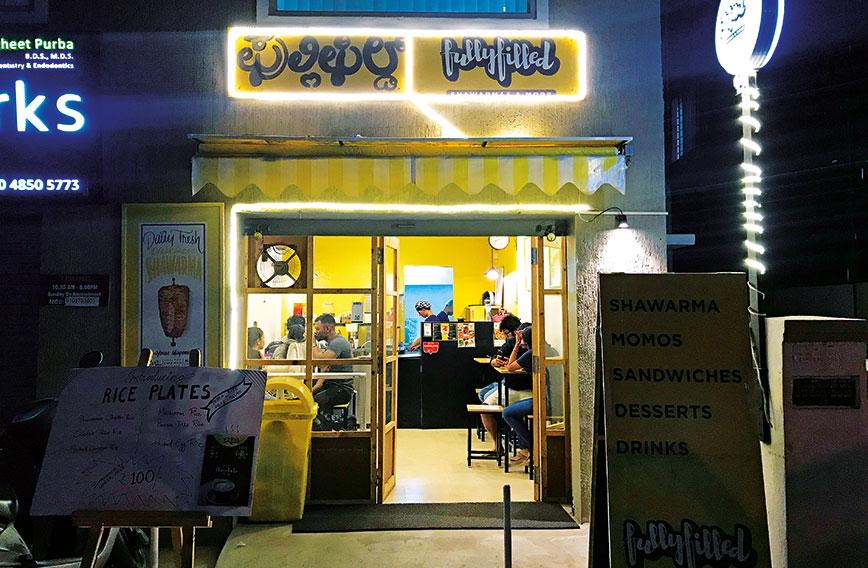 Fullyfilled, a small eatery in Bengaluru which had to close temporarily
Restaurants brace for change, seek govt help
Sidika Sehgal, New Delhi
Published: May. 28, 2020
Updated: Sep. 25, 2020
In 2018, Anusha Pinto and Vijay Giri started Fullyfilled, a small restaurant serving shawarmas and momos in Bengaluru's posh Indiranagar area. They invested their personal funds. Fullyfilled was doing well and it was close to breaking even. Then, on March 18, Pinto and Giri decided to temporarily shut down due to the coronavirus pandemic.
On video call from their home in Bengaluru, the couple explained that it made sense to close. "It's about economies of scale. It's difficult to make shawarmas in small batches. Buying chicken in small amounts is expensive," said Pinto. Their small restaurant can seat about 12 people.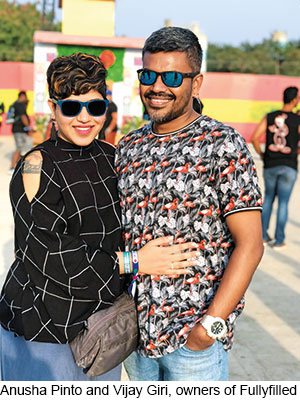 Pinto, 33, is an independent consultant and works as a brand strategist. Giri, 38, is with Discovery Channel. They had been paying part of the restaurant's expenditure from their salaries and were hopeful that their fledgling enterprise would become financially viable soon. Now the wait will get longer.
Restaurants that chose to stay open during the lockdown for deliveries did some business but are still in the red. Deliveries have not made up for lost revenue. "People are sceptical about ordering food. And people are trying to spend less on eating out," said Bappaditya Malik who runs Culinaire, a Thai and Chinese restaurant with four branches in Delhi.
The restaurant business in India is struggling to survive. The industry adds value to India's economy. It creates a huge number of jobs and is an important customer for farmers because of the fruits, vegetables and meats that it buys.
"We employ 7.3 million people directly in restaurants. This number excludes delivery boys, security guards and housekeeping boys," said Anurag Katriar, president of the National Restaurant Association of India (NRAI). Established in 1982, NRAI has over 500,000 member restaurants.
NRAI pegs the annual turnover of the industry at Rs. 4,25,000 crore.
"I think this sector will shrink by 40 percent at least," says Katriar. "As many as 30 to 40 percent of the workforce could lose jobs."
The Rs. 20 lakh crore economic stimulus package announced by Finance Minister Nirmala Sitharaman completely overlooked the restaurant industry. The only consolation is that since some restaurants qualify as MSMEs they can utilize the 20 percent top-up on existing loans to restart their businesses post the lockdown. But this provision applies to only those with existing loans.
In a virtual meeting with the finance minister on May 21, the NRAI put forth five requests. "First, declare the pandemic a force majeure so that our rent liabilities don't accumulate. Second, we want input tax credit on GST since that adds to our costs by 8-10 percent. We can't afford it. Third, we want a more equitable e-commerce policy in food delivery," Katriar said.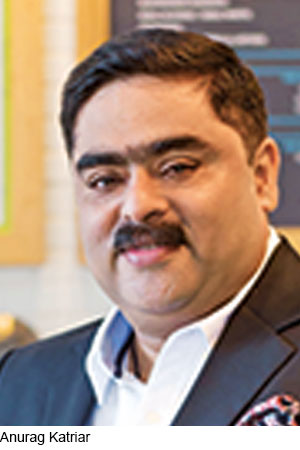 Food aggregators, he said, offer platform driven discounts which are funded by restaurants. To deliver they take commissions as high as 25 percent of the bill and they do not share customer data with restaurants. The conflict with food aggregators is not specific to the lockdown, but it matters now more than ever when earnings are so low. Food aggregators should not make money at the expense of restaurants.
Restaurants are also covered under the Employees' State Insurance Scheme. Katriar said that they have requested the government access to that corpus to pay salaries of those covered under the ESIC Act. The final request of the restaurant industry is for working capital in the form of loans from banks and a little moratorium to repay that money.
The business of running restaurants is an unforgiving one. Profit margins are low. A mere five percent margin is considered healthy. Restaurants are lucky if they break even in a year or two. It takes longer to see a return on the capital investment.
A DESI BUSINESS
Small independent restaurants become local institutions where everyone knows everyone. Started with personal savings and passion by middle class entrepreneurs, they expand due to quality of food and service.
When Malik's father opened Culinaire in Greater Kailash in 1996, it was just a delivery kitchen. Back then, there were only three or four restaurants serving Thai food and people would come all the way from West Delhi to Greater Kailash in South Delhi to eat from Culinaire in their cars.
As business grew, they rented a small shop in Greater Kailash that seats about 20-22 people. The branches in Kailash Colony, Rajouri Garden and Gurugram opened later. Culinaire runs a cloud kitchen in South Extension II also. But these days, the restaurant chain is doing just 10-15 percent of business. They get about 50-60 orders across all branches and just 18-20 at the Greater Kailash branch.
"Till the time you have business, it's fine. But when you don't, all you see are bills to pay," said Sanjiv Kalia, 49, who started Cakes N Stuff in Sector 8 in Chandigarh in 1999. His father had invested in the bakery. Their takeaway joint is a one-stop neighbourhood shop for cakes, breads, sandwiches and burgers.
Most of their revenue comes from cakes which people order for birthdays and parties, said Kalia. But since public gatherings are down to a bare minimum, they don't get many orders. During the lockdown, a good day sees 15 percent of the usual business. But on most days, it is just five to 10 percent.
Owners of restaurants acknowledge their commitment to their staff. Since Fullyfilled closed, Pinto and Giri paid their two chefs from their own salaries. "We are able to pay them because we have full-time jobs, but on a restaurant's profit margins, it would have been very difficult," Pinto said.
At Culinaire and Cakes N Stuff also, all chefs and waiting staff were paid full salaries for March and 70-80 percent of salaries for April. "We want to look after our staff. As of now, we haven't had to lay off anyone. But we will have to do it because we don't see any improvement. If I have to run the unit, I have to reduce my costs," admitted Malik, who employs 45 people.
There is rent to be paid and it's up to individual landlords to give concessions. Pinto and Giri have convinced their landlord to give them a 50 percent waiver for April. But Kalia has not been successful.
RADICAL MAKEOVER
For restaurants, nothing is the same anymore. New hygiene protocols have been put in place to make sure that the food is safe. At Culinaire, each chef's temperature is checked and noted before they enter the kitchen. Kitchen counters are sanitized every day with a mix of bleaching powder and water.
Cakes N Stuff has just three to four chefs instead of seven. Since restaurants are operating at 50 percent of their staff strength, kitchens have become less crowded and chefs are able to maintain a distance of six feet.
But supply chains have been disrupted and restaurants are unable to source all ingredients. Malik said that though fruits and vegetables have been readily available, there was a lot of confusion over whether poultry was an 'essential' item or not. Even now, lamb isn't available and if it is, it's not affordable. The poultry vendor for Fullyfilled also shut shop when the lockdown was announced.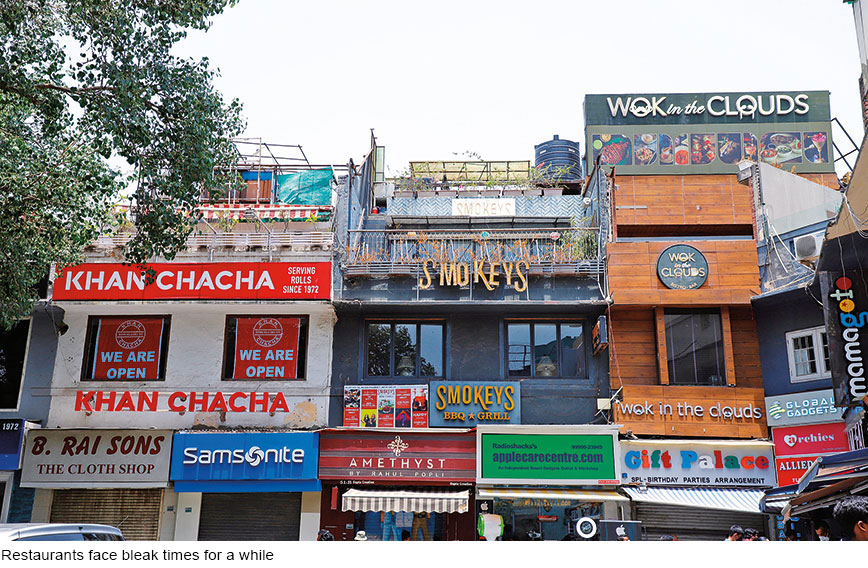 Restaurants, which are bulk consumers, are also buying less. "On an average, we buy 15 kg carrots per day. Now we buy just two to three kg," said Malik. That is likely to have a domino effect on producers.
"The big difference between us and other industries is that we deal in perishables, so extras go down the drain. Clothes will not get spoiled, you can still sell them later. One company had 100,000 litres of beer in its inventory when the lockdown was announced. All of that went to waste," said Katriar.
Masks and gloves are now mandatory. Temperature checks for everyone have become the norm. Restaurants are likely to opt for digital ordering so that people don't have to touch the menu. They will have to test their employees for COVID-19 frequently and possibly put the information out in the public domain so that customers feel confident. If restaurants reduce seating capacity to ensure physical distance, their table turnover will have to increase.
"We'll look for people who can multitask and do several things. We'll have to become a less people-centric business," said Katriar. He is also CEO and MD of DeGustibus Hospitality. The company has 27 small and large operations in Mumbai, Delhi, Kolkata and Bengaluru. Their restaurants shut on March 18.
During the lockdown, NRAI leveraged its kitchens to serve as many as 55 lakh free meals in Mumbai, Bengaluru, Delhi, Kolkata, Chennai and Coimbatore. In the first week of May, NRAI started the R4R programme (Rise for Restaurants). Customers can buy vouchers for member restaurants and use them later when restaurants open. The money will be used to pay salaries.
Katriar said that the government might allow restaurants to open around the same time as schools. "Only when we arrive at that sense of safety, will people feel that things have improved," he said.
On May 6, Pinto and Giri said that they planned to open Fullyfilled for a few days to test the waters. Kalia also hoped that business would pick up soon. "It's very easy to say that we'll shut shop. I don't want to do that," said Malik.