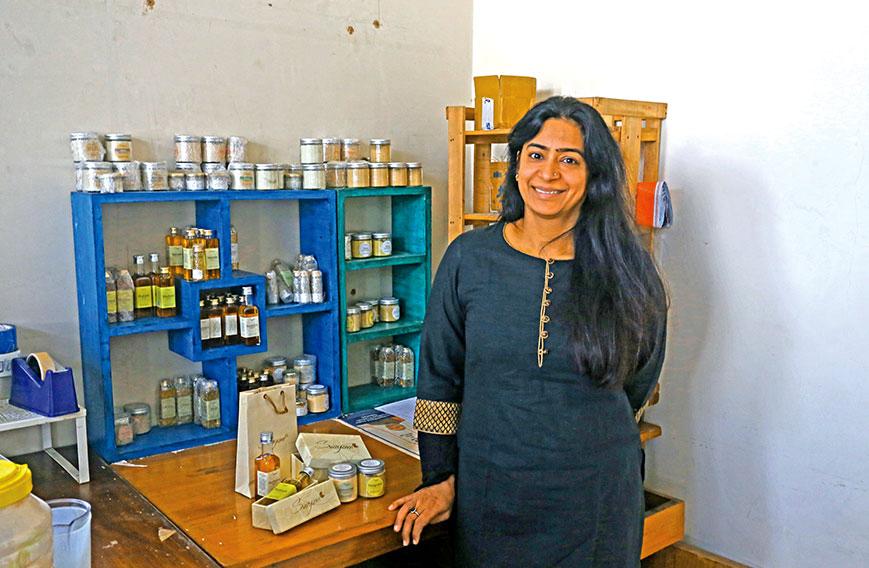 Kavita Bhatia-Gupta at her manufacturing unit with her wholly herbal products
Cosmetics made to order and wholly organic
Civil Society News, New Delhi
Published: Dec. 29, 2016
Updated: Jun. 15, 2017
When Kavita Bhatia-Gupta makes a face scrub, it is so fresh that you can smell the ingredients each time you apply it. It is as though it were made just for you — and in fact it often is. Her customers, once they have tried her formulations, invariably end up calling up to tell her precisely what they need. Someone's skin is too oily or too dry. Or there is a problem with blemishes and patches. Much-feared wrinkles could be making their first appearance.
Kavita has got restorative potions to offer for these and many other personal grooming requirements, but be prepared that nothing she sells is meant to last more than 90 days. It is also not available off the shelf — and of course it can't be because that would kill the freshness and mean using chemical preservatives. She believes in being as natural as you can get.
Her small herbal cosmetics outfit, Svayam, which appropriately means 'self-help', makes a range of hair oils, scrubs, packs, face serums and bath oils that she sells on her own website and e-commerce sites like Flipkart and Amazon.
Svayam's mustard oil with methi and karipatta is gentle and restorative. "It's brilliant for your hair," she says. "The oil arrests falling hair and promotes hair growth." Olive oil with cinnamon will prevent premature greying. "Cinnamon is a natural darkener," says Kavita. There is also a nutritive coconut oil with amla and neem stems.
One face serum has sesame oil, almond and saffron, another has apricot oil with patchouli and almonds. There are bath oils with coffee and face packs using neem, urad and orange.
You can pick four kinds of face scrubs: apricot, rice, orange peel and almond-oats, depending on your kind of skin.
"I have 16 products from the family chest," ...