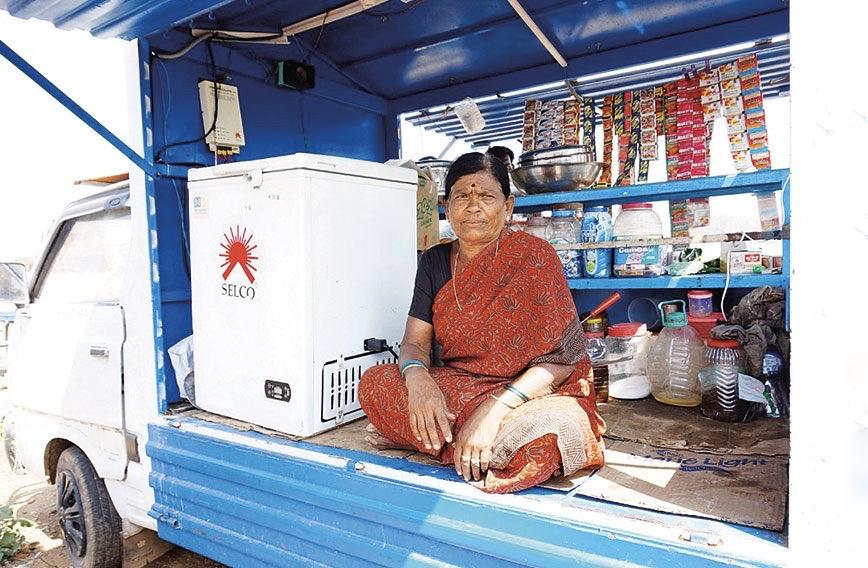 The solar fridge is popular with small kirana stores
Fridge from the sun, cooling in the middle of nowhere
Civil Society News, New Delhi
Published: Jan. 25, 2022
Updated: Jan. 25, 2022
WHEN tribal women go into forests in Udaipur district to pick fruits like jamun and sitaphal, they are always in a hurry to find the first buyer they can get. These fruits are so perishable that the price declines with every passing hour and with the odds stacked against them, the women invariably end up selling them cheap.
For some of them, however, perishability is no longer a problem. A refrigeration facility run on solar power allows them to keep the fruit for four to seven days.
At a local processing unit, they keep the pulp of the fruit under refrigeration until buyers pick it up at a better price for making ice-creams and milkshakes. Refrigeration, using solar power, has helped these women increase their earnings through some rudimentary arbitrage.
Solar fridges have similarly helped dairies in Uttar Pradesh which have to contend with breakdowns in power supply. They can now keep milk products overnight and have more franchisees. Earlier, the milk would just go bad.
Making these apparently small but, at the same time, far-reaching enhancements possible is Devidayal Solar Solutions, a company founded by Tushar Devidayal in 2015.
Devidayal, 46, studied in America and worked for some time on Wall Street before returning to India and his family's business in chemicals and agricultural inputs.
He grew the family business and sold it to a Japanese company. He then went on to do an MBA in England and, having gotten interested in sustainability, he reinvented himself as a solar-power entrepreneur. It is a role in which he seems to have combined both his understanding of rural markets, which came from the family enterprise, and his familiarity with the worlds of finance and business.
Devidayal sees great opportunities in solar power — not just in terms of the profits that can come from it, but also for what it does in improving the lives of people cut off from the benefits of useful technologies.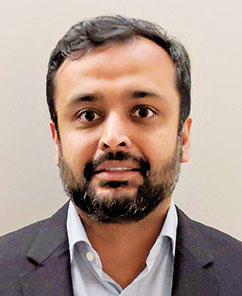 Tushar Devidayal
As with all enterprises that explore new markets, he has had to cut a path for himself and figure out the way ahead. It is not easy to sell a solar fridge or cold storage to someone who can't even imagine what it might be. It is even more difficult to assess their capacity to pay. How does one make financial sense of the dribbles in which the marginalized earn?
New-age businesses get their energy from the freshness of the ideas and emotions with which they are launched. It is a potent mix and more so when technology is added to it. Solar power used creatively can be a game-changer and companies such as Devidayal's transform lives through their entrepreneurship.
Realizing that the ability to pay would be a hurdle in selling the fridge to small rural enterprises, Devidayal prepared an impact assessment study and sought funding for a pilot project from Powering Livelihoods, a programme by Council on Energy, Environment and Water (CEEW) and Villgro Innovation Foundation.
The study estimated that a solar fridge would increase the income of businesses by Rs 7,000 per month in areas that experience intermittent power supply. Clearly, the potential to pay existed, but the problem of how to pay remained.
"Consumer financing is tough to get with solar projects and products," says Devidayal. "Powering Livelihoods helped get risk guarantees to financers and piloted our projects."
"We are now able to offer EMIs of around Rs 3,000 since, if the income increment is Rs 7,000, they should be able to pay as well as save," he says.
Major users of the solar fridge are kirana stores in towns and rural areas because they need it for their cold drinks and ice-creams. Afternoons often see power cuts in these areas. It is also the time of day for shift changes in factories and school students going back home. So, for a general purpose kirana store, the solar fridge is a boon.
"In the 400 solar fridges we have installed in the last year, over 150 have been in kirana stores," says Devidayal.
The solar fridge works 24/7, reducing the chances of wastage and spoilage caused by power cuts. The storage varies from 100 litres to 350 litres. The price ranges between Rs 60,000 and Rs 95,000, including the charge controller, solar panels, battery, wiring, installation and freight charges and GST.
The fridge works on a direct current (DC) and does not need an inverter. It is four times more energy efficient than an average fridge. Even if connected to the grid, the solar fridge would use 0.33 units of electricity instead of 1.4 units used by a normal fridge. An average fridge from the market, if connected to solar power, would require three times the panels and four times the batteries, making it a bulky and space requiring operation.
An independent impact assessment study from the SELCO Foundation, with a sample size of 75 solar fridges, found that businesses using solar fridges saw their income go up by between Rs 4,000 and Rs 7,000 a month. Another study in Delhi took a sample size of 61 installations and concluded that there was a similar increment in income.
But the impact a solar fridge has is really difficult to measure because its use is disaggregated and its beneficiaries are not easily identifiable.
For instance, flowers at dargahs and mandirs are also saved from spoilage. Now what could that mean to people with small incomes? Similarly, fisherfolk have found the solar fridge to be more efficient than ice, which is what they generally use. It has translated into monthly savings. The possibilities are endless.
Devidayal Solar Solutions has its head office in Mumbai and branch offices in Lucknow and Indore. But a bigger network is needed to reach customers and remain in touch with them for after-sales handholding.
"During COVID-19, we realised the need for online troubleshooting with limitations to on-ground visits," says Devidayal.
So, an up-to-date YouTube channel followed and an active helpline on email and WhatsApp was created. When it comes to empowering the small user, however, there will be no substitute to delivering technology with a human interface.