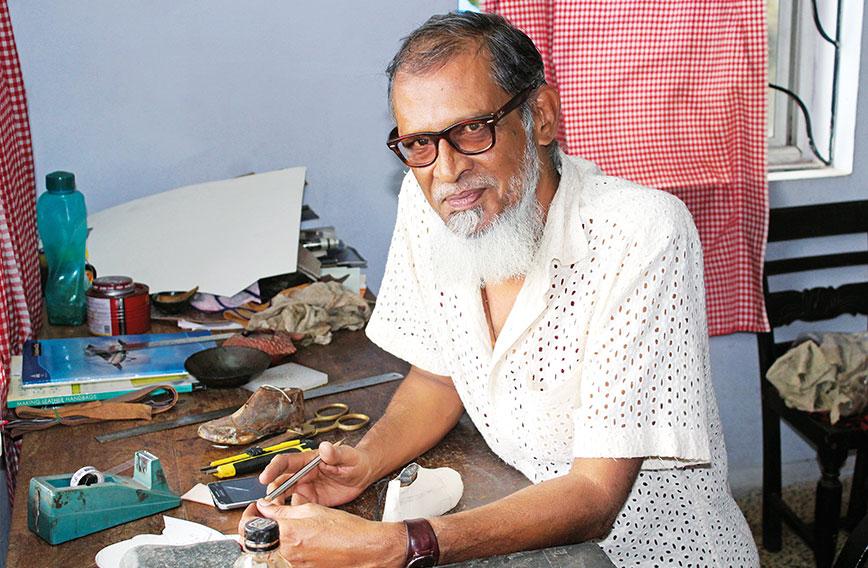 Edwin Pinto, designer-shoemaker, at his work station
Janota's trendy shoes are all soul and comfort
Derek Almeida, Panaji
Published: Nov. 04, 2017
Updated: Nov. 30, 2017
Edwin Pinto is perhaps Goa's only designer-shoemaker to keep his business running for 20 years without publishing a single advertisement. For him word-of-mouth works better.
And why would he need advertising? With an outlet located off Goa's busiest traffic route from Mapusa to Panaji, it is almost impossible to miss 'Janota' which in Konkani means stylish, chic, or as Edwin puts it, "it almost means chic, but it's not really there".
It is at this design studio-cum-shop that Edwin dreams up designs, works with a variety of leather and produces shoes to suit every occasion and foot. Working with two very senior shoemakers, he produces about 30 pairs of shoes and slip-ons a month, while his son, Aaron, specialises in sling-bags and jackets.
The design process starts with a 'last' or wooden form which is procured from Mumbai. The 'last' is wrapped with paper on which the design is drawn. Once finalised, it is handed to the shoemakers who transfer it to leather and sole.
Over the years, Edwin has lost track of the number of shoes he has designed and sold and, despite the challenges like lack of trained shoemakers, he forges on.
The shoes manufactured at Janota start at Rs 2,000 a pair and could go up to Rs 9,000. Custom-made shoes, which involve measuring the foot and modifying the 'last', cost more.
Edwin started out as an entrepreneur at the early age of 18. That was when he told his father he wanted to become a tailor. "My dad was a doctor, so when I told him I wanted to become a tailor, the whole family freaked out," says Edwin. After completing a course in Mumbai he entered the garment business where he designed and stitched men's wear and then went on to bridal gowns and everything else in between.
Edwin's first break in the shoe business came when he designed a pair of shoes for himself. "I designed it like a tailor," he explained. "It was made of fabric with a rubber sole. Then I bumped into Francisco Martins who was readying his dance troupe for the 1982 Asiad. He saw my shoes and placed an order of 600 pairs for all his dancers, all made of fabric. We completed that order in three weeks."
But shoemaking continued as a hobby until Edwin met world-famous fashion designer, Wendell Rodricks at the inauguration of Savio Jon's boutique in Siolim, North Goa. "He asked me to design shoes for his store in Panaji and I presented a silk collection," recalls Edwin. The promotion by Rodricks brought him publicity at a national level and from then on Edwin gradually moved into the business of designing and making shoes.
"At one point of time I had eight shoemakers working for me," says Edwin. Today he works with just two — Murari Satardekar, who is 90 years old, and Devedas Arlekar, aged 70. They are the last shoemakers in a state that has shunned this trade on account of its association with a lower caste.
Edwin regularly attended the Saturday Night Bazaar, which was started by the late Ingo Grill at Arpora in North Goa. "Ingo was very supportive of my craft," said Edwin. "He gave me the best location in the bazaar and charged me one-fourth the rent."
Edwin never thought of marketing or advertising because all he wanted to do was to create and work with his hands. That could be Janota's strength or weakness, depending on whether one looks at it as a creative process or from the standpoint of marketing. When asked if the decision to stay small was a conscious one, Edwin replies in the affirmative. "I always had work for myself and the shoemakers. The demand was always there, so the question of growing never arose," he explained. Sometimes, small is big.
Surprisingly, most of his clients are not from Goa, but from Mumbai, Delhi and Bengaluru. A lot of foreign tourists pop in now and then to buy his shoes. The business has a website, but online sales are not a strong point.
While Edwin continues to work with fabric, cattle leather and hemp, he prefers sheepskin leather because it is soft and comes in a variety of colours. This leather, sourced from Chennai, has a huge market in Goa, thanks to it being a tourist destination on the world map.
The availability of sheep leather has also spawned a cottage industry for jackets. "These are designed and manufactured by Kashmiris, Biharis and Tamilians," said Edwin who is desperately looking for shoemakers.
"I tried bringing shoemakers from outside the state, but they are not quality conscious," he lamented. "Saterdekar, who started making shoes at the age of 13 and Arlekar trained under Portuguese master shoemakers and will not compromise on quality."
To overcome this problem, Edwin has put up a proposal to the jail authorities to start a course for convicts. The idea is to give convicts a trade that can be of use to them when they are discharged.
But there are times when he seriously considers moving to a region where shoemakers are easily available. Should that happen, it would be a sad departure for Goa's only shoemaker.
Contact: Janota, Aldeia Aurino, Nr. Damien De Goa, Porvorim, Goa-403501
Phone: 090499 09930