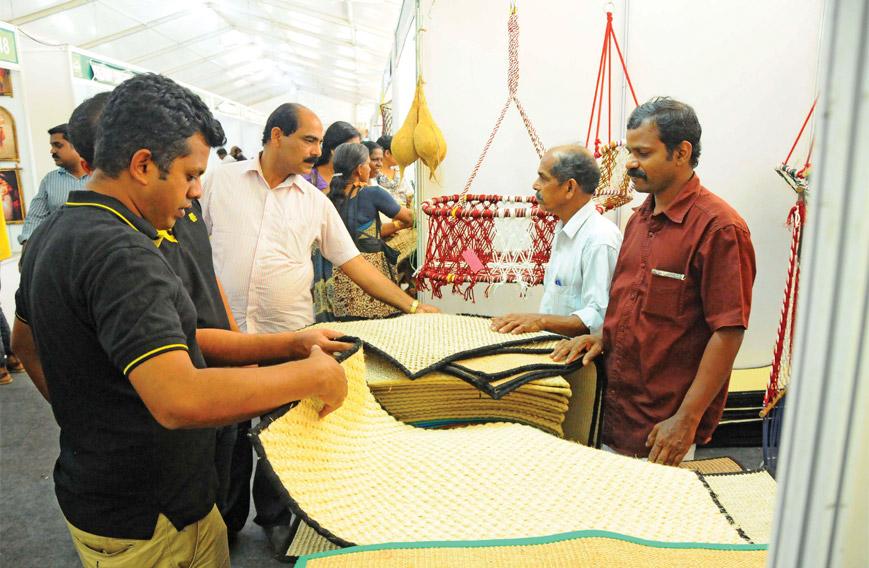 Kerala promotes coir with organic sound panel
Saibal Chatterjee, Alappuzha
Published: May. 24, 2016
Updated: May. 30, 2016
Of all the products that were on view at the sixth edition of Coir Kerala, an international exhibition, the Accoir organic sound panels aroused the greatest interest.
This breakthrough blend of coir and acoustics has the potential to revolutionise sound panel designing. It is being developed by the Kerala chapter of the Institute of Indian Interior Designers (IIID) in association with the National Coir Research and Management Institute (NCRMI) in Thiruvananthapuram.
"Accoir is in the final stage of production and we are in the process of getting the patent," says Anil K.R., director, NCRMI. "These sound panels made of natural fibre could be used in movie theatres, concert halls and recording studios," he adds. When ready, Accoir would be available in 25 mm ceiling panels and 40 mm wall panels.
Coir Kerala, held over 1-5 February, is aimed at developing Alappuzha as the world's coir hub and showcasing research and development (R&D) advances being made by the industry. The annual exhibition is among a slew of other initiatives taken by the state government to improve the lot of coir workers.
Accoir isn't the only acoustic design innovation that industry professionals in Kerala are working on. A 3-D coir-based panelling system that absorbs sound and heat is also being developed by a private engineering firm, 2M Engineers Group.
Prem Kiran of 2M Engineers says, "The pores in coir allow it to absorb 50 per cent of sound and heat, offering a viable soundproofing and insulation method. Made completely from coconut fibre, this wall and ceiling panelling is entirely organic and a great low-cost alternative to plastic, wood and tiles."
New products suggest a dramatic transformation of Kerala's biggest cottage industry which is undergoing modernisation and diversification. It currently employs 375,000 workers, 80 per cent of whom are women, and provides indirect ...