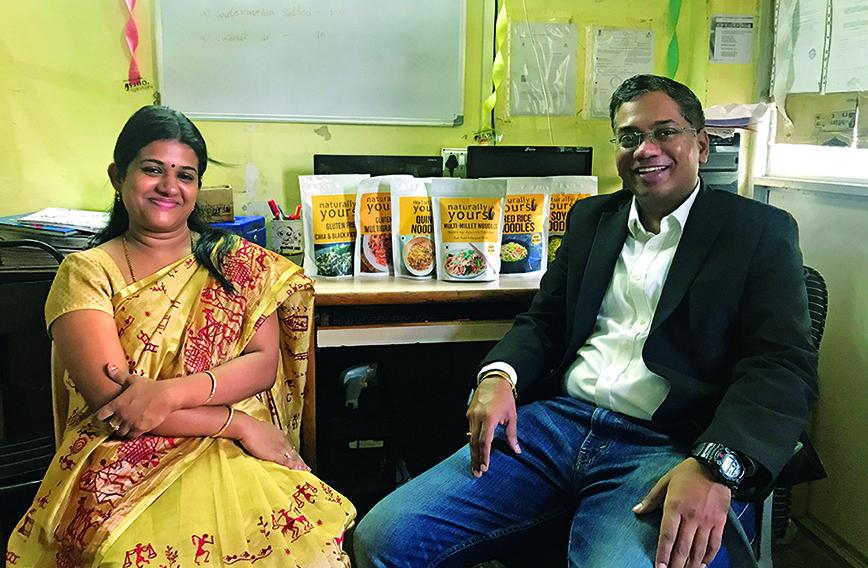 Priya Prakash and Vinod Kumar: 'Millets got wiped out because wheat is much easier to use'
The good noodle is here and getting popular
Civil Society Trends, New Delhi/Mumbai
Published: Sep. 24, 2020
Updated: Sep. 24, 2020
NOODLES come with irresistible charms. Children who won't eat their meals will happily slurp up a bowl of noodles. Working people find them easy to have on the go. There are eating places in the world where people will even queue up for a signature noodle recipe.
Noodles bring big problems as well. There is way too much starch in the rice and flour and wheat varieties. An energy boost is often welcome, but empty calories never did anyone much good. Chemicals, too, are cause for concern.
But noodle lovers need not despair. The good noodle is here, both tasty and nutritious and easy to serve as well. It is made from different varieties of millet, traditional red rice and even quinoa. In varying degrees, there are fewer carbs and more protein. Also, cultivation is chemical-free.
The idea came to Vinod Kumar when he was into retailing organic products at stores called Naturally Yours in Mumbai. He found that his customers preferred millets to rice. He also discerned a trend of ordinary folk, and not just wealthy people, being willing to spend more to eat healthy.
Kumar, 38, decided to go from retailing into production and marketing directly to customers. He began identifying farmers who were ready to cut out the use of chemicals and finally go organic.
Naturally Yours began putting out seeds, spices, healthy grains and flour from quinoa, among other such wholesome products. But it was with noodles made from a combination of millets that he struck a chord.
"Multi-millet noodles is hands down our top-selling product," says Kumar.
Either out of awareness or out of medical concerns people were trying to replace carbohydrates with protein in their diets.
There was a cultural reason as well. In past generations, how to cook millets was family knowledge and they were also more readily available. Now, when people wanted to eat millets, they could neither source them nor did they know how to turn them into tasty dishes. Also, there isn't time to spend in the kitchen.
Multi-millet noodles are a one-stop solution. They come in well-sealed packaging, can be stored and are ready to cook. They can be bought online and home delivered. In addition, farmers and consumers are being connected with each other.
Growing and consuming millets has been on a decline. Yet, in many rural areas, even peri-urban places, millets continue to have a place in local diets. In the northern states, there is ragi, jowar and bajra. In the southern states, there is foxtail millet, proso millet and kodo millet.
"We were not consuming just wheat and rice. We had all these millets also. All of them got wiped out because wheat is much easier to use," says 36-year-old Priya Prakash, a microbiologist who is Kumar's wife and partner in the business. "People don't know how to cook them anymore, and they don't have the time or the inclination to learn," she explains.
"Mixing all the millets together and making noodles from them was a blockbuster idea for us," adds Kumar. "It was a simple idea, really. With the noodles, the benefit of all the grains has become that much more accessible."
Demand has been growing every year since 2016, the year the multi-millet noodles were launched. It has emboldened Naturally Yours to come up with noodles from red rice, soya and quinoa, which are also growing in popularity.
The noodles are quite easy to make although they need to be boiled for longer than instant noodles. "Instant noodles are flash fried, that's why they cook in two minutes. Our noodles are dried instead," explains Prakash. "It is still just 10 minutes spent on cooking a much healthier meal."
Nine years into the business, there is a lot that Kumar and Prakash have learnt about the organic food industry. People are willing to pay and, in fact, seek out healthier food options. Customers tell Kumar why they buy their products and almost always, the stories surprise him. A struggling artist from Thane spends Rs 2,000 every month to buy ashwagandha powder from Naturally Yours.
The noodles are priced at Rs 125, which is nearly six times the price of a packet of instant noodles. "The noodles are a top-seller. It wouldn't have been so if customers were looking at it from a price point of view," Kumar says.
At the same time it is not overly expensive. A packet serves three people, making the cost of a meal Rs 40. A meal anywhere outside would cost much more. Customers make these calculations. For those who live alone there is a smaller packet for just Rs 35.
If the price is still a little higher than mass-produced brands of noodles, it is justified by the high quality. Their quinoa pasta has 45 percent quinoa, unlike some brands that have 1 to 2 percent quinoa and claim to be quinoa pasta.
Kumar has his own take on popularizing organic food. He says it won't do to be preachy because then people get put off. It is more important to meet the needs of consumers and allow them to make their own choices of what they want to consume and at what price.
Their approach has been to identify the customer's need instead of forcing organic products on them. This explains why they've been pruning their inventory from 500 products to 100 and now 45.
Kumar also treats his customers as a community which over the years has gained trust in him. Naturally Yours is a small business with a modest turnover. But since it was launched in 2016, it has nurtured customers as carefully as it has created its products. It has created a small but valuable identity for itself. Kumar says he would never chase size for the sake of size.
When we meet Kumar at Chembur in Mumbai, his office is really a godown. Everything happens from here with a small team of about 18. Kumar and Prakash often attend to online sales themselves.
Production and packaging of the noodles has been outsourced. But there is also packaging of other products which happens in the godown where we meet. Here too Kumar is hands-on.
When Kumar was at Cardiff Business School, where he did his Master's in Business Administration, he came to realize that organic food was a growing trend. On his return to India, he found that there were very few options for a customer looking for organic produce.
"I visited an organic farm run by a relative and he was doing a fantastic job. I thought it must be a profitable operation, but he told me that it was not the case. In fact, he was making losses."
Kumar then started Naturally Yours to bridge this disconnect between the consumer and the producer.
Prakash was previously working as a research associate in Anthem Biosciences, Bengaluru and had a background in biotechnology.
"I had just had a child then and I wanted to eat healthy for my baby," she recalls. But she had to go to different stores for each product. In its earlier avatar as a store, Naturally Yours was meant to be a one-stop shop for the customer looking for healthier alternatives.
In 2010, their first store opened in Chembur on a family plot. They expanded to two more stores in Vile Parle and Bandra. When they saw that brands were manufacturing the same staples, organic pulses and organic spices, they found there was some uncharted space in the organic food industry.
With the shift to making their own products, Prakash took over product development and Kumar the finances and marketing.
They say the creation of real value is what matters to them. They believe that they are giving their customers good products and at the same time helping farmers get a slightly higher price for their produce.
Organic farming on a large scale is not always commercially viable. "We ask the farmer to give us a price in which he can keep the authenticity of the product intact as well as make some money for himself," Kumar explains.
Naturally Yours has a farmer-friendly approach. For any product to be certified as organic, it takes three years of continuous certification. "From the day farmers start converting to organic practices, we buy their products. We see them through the entire life cycle," says Kumar.
Till the products are certified organic, they are called natural products. Their products are certified under the Indian organic standards as well as the US standards. They work with farmers across the country — Uttarakhand, Rajasthan, Andhra Pradesh, Tamil Nadu, to name a few states.
It is a cautiously built business. Care has been taken to add layers to it sustainably. Marketing has been the particularly tricky part. "The Indian retail landscape is very different in each city and we want to understand each city before we enter that space. We don't want to dump our products in the market," says Kumar.
No product stays in the warehouse for more than two months. They have contracts with individual vendors for different products. Small health food cafes in Delhi and Mumbai also buy some of their products. Organic Plate in Karkardooma, Delhi and Sequel in Bandra, Mumbai are some of them.
There are international orders too. They get orders from individual customers in Singapore and the UK, among other countries. Within the country, they receive orders from 23 states including remote locations in Nagaland and Sikkim.