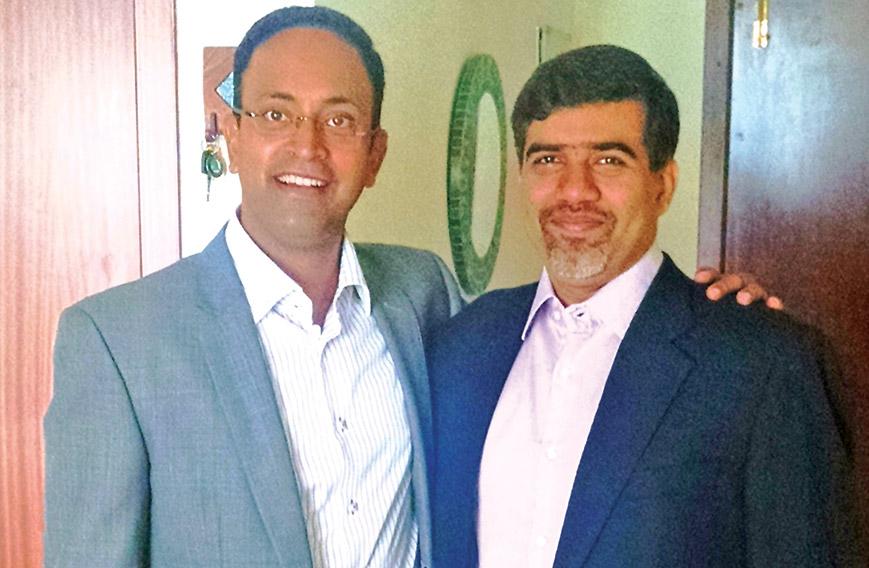 Solar firm readies for place in the sun
Civil Society News, New Delhi
Published: May. 02, 2016
Updated: Jun. 15, 2017
On the phone from Hyderabad, Vivek Subramanian is every bit an entrepreneur in full flow. We talk post-lunch, in time carved out between innumerable meetings, but once we are connected he is all there, awash in enthusiasm, numbers, ideas and insights. They all come tumbling out.
The solar power sector in India has begun booming in the past year. It has made start-up guys like Subramanian breathless with excitement – both because they were the visionaries who foresaw this day and because, now that it is happening, the opportunities are so massive that there is no time to be lost.
In 2010, Subramanian and his two friends, Vikas Saluguti and Saif Dhorajiwala, pooled Rs 1 crore and set up Fourth Partner Energy. They were engineers with management degrees who had been involved in structuring investments and providing consultation.
It has taken a while, but this financial year Fourth Partner Energy expects its turnover to be Rs 100 crore. It was Rs 50 crore last year and the goal is that the company should keep growing with such leaps and become India's leading RESCO (Renewable Energy Supply Company).
The scale has changed with the central government setting a target of 40GW for solar power by 2020 from 0.5 GW today. These aren't just targets on paper. There is a lot of action too which gives companies like Fourth Partner Energy the sense that they are on a roll like never before.
Govt on the ball
"It is very impressive how the Union Ministry of Power is tracking all the developments at the state level and the project level. It is exciting the kind of meetings we attend. We haven't seen so much interest taken by the government to make things happen before," says Subramanian.
In Fourth Partner Energy, they set out to build from bottom up a firm with engineering capabilities in a space that they believed would be hugely valuable. It was their business vision that the future lay in distributed power or rooftop solar panels meeting the needs of customers.
Twelve years ago solar was a proven source of clean energy, but the economics hadn't fallen into place. In comparison to grid tariffs, captive power from photovoltaic cells was expensive. Also, governments in India hadn't done much to help solar along, though there was a lot of talk.
But Fourth Partner Energy had reasons to believe that solar power would be the choice of the future. India was power-deficient and demand was growing. Transmission and distribution losses were tough to curb. Green concerns over clean power were also rising. Significant advantages lay in a distributed model. Since there is no shortage of sunshine in India, solar power would be an obvious choice.
"In 2010, the price of power from solar was about three times what it is today," says Subramanian. "We sort of had a view that these prices would come down.
Grid parity arrives
"What we have been waiting for is grid parity – the price of solar power being less than power from the grid. That is happening depending on which state you look at. Maharashtra, of course, is at the highest end of the tariff scale. But in states like Haryana, Delhi, Telangana, Andhra Pradesh and Tamil Nadu the price of solar power is cheaper than the grid."
This comparison is only on the basis of grid rates. There are other calculations. In the Northeast states, for instance, the price of grid power is low. But availability is poor. The grid cost should therefore include diesel generation, which is expensive.
Industrial and commercial India is driving the growth of solar power because the grid tariffs they pay are higher than those of domestic users. This makes solar cheaper by comparison for commercial users. The domestic consumer market is yet to mature except in the case of condominiums and group housing entities where scale is possible. (See Civil Society April cover story http://www.civilsocietyonline.com/cities/gurgaon-residents-to-produce-use-sell-solar-power/)
"Our business is primarily industrial and commercially focussed. Because of the grid tariff they pay one is able to price solar cheaper. We were waiting for this to happen and it has come about in the past 12 months," says Subramanian.
"We are in a position to go to a CEO and say 'You are doing a disservice to your shareholder if you don't instal a solar system on your roof. This is the value on the table,'" says Subramanian.
Financing options
"Financing options are available and a company could do it without putting up capital. So where is the question of not wanting to adopt a cheaper source of power? Forget the clean and green aspect. It is cheaper and on your rooftop and in your control."
But while the B to B in solar is doing well, the B to C, which means catering to the individual household, has not taken off. It is expected to in the next couple of years as the prices of solar assets come down and domestic tariffs continue to rise.
Subramanian believes that there is enough business to be done with commercial and industrial customers for the solar power market to continue to grow at 70 to 80 per cent for the next five to seven years — with the next wave coming on the back of domestic consumers.
Fourth Partner Energy has essentially been an engineering company. But, as the solar market evolves, it has had to develop capabilities to provide financing options alongside engineering and supply side solutions — like a mini General Electric.
First big project
Their first big ticket project, as a RESCO, was to instal a 105 KW solar plant for Salzer, an electronics company in Tamil Nadu. They went on to light up the Raj Bhawan in Hyderabad with a 10 KW solar power project. "We got repeat orders and now the Raj Bhawan has an installed capacity of around 150 KW," says Brajesh Sinha, who heads Fourth Partner Energy's North India operations.
The company now has to hire MBAs and CAs who can structure financial arrangements, draw up contracts, and put in place debt. It also needs marketing people who will be able to reach out.
A solar power generating facility can either be owned by the user, which means making a capital investment and using the power free thereafter except for the maintenance costs. Or Fourth Partner Energy can invest in the facility and thereafter charge for the power on a unit basis. In the past 12 months it has raised `50 crore by way of investment in solar assets.
It is also possible to generate revenue by feeding surplus solar power back into the grid.
Making all these options work for different commercial users and large domestic users is the kind of challenge a company in the solar power business now faces.
In 2010, Fourth Partner Energy found its first customer in a tiny and quaint resort off Sohna Road in Gurgaon.
Those were early days when bankers had no time for Fourth Partner Energy. Now the three founders and a growing team (the fourth partner) are all set for their place in the sun.