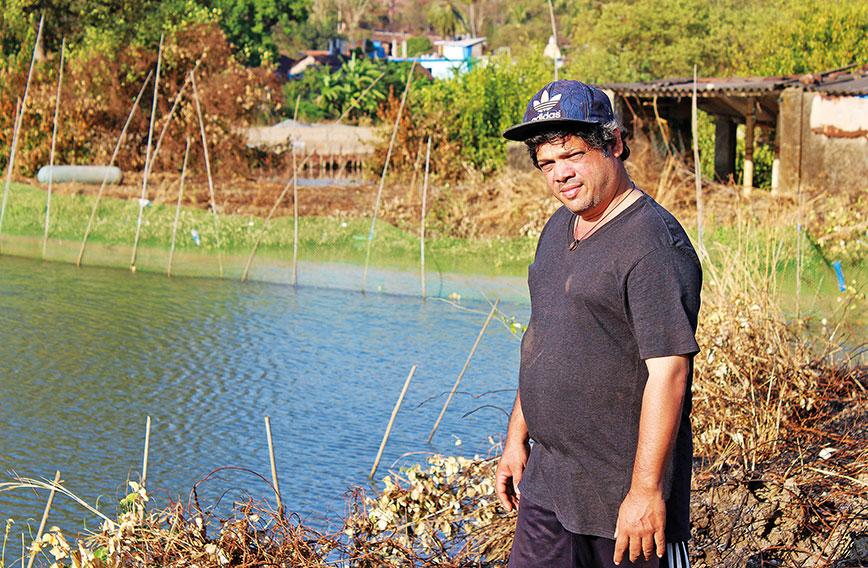 Pravyl Braganza near the pond he has taken on lease to rear crabs
Taking crabs to market: Goan farmers learn how ?
Derek Almeida, Panjim
Published: Mar. 27, 2018
Updated: Mar. 29, 2019
When researchers of The Energy and Research Institute (TERI) discovered that two ponds in Batim village were ideal for rearing crabs, they decided to help Goan farmers tap the lucrative market for seafood. Batim is located around 10 km from Panaji, off Highway 66.
The researchers had, as an example, a successful crab rearing scheme supported by UNDP, in Sindhudurg in South Maharashtra. Crabs were being supplied to markets in Mumbai and surprisingly, even to Goa.
Since the climate and water salinity in Goa is similar, it was decided to transfer Sindhudurg's success to Goa. The TERI office of Goa, which undertakes marine and coastal research, got involved. Having worked with the National Bank for Agriculture and Rural Development (NABARD) on mussel cultivation in 2015, TERI approached them for finance and they agreed.
Around 30 farmers were taken on an educational tour to Sindhudurg. "We have a fish farmers group in Batim and had undertaken marine projects in Chapora and Chorao. So we were able to gather a team of 30 farmers and entrepreneurs for the Sindhudurg tour," said TERI fellow Asha Giriyan, who was put in charge of the project.
The Sindhudurg experiment had started with a rapid rural assessment by TERI to ascertain the needs of local communities and entry points into the economy. This study identified areas for crab cultivation in pens, ponds and soft crab cultivation which has high value in the export market.
Following the trip to Sindhudurg, 18 farmers were selected for a five-day hands-on training at the Rajiv Gandhi Centre for Aquaculture in Chennai, the only crab hatchery in the country. Crablets or larvae are produced and sold between Rs 10 and 21 each and Giriyan said it was better to select the Rs 21 variety to reduce mortality during the journey to Goa.
TERI decided to set up a demonstration unit in Goa to show farmers that crab farming was financially viable. This is how Batim came into the picture. Two ponds, taken on lease by Pravyl Braganza, a resident of the village, were selected because of their proximity to a tributary of the Zuari river. Also, the ponds had a sluice gate required for constant flushing. Pravyl was more than willing to be part of the experiment.
First, a thorough survey was undertaken. "We had to check water and sediment quality, sluice gates and location. Experts from RGCA came to Batim and after testing, cleared the ponds for the project," said Giriyan. "Testing of sediment quality is important because crabs tend to burrow through the walls of the pond and escape if they are too soft. Wild crabs are a tougher lot and burrow through, but the Chennai variety are easier to handle."
With NABARD providing finance of Rs 4.26 lakh, around 1,000 crablets were procured and transported from Chennai to Goa. "About two per cent of the crablets were lost during transportation and another four per cent perished during segregation," said Giriyan.
All crabs do not grow at the same rate. Said Pravyl, "Some of the crabs, called shooters, grow quite fast. They have to be taken out and put into another pen. We noticed that crabs of one size tend to fight less." After three to four months when the crabs were large enough, they were transferred to the second pond until harvest time.
During the growing period hideouts in the form of tiles, pipes and rocks have to be provided. If one crab selects a particular hideout, encroachment by others does not occur.
The initial investment can be quite high because pens have to be constructed. Fencing is also important because crabs can easily climb out of the pond and enter the river. The pond at Batim has a plastic-sheet fence on the inside and a chain-link net on the outside. "Crabs tend to climb out in the wee hours of the morning," said Pravyl.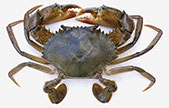 Crabs have to be fed thrash fish and this is a problem in Goa where rates could be as high as Rs 300 a kg as compared to Rs 10 in Andhra Pradesh. To reduce costs, thrash fish caught at the sluice gate are used as feed. "Feeding is difficult because we have to buy sardines and cut them into fine pieces. I used to let water into the pond to trap small fish which brought down expenses," explained Pravyl.
The harvesting time depends on demand and size. "The longer you keep the crab the bigger it grows, so it all depends on what size you are looking for. A one-kg crab could go for Rs 1,000," said Pravyl who added that the tourism market is a lucrative one.
According to Giriyan the best time to harvest crabs is before the onset of the monsoon because crabs do not grow during the rains. However, this was not possible as the demonstration unit became operational only in February 2017. "The ideal time for crab farming is between September and May," she said.
So what was the harvest like? "We had two harvests, a partial harvest in August and a second one in December last year," said Pravyl. In all 140 crabs weighing around 350 gms each were harvested.
Although the initial harvest did not impress Pravyl he is enthusiastic about the venture. "I have gained from the experiment, though I did not make much money. However, if you ask me if I am interested in continuing, the answer is yes. If someone invests around Rs 5 lakhs in five to six years one could look at a revenue of at least Rs 50 lakhs if done properly." Giriyan agreed and said that crab rearing is profitable after two years.
The spread of crab farming is also dependent on land ownership. Said P.V. Sreenivasa, manager at NABARD who was involved with the project, "The problem in Goa is that the farmer is willing but the landowners are residing elsewhere. As a result, large tracts of land are left fallow. The only solution is contract farming."
Pravyl faces a similar problem. He has taken two ponds, around 3000 sq mts in size, on a two-year verbal lease from the owner who is in the UK. But banks are not willing to finance projects without a formal lease document. And NABARD does not directly finance projects as the bank's chief aim is to act as a facilitator for rural development.
"One of the biggest challenges in crab farming is setting up of a hatchery," said Sreenivasa. With RGCA being the only one in India, getting crablets is tough. A second hatchery could give crab farming the fillip it is looking for.