Smriti Nagpal and Amit Vardhan converse in sign language
Atulyakala helps deaf artists make a living
Rwit Ghosh, New Delhi
Published: Aug. 23, 2019
Updated: Sep. 25, 2020
In 2013, when Smriti Nagpal went with her sister to an art exhibition, she met Amit Vardhan, a hearing impaired artist. Vardhan had graduated with a master's degree in fine arts from the Delhi College of Arts and Commerce (DCAC). For 15 years he couldn't find a job that matched his skills because of his disability. So he was working with an NGO, doing manual labour.
"He asked me for an alternative job where he could actually use his talent and the skills he had learnt in art college," recalls Nagpal.
Vardhan's situation upset her deeply. Understandably so. Nagpal knew sign language. Both her brother and sister are hearing impaired. Since she comes from a business family she began to think of how she could start a venture which would employ artists like Vardhan.
A couple of months later she called Vardhan and asked him to create a sample of his work so that she could understand his capabilities. What she received surpassed her wildest expectations. Having found herself one artist, she went back to DCAC to learn the ground realities that hearing impaired people face every day.
The DCAC has reservations for people with disabilities. But Nagpal got to know that students who were hearing impaired did not mingle with regular students. That situation continues. Hearing impaired students who graduate from DCAC still don't get jobs in their area of specialisation.
Nagpal started Atulyakala, a social enterprise. The idea was to break stereotypes about the hearing impaired and prove they are as good as so-called normal people. She had some money left over from her Doordarshan presenter days. She was also offered a massive hall which she accepted and converted into office premises.
"Between our inventories, capital investments in fixtures and furnishings, we put in about `1.5 lakh," she says. An investor added another `5 lakh.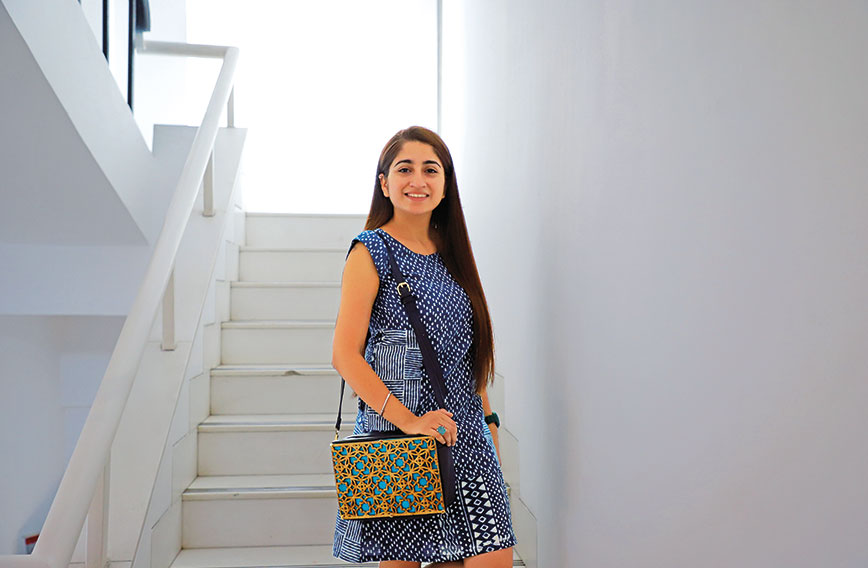 Nagpal poses with a bag designed by one of her artists
"As social entrepreneurs, we get very attached to our company's social cause. We can't go completely commercial," says Nagpal, explaining why she couldn't attract more investment.
Initially, Atulyakala started as a design house designing logos for brands and creating designs according to briefs from clients. However, Nagpal realised that working as a design house was not sustainable. "If I was not there to communicate between the client and the designer, then the client's briefs would not get explained to the designer. I can't expect every client to know sign language and I can't expect every interpreter to work with the same passion that I do," she says.
Nagpal realised she couldn't micro-manage everything. "You want to just delegate work after a while," she says. With her team she started to brainstorm on how they could change their business model.
"I was always travelling a lot and collecting little artefacts from the places I visited. Things that don't require a lot of thinking or decision-making," says Nagpal. From that was born the idea of making attractive useful products that people would buy.
Atulyakala began by designing notebooks and soon went on to making bags, mugs, fridge magnets and framed artwork by their graphic designers at affordable prices, so that people wouldn't think twice about buying.
"I wanted people to understand that the things sold by our brand are done by people with a hearing disability," says Nagpal. The identity of the brand was important to her. She also took care to ensure that Atulyakala wasn't seen as an NGO.
Once business began to pick up, Nagpal realised that people didn't have any reservations about who had made the products they bought. They just loved the products.
Atulyakala's head office in Delhi consists of 15 people. Seventy-five percent of their staff is hearing impaired. In 2017, they even launched a clothing line called Sign. "We embroider and print sign language on the clothes so that every time someone picks up a dress or a T-shirt they also learn what the sign on their clothes means," says Nagpal.
With Atulyakala expanding to other cities, Nagpal has had to hire more staff. All new recruits are taught sign language so that they can communicate with employees who are hearing impaired.
For Vardhan, the company has been the life line he was waiting for. He signs emphatically while Nagpal translates. He says, "When I looked for opportunities, none came my way. But now I can put my creativity to good use. People appreciate and respect me."
Vardhan sits in the Oxford bookstore in Connaught Place in Delhi, which stocks Atulyakala's products. He shows customers his work with enthusiasm, pointing out his sketches and designs. An ornate design of Frida Kahlo ranks amongst his favourites. "It feels great to see people connect to my designs and then start picking up products," he signs.
Atulyakala doesn't have a brick and mortar store. Instead, the company has multiple pop-up stores across India, mostly in collaboration with boutiques and design studios. Apart from Delhi, Atulyakala has a presence in Pune, Ahmedabad, Bengaluru and Mumbai. They even have a branch in Copenhagen which takes care of sales in Europe. "We are shifting our focus to Dubai and parts of Italy," says Nagpal, who has set her sights on expansion.
According to the 2011 Indian census, roughly 1.8 million people in India are hearing impaired. However, the National Association for the Deaf puts the figure at 18 million. But one of the biggest challenges people who are hearing impaired face is that India does not have a composite sign language. Access to formal education becomes tough due to the lack of teachers knowing sign language. This explains why only two percent of hearing impaired children attend school. Illiteracy and low economic opportunity are rampant among them.
Atulyakala plans to support the education of a hearing impaired child in a school for the deaf in India. Nagpal is keen that her company doesn't deviate from its core philosophy. "Our website will show the impact of how many products we are selling and whom we are impacting," she says.