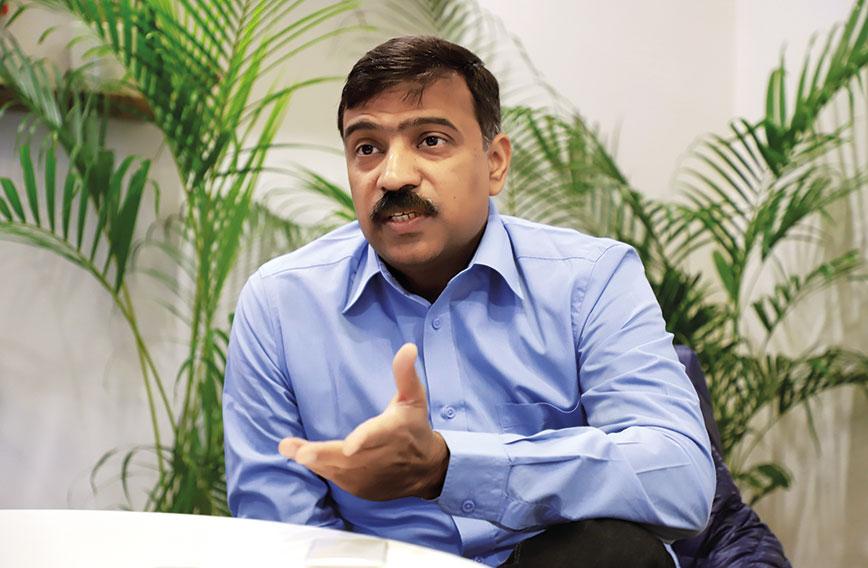 Arun Bhati: 'We work with artificial intelligence to learn about the behaviour pattern of users'
How cool is carpooling? See how Orahi does it
Civil Society News, Gurugram
Published: Mar. 01, 2018
Updated: Mar. 29, 2019
Five years ago, Orahi popped up, like so many new-age companies in India, with small money, a big idea and brave founders eager to build a business that would make itself socially relevant by solving
a problem.
If the bane of living in the National Capital Region (NCR) was having to endure sapping commutes and terrible traffic jams, Orahi believed salvation lay in carpools that would reduce the tedium and cut the cost of making it from home to office and back each day.
A carpool typically allows four people to ride together in one person's vehicle. Orahi's mobile phone application with nifty algorithms made it possible for anonymous commuters to check each other out, hook up and ride together. Not only was this more interesting than being alone at the wheel or in the backseat of a taxi, but it also served the larger urban goal of fewer personal vehicles being in use. Four people in one car means three cars less on the road.
Orahi's platform offered many firsts for people riding together. It verified users based on the companies for which they worked. It allowed people to choose whom they wanted to travel with. Timings were flexible. It left you free to choose to travel every day or once a week or may be just once a month. You could even switch off and ask not to be disturbed.
The mobile application came with an electronic wallet which made payments instant without having to handle cash. Passengers would pay Rs 3.5 a km each to the member of the carpool who was at the wheel who, in turn, would give Orahi 50 paise per km. It happened seamlessly through the wallet.
Orahi has pushed its platform successfully largely for rides between Gurugram and other neighbourhoods in the far-flung NCR. The company has hung in to become perhaps the only serious carpool business in the country. From two rounds of funding, it has picked up a million dollars from the Angel India Network. Friends and family have also put in money.
Even after five years and all the tumult of the early stages of business, much of Orahi's start-up spirit seems to be intact. The founders continue to have the hunger to innovate and make things happen. It also remains a lean outfit with just 13 employees and a few workstations in shared office space in Gurugram.
But is carpooling the big opportunity it could be in the crowded NCR? Ask around and you will find stories of people who have gainfully teamed up for their commutes. Orahi will supply you with more anecdotal accounts than you could want. The government, too, encourages carpools and sees them as a way of reducing congestion and automobile emissions.
Yet, carpooling seems to have a lot of distance to cover before it can capture the popular imagination and be the big solution that it has the potential to be. Arun Bhati, who founded Orahi along with Sameer Khanna after they gave up jobs at Erickson, says their carpooling business has been maturing. But it is not clear how the numbers stack up. Or why there aren't others getting into the business.
Bhati says Orahi has 200,000 registered users — the surge in users coming in 2016 at the time of the Delhi government's odd-even experiments. But the company won't disclose how many active users there are among the 200,000 and so one doesn't know if carpooling in real usage terms is finding more takers or not.
Of the users, Bhati reveals, 40 percent are drivers and 60 per cent passengers. Women are 22 percent and four per cent of these are drivers. There are 1.5 passengers per car. The top five users do 35 carpooling trips in a month.
Most people travel with one group in the morning and another in the evening because timings don't match. A group could consist of 10 or 15 or 20 people and they rotate travel partners within
that group.
"The algorithm has been designed for this kind of number. We work with artificial intelligence to learn about the behaviour pattern of users. The algorithm can match time, location and mode (car owner or passenger). For instance, if you don't travel on Fridays the system learns that about you," explains Bhati.
"The years 2016 and 2017 were great for us," says Bhati, "because of odd and even. We acquired oddandeven.com a website on which there was a lot of traffic. We also worked with the Delhi government and made changes in our application so people with odd number cars could become passengers on even days and vice versa."
The payment model that Orahi began with has been amended. The company now takes a subscription of Rs 90 a month from anyone using the platform instead of the 50 paise per km it took from the driver. The passengers continue to pay the driver Rs 3.50 per km. But to ensure that short trips don't become too expensive or too cheack, a floor of Rs 22 and a ceiling of Rs 89 has been set for trips.
Bhati says users had sought the switch to a subscription model so that they could pay Orahi once a month. Subscriptions also work better for Orahi because it is assured of steady revenue.
Orahi's strength is in an emerging sense of community among users. The demand for subscriptions seems to have come out of such engagement. People have begun to forge friendships and business connections. Happily, the users are well matched and so there haven't been spats and frictions to worry about.
"Fortunately, there are no complaints as such. The system is designed in such a way that people of the same socio-economic segment travel together. Why? Because people staying in a locality have the capacity to pay that much of rent. If they have the capacity to pay that much of rent, their qualifications are also of that type," explains Bhati. "And then they are travelling in the same direction, which means their companies are also of a similar nature. So, people travelling from DLF Phase-V to Cyber City are very similar."
This natural compatibility holds true for people based in Greater Noida, Bhiwadi, Ghaziabad, Rohini, Punjabi Bagh, Dwarka and other neighbourhoods. They all come to a carpool with shared concerns and interests and very similar preferences.
There are always some apprehensions while taking the first ride, Bhati says. But such are the socio-economic similarities that they invariably find it easy to get along. They are also in the same age group of 28 to 35. If they have children, they are roughly of the same age, going to school and so on.
Bhati and Khanna are basically techies. But they were entrepreneurial and drove useful business ideas even when employed. They created an app store with 60,000 applications for Nokia way back in 2006 when the Android and iOS app stores that now exist weren't around.
They have now found multiple uses for the platform that they have created for carpooling. For instance, they have discovered a valuable potential market in schools. For just an additional `100 a month parents are happy to track school buses on their mobiles. Alerts announce when a bus has left and when it is arriving.
An even bigger market is in facility management services. Currently most tasks are tracked through physical entries on a list. Was a bathroom cleaned? Was an ATM visited? The Orahi platform makes it possible to track tasks automatically. It is possible to know who is where and when.
A lot of interest in Orahi has come from car companies who see their customers preferring access over ownership. What that means is that more than one person uses a car and only when it is needed. Orahi has valuable experience in building communities and defining preferences.
Real estate companies have also begun seeing potential in Orahi, says Bhati. These companies don't just want to sell a flat or a house, but also want to offer mobility. Carpooling is one such option.
But it is in wider carpooling that Orahi really sees a big opportunity. It would help if the government were to come up with well-defined rules as has been done in other countries.
"If you see other economies, carpooling has grown very big. In Europe, there are companies which are doing pretty good business. In the US, too, it is quite big," says Bhati. "They very clearly define guidelines for carpooling. We lack these in India."
"For instance, Singapore says you can do carpooling from home to office and office to home, which is what we do. Secondly, you can do it twice a day. Thirdly, you cannot stop at public places to pick up people. Similar guidelines exist in UK, US, and China."
Governments have been encouraging and supportive, but they haven't gone the distance to lend formality to carpooling as a business which can contribute to better mobility in a city. Any standards thus far have come from a company like Orahi thinking things through.
"The reason we kept the charge at 3.5 per km is that at Rs 3.5 it cannot be a viable business for a car owner. So, if you want to do a taxi on carpooling it won't work. Your cost is Rs 8 or Rs 10 per km," explains Bhati. At Rs 3.5 per km with four passengers you cannot make money.
Across India, Orahi is probably the only serious carpool company. Others have come and gone and those that exist aren't operating on a significant scale. The reason is the nature of the business.
"One of the biggest challenges with carpooling is that it is a Catch-22 business. If you don't have a carpool, people won't come. And if people don't come you won't have a carpool. So, you need to grow a carpool to a level that people come to be attracted to it. That is what we have been able to crack," says Bhati.
But is that good enough? Orahi's success going forward and the extent to which it will grow will be determined by how much of a game changer the company becomes in the stressed domain of urban mobility. In the absence of public transport, opportunities abound. Helping people get around without tears will be good for society and the company's profitability.