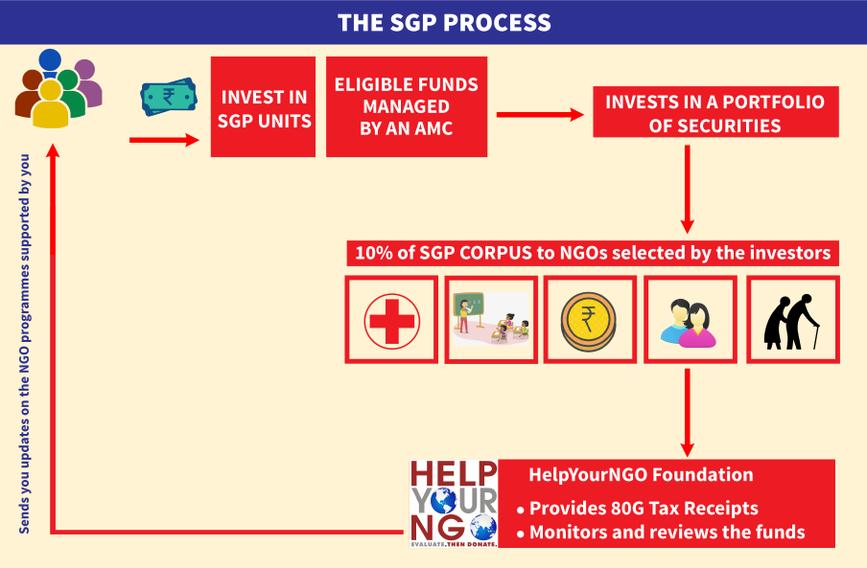 An infographic explaining how the Systematic Giving Plan (SGP) functions
Mutual fund for NGOs? It may just be possible
Civil Society News, New Delhi
Published: Feb. 01, 2019
Updated: Mar. 18, 2019
Non-profits mostly have to strive hard to raise funds for their causes. It distracts them from the good work they are doing. But what if those with a proven track record could be assured of funds from individuals investing in mutual funds and, at the same time, eager to do their bit by society? Given the sums that mutual funds attract, the potential is huge for putting money into non-profits and through them promoting better development and inclusion.
The Quantum Mutual Fund has started what it calls a Systematic Giving Plan (SGP) for its investors. It collaborates with HelpYourNGO Foundation to provide the names of non-profits in different sectors into which investors can opt to put their money.
Both Quantum and HelpYourNGO have in common Ajit Dayal, 58, who moves money around but has a social heart. Dayal is lean, doesn't drink and is passionate about transforming India. Many years ago, when Civil Society first met him, he talked about cheerfully flying economy and donating the difference in fare with business class, which his clients were ready to pay for.
Dayal is a man of new ideas and he has kept coming back to Civil Society with them. Quantum's SGP is the latest and has the potential of being a game changer. Dayal is all excited about it.
Meanwhile, it is Winnie Dholakia, 29, at HelpYourNGO who has been doing a lot of heavy lifting while identifying and verifying non-profits with the team there. Civil Society spoke to her for the details.
How does the Systematic Giving Plan (SGP) work?
The SGP created by HelpYourNGO enables investors to contribute 10 percent of their investment with a mutual fund towards a charitable cause and give it to NGOs vetted by HelpYourNGO.
This is the first initiative of its kind in the ...