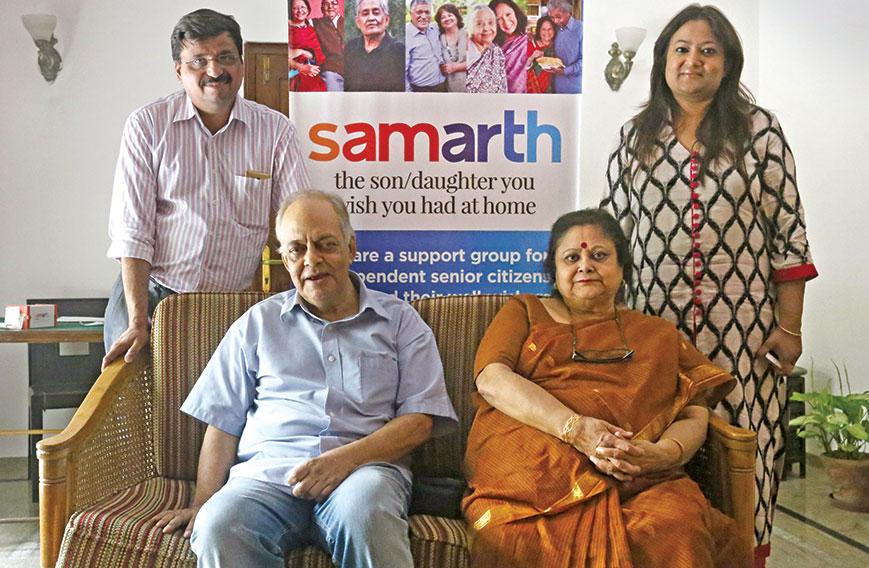 Elderly start-up by caring young entrepreneurs
Kavita Charanji, Gurgaon
Published: Nov. 01, 2016
Updated: Jun. 15, 2017
Arnab Sen lives and works in New York where he leads a clinically oriented physician engagement company. His mother passed away 20 years ago and his 80-year-old father, Professor Arun Sen, who lives in Pitampura in Delhi, has virtually lost his vision. A viral fever weakened him so severely that he needed to be hospitalised.
Prof. Sen, a former teacher of psychology at Delhi University, felt depressed and reclusive. He has an aging, loyal caretaker who helps him with his meals and household chores but nobody to turn to for emotional support.
Far from home, Arnab and his brother constantly worried about their father. "Our chief concerns were how to deal with medical emergencies and, given his eye condition, how to ensure that his routine needs like doctor visits, going to the bank and social engagements were taken care of on an ongoing basis," says Arnab.
It was Samarth, a start-up that provides professional assistance and support to senior citizens, that gave the brothers peace of mind, says Arnab. He is a close friend of Asheesh Gupta, Samarth's founder and Chief Care Officer. They were colleagues at McKinsey.
The Samarth team took care of the hospitalisation process, the logistics of doctor visits, home lab tests and nursing support. They kept tabs on him. Now, says Arnab, a younger group in Samarth is helping his father engage socially and drawing up a long-term plan for his emotional well-being.
Emotional support, like physical support, plays an important role in the lives of senior citizens, says Gupta. He founded Samarth with Anuradha Das Mathur, Gaurav Agarwal and Sanjay Ahuja. While Mathur and Gupta are also co-founders of 9.9 Media, a speciality media company, Agarwal has been a successful banker. The US-based Ahuja is a well-established entrepreneur.
The team carried out a research study before launching their start-up in March this year. They spoke to 1,000 respondents, both parents and offspring. Their findings revealed that offspring were more worried about whether their parents had physical support like security, safety, access to emergency services and home maintenance. However, parents greatly missed emotional support — companionship, people to talk to, socialise with and opportunities to go out and feel productive. They needed someone they could trust.
"We felt we had to go that extra mile. much like a son, daughter or an old friend," says Gupta.
"We combined findings from our surveys with our ideas to create a support structure for elders from affluent backgrounds. Our objective is to bring joy and happiness to elders and concomitantly assist offspring in getting support for their parents without compromising their own careers and family life," adds Agarwal.
The start-up has two components. Samarth Community is a non-profit that runs community programmes for senior citizens while Samarth Care is a for-profit service offered by Samarth Life Management Private Ltd.
Samarth Community has over 5,000 members in 30 cities of India. For a one-time payment of Rs 100, members get a card that fetches them discounts of 10-25 percent from restaurants, hospitals, labs, pharmacies, tours, hotels and events, affiliated to Samarth. Members also get a weekly newsletter, a subscription-based quarterly magazine, a list of local events and sporadic job offers for retired people.
Sandeep Sinha, Head of Care Programmes, is responsible for community development, partnerships and alliances. Sinha is constantly expanding Samarth's network of members, partners and affiliates. Samarth has tied up with Max Healthcare, Columbia Asia and Apollo Pharmacy. They offer additional discounts or services to Samarth members. Max Healthcare assures free ambulance services within 30 minutes to members anywhere in the National Capital Region (NCR).
Similarly, Samarth has connected with Delhi Pain Management Centre and More Supermarket. It is in talks with Cafe Coffee Day, chef Sanjeev Kapoor's The Yellow Chilli chain of restaurants and Chaayos. "It is a win-win situation for everybody. Our partners and affiliates get additional footfalls while our members get discounts and benefits," says Sinha.
Samarth's for-profit company, Samarth Life Management Private Ltd, offers subscription-based care plans. Starting at Rs 2,000 a month, senior citizens in Delhi-NCR can opt for a plan tailored to their needs. Samarth offers a 24-hour emergency response, healthcare support, medicine management, home services, security and safety set-ups, companionship, buying assistance and accompanied travel within or outside town.
Some of these services are outsourced after a thorough check. So Zimmber has been brought in to take care of home maintenance while Silvan provides hi-tech home automation systems like voice controlled fans, lights and air-conditioners for less mobile senior citizens.
These services can be accessed through a call centre, a mobile app or a care manager, a person who needs to be sensitive and be like a close companion. Senior citizens tend to choose the last option.
Take the Bhattacharyas of Gurgaon. Their Care Manager is Swati Mukherjee who has seen them through some hard times. She is an anchor for 76-year-old Harprasad Bhattacharya, a retired academic who worked with the World Bank. Some time ago, the worried couple was completely at sea about a medical intervention that Bhattacharya needed until she stepped in. She helped admit him to Fortis Hospital in Gurgaon where he underwent a bronchoscopy procedure. Now the Bhattacharyas rely on her when they need medical assistance, or to negotiate an ongoing legal case or even shop for groceries.
An important team member (and co-founder) is technology wizard Dinesh Budhiraja, Head of Care Technology. He oversees Samarth's website, app, customer relationship software and leads its operations team. Many times he pitches in as a care consultant to members like Prof. Sen and the Bhattacharyas.
Another enthusiastic team member is Bhupinder Sharma, Care Operations Controller. Like everyone in the start-up he juggles his varied roles with ease. He speaks with pride about his part in Samarth's recent CCTV installation for Prof. Sen. Other achievements, he says, are the setting up of handle support and anti-skidding facilities in toilets for a client.
The Samarth team says things have shaped up better than expected. There is great demand for tours and events by their senior citizen members. Around 20-30 members sign up every day to join the community. Senior citizen associations too express interest. "The most important thing is that there is acceptance for what we are offering and that is what we are most excited about," says Gupta.