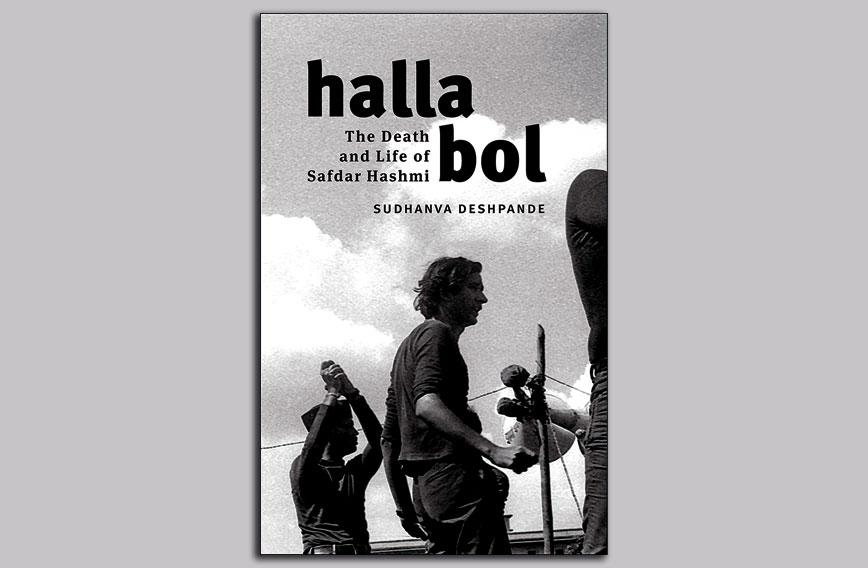 The 'halla bol' world of Safdar Hashmi
Sidika Sehgal
Published: Feb. 27, 2020
Updated: Mar. 24, 2020
Safdar Hashmi was all of 34 years old when he died. He was performing a street play with his theatre troupe, Jana Natya Manch (Janam), in Jhandapur in Ghaziabad on January 1, 1989, when the performance was interrupted by local thugs.
The play was called Halla Bol, which is also the title of Sudhanva Deshpande's book on Hashmi's life. In the play, factory workers ask for an increase in their wages, from `562 to `1,050 per month. Female workers ask for a crèche on the factory premises so that their children can be taken care of. Contract workers talk about the uncertain nature of their employment.
In October 1988, the Centre of Indian Trade Unions (CITU), affiliated to the Communist Party of India (Marxist), had called for a seven-day strike among the working class in Delhi. Hashmi, who was a member of the CPI (M), decided to write Halla Bol then.
When Janam was performing their play for a working class audience in Jhandapur, Mukesh Sharma arrived with his henchmen to disperse the gathering. Sharma was a petty business owner with links to politicians. The attack on Hashmi was an attempt to quash the workers' movement.
When Janam members took shelter in the CITU office in Jhandapur, Hashmi, with two men, decided to hold down the gate of the CITU office while everyone else jumped over the back wall and sought shelter elsewhere. His actions that day confirmed that he was a true leader, prioritizing the safety of others before his own.
Hashmi passed away a day later on January 2. The post-mortem report revealed that he had been hit on the head at least 20 times with iron rods.
He passed on the baton to his wife, Mala, who took the troupe back to Jhandapur on January 4, just 48 hours after his death, to finish the performance they had left mid-way. She was a tower of strength, and photographs from that day show courage on her face though she must have been hurting.
In the days that followed, thousands of people came out in solidarity. Artistes like M.K. Raina and Bhisham Sahni joined the funeral procession on January 3. In late January, when Janam performed Halla Bol at Salt Lake Stadium in Kolkata, 25,000 people attended. Others like Shabana Azmi, Dilip Kumar, Satyajit Ray and Adoor Gopalakrishnan also came out in support.
There was shock and anger among artistes partly because he was one of them. But then Hashmi was a kind man who made friends easily and was liked by almost everyone who knew him, whether it was the owner of a printing shop in Connaught Place or a dosa-wallah in Shankar Market.
Hashmi came from a middle-class family in Aligarh, which saw tough times when he was young. Engaging with theatre did not come easy to him because there was no family money to see him through. He took up teaching jobs and freelanced as a scriptwriter, songwriter and copywriter.
In the 1970s, Hashmi was part of the Indian People's Theatre Association (IPTA). He formed Janam in 1973. It did stage plays. The switchover to street theatre happened almost by accident. It was really lack of funds that made Janam think about performing small, inexpensive plays.
Janam's first play, Machine, was loosely based on a workers' strike in Ghaziabad. With the success of Machine, Hashmi knew that they had hit on something explosive.
He made copious notes about street theatre, some of which are reproduced in the book. He saw street theatre not as a descendant of India's traditional forms of theatre but as emerging from the workers' movement against capitalism. He also wanted to develop it as a serious art form. He never compromised on artistic value. Skill and style were important to attract an audience.
When an Indore-based theatre group wrote to Hashmi for advice, he wrote: "Like every art, street theatre too demands discipline and practice. To improve, the actors need to train their voice, learn to sing, play instruments, dance, and to rehearse seriously and systematically." Hashmi's contribution to the growth of street theatre is hugely undervalued. The form street theatre has taken today owes a lot to him.
Hashmi had other plans as well. In December 1988, he spoke to Deshpande about setting up a cultural centre in a working class area. The money to buy the land would come from working in television. Today, Studio Safdar in Shadipur in West Delhi is the cultural centre he dreamed of. There are reading sessions and movie screenings for children of the community.
After the Sikh riots in 1984 and the Shah Bano judgment, Hashmi was concerned about communalism and became part of the Committee for Communal Harmony. He organized many mohalla-level meetings, and a convention in October 1986 to spread the message of peace. Artistes performing nukkad nataks and singing songs at protest sites today would have made him very happy.
Deshpande's book comes at an opportune time. Street theatre has become a galvanizing force in people's movements and protests. This account of Hashmi's life and death offers valuable lessons to all those who share his values of secularism and harmony.