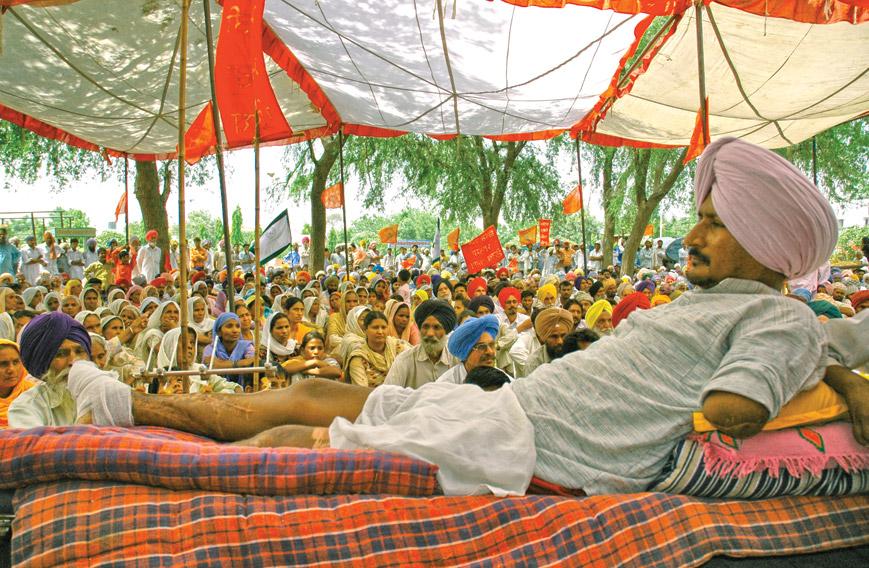 'Bant remains a Dalit icon whose voice rings true'
Civil Society News, New Delhi
Published: Jun. 11, 2016
Updated: May. 01, 2017
When Bant Singh's daughter was brutally raped in 2000, he was just another Mazhabi Sikh in the caste-wracked countryside of Punjab. But he fought back, registering a case against the attackers and enduring a beating that left him minus his arms and one leg. Bant's immense courage made him a hero and an inspiration.
A member of the CPI(ML), he is from Burj Jhabhar village in Mansa district and his story is a powerful one. Mazhabis are Dalits and aren't supposed to raise their voices. But Bant insisted on having the upper caste attackers punished. The beating he endured didn't stop him.
An enigmatic rustic singer, Bant's voice rings out fearlessly. His story has been told in the past (see Civil Society August 2006). But a detailed account has long been overdue. Nirupama Dutt fills this gap with her book, The Ballad of Bant Singh: A Qissa of Courage.
Dutt travelled to Bant's village, lived with his family, and tried to see his life through his eyes. She succeeds in capturing many important details. She also traces the history of Dalit oppression in Punjab and thereby gives the reader a more complete picture of the social milieu in which Dalits in Punjab live.
Dutt is a well-known poet, journalist and translator who lives in Chandigarh. She writes in Punjabi and English. Her published works include Ik Nadi Sanwali Jahi, Lal Singh Dil: Poet of the Revolution, Stories of the Soil, amongst others.
When did you read about Bant Singh and what struck you about his story?
Bant Singh's story was all over the media and it was amazing. I was in Chandigarh when he sang at a rally after the amputation and a Left-wing dramatist dedicated a play to him. However, the lines that had the most impact on me were by Annie Zaidi in her book, Known Turf. She wrote: "What came as a complete shock was the fact that caste was such a major issue in Punjab especially when I covered the case of Bant Singh, the Dalit activist. It was only then that I realised how poverty caused so much religious divide in the state."
Annie further recalled her meeting with Bant at the hospital in Chandigarh, wondering what she could say to a man whose limbs had just been amputated.
The account was moving but I never thought that I would do his biography. The idea came from a publisher. However, I was not really sure that I would be able to add more than what had already been said about him. I did not know him personally and the personal has always been important in my writing.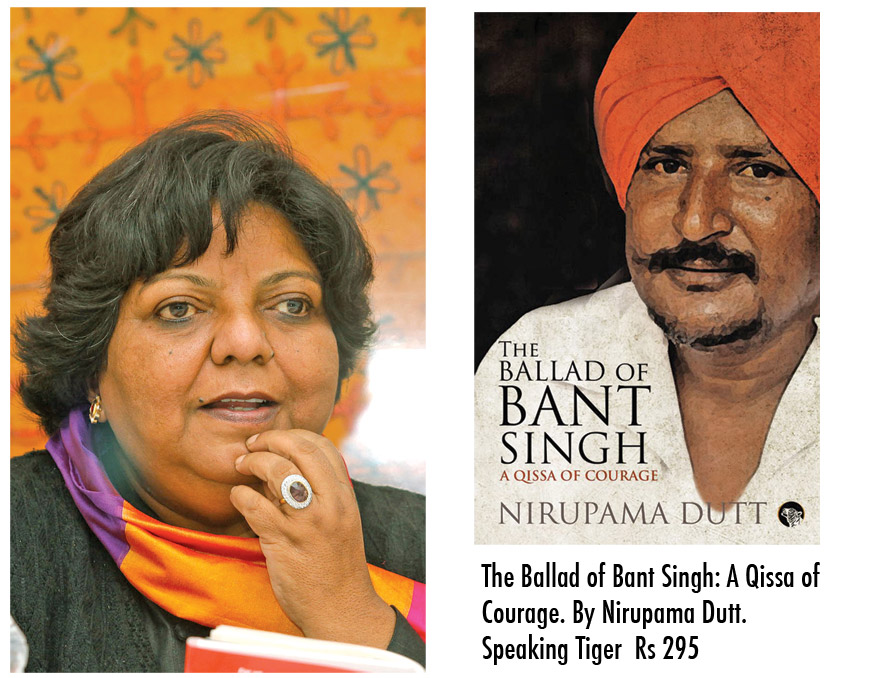 How did Bant Singh react to the idea of a book?
Bant is an incredible man and takes it all in his stride. I called him rather uncertainly, saying that I wanted to meet him and that it was suggested I do a book on him. So I asked over the phone when I could meet him. His reply was, "Come when you will. I will be there to meet you fresh as a flower in a mustard field." The earthy voice came through loud and clear on the telephone. Something happened and my fears were dispelled.
Those days I was struggling to translate the biography and poetry of Punjab's contemporary poet, Lal Singh Dil. He had died and I felt that I had to translate his work into English as a tribute to a dear friend, a confidant.
But meetings with Bant, his comrades and his family started, and, after many journeys together, the book began taking shape. Bant opened his world to me, never losing patience, and told me the smallest of details. He would introduce me to others, saying, "She is writing about my life and all that happened in it."
Was there any aspect he wanted to emphasise or speak about specifically?
No. Bant just let me know everything — visit his favourite places, meet people he was close to, but he never interfered in any way. I was free to write what I wanted. We had struck a note of trust.
While reporting this story did you encounter any hostility?
I had never reported the story directly when it happened. Later, while working on the book, I did a few pieces on him in magazines and a newspaper. The latter brought me a hate mail. A few others tried to discourage me but I never encountered hostility. Bant was already an acknowledged hero when I met him.
Has awareness of the injustice done to Bant and his family made an impact in his village?
Yes, the impact is not just in his village but in the region. Bant has emerged as a Dalit icon. The reason he became intolerable to the upper castes at the grassroots was that he was challenging power structures at village level. He had worked effectively for the release of several bonded labourers as the leader of the Mazdoor Morcha of the CPI(ML) and he sang the revolutionary songs of Sant Ram Udasi so well that in a way he carried forward Udasi's tradition.
Has Bant's struggle helped to popularise Left politics in Punjab?
Left parties are no longer popular in Punjab even though there are several over-ground and underground Left outfits doing niche work. However, Bant's struggle has brought the Dalit struggle to the foreground. He is today the face and the spokesperson of the Dalit movement in the state.
Will you be translating your book? Is there a specific audience you would like to reach?
The book is being translated into Punjabi, Hindi and Marathi but not by me. I am very happy that is happening because the story belongs to the Indian people who do not know English. Bant is unlettered but my moment of joy will be when his children read out the book to him in Punjabi. I have called it a ballad or a qissa of courage in the tradition of the ballads of Punjab and this one brings not a note of tragedy but one of hope and struggle.