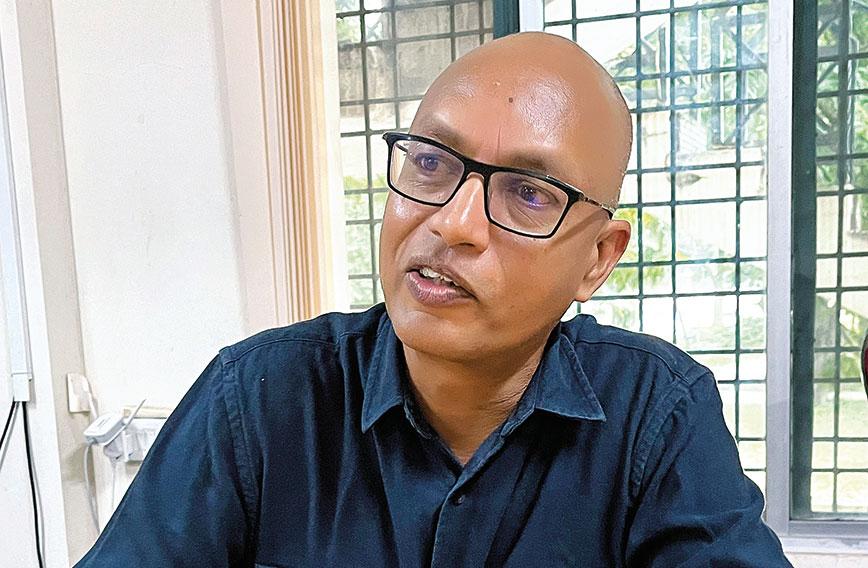 Serish Nanisetti: 'I wanted it to be a simple book which people could read'
Hyderabad's chronicler has rare stories to tell
Civil Society Reviews
Published: Oct. 08, 2022
Updated: May. 12, 2023
IT was Hyderabad's famed biryani that first seduced Serish Nanisetti when he came to the city to work for Deccan Chronicle. One mouthful and he was smitten. Hyderabad was tantalizing in other ways too. Its mysterious history, for instance. When Nanisetti started digging around, hoping to uncover its past, there was little he could find. He scoured libraries and bookstores and found an Imperial Gazetteer was missing.
There were practical reasons too for his search. "When I used to edit copy, the sequence of the kings was not known and there was no one to tell us what the order was. So out of curiosity I started reading," says Nanisetti, a lean 50-year-old with the sanguine air of an achiever.
Around that time the Nizam's dazzling jewels were displayed in the city. Nanisetti went to see. That stoked his curiosity even further. How did the Nizam become so rich? Where did his wealth come from, he mused.
We meet him at the Qutb Shahi necropolis, an imposing array of tombs where the nine rulers of the Qutb Shahi dynasty lie with their begums and nobility. They were the rulers of the fabulously wealthy Golconda empire and founders of the wealthy city of Hyderabad.
Nanisetti spent close to 10 years researching the trajectory of the dynasty and the growth of the city, sifting through old maps, perusing epigraphic information, empirical research and travelling to historic sites. He discovered new facts and myths.
"I wanted to know all the place names of the city. Take the Ma Sahiba's (Queen Mother) tank. The Queen Mother was identified as Hayat Bakshi Begum. But when I was researching, I came to know it wasn't Hayat but her mother-in-law who got the tank built. That is the kind of misinformation that was happening. I thought we should set it right, so I started working on a book on Hyderabad's history," he says.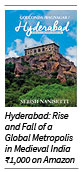 In 2019 he published his own book, simply titled Hyderabad: Rise and Fall of a Global Metropolis in Medieval India. It really is a labour of love — full of information and perspective and rather engrossing though he says he didn't want to write it like a story. He just wanted to stick to the facts. "I wanted it to be a simple book which people could read and understand. I wasn't a keen student of history because the subject was only about battles and dates. Researching this book, I came to know how people lived at that time," he says.
Surprisingly, he couldn't find a publisher. "Publishers don't trust a working journalist," says Nanisetti, who spent quality time on his book, alongside his job. He is now City Editor of The Hindu. "The publishers want to know your style, read a chapter, and then they want to place a bunch of photographs in the middle of the book. I wanted to scatter the pictures across my book. I don't think anybody can really read text for long. Journalism helped because everything is placed in context."
That's true. Each chapter, devoted to a particular king, has his picture. A painting dated 1650 depicting the marriage procession of Muhammad Quli Qutb Shah to Bhagmati catches the eye. There are many such pictures matching the text along with maps and footnotes.
The remarkable history of the Qutb Shahi dynasty has never been documented in detail. The dynasty ruled for an uninterrupted 169 years from 1518 to 1687. Its founder, Sultan Quli Qutb-ul-Mulk, a staunch Shia, arrived from Persia at a port on India's west coast with his uncle. He became a soldier for the Bidar rulers and was given charge of the mud fort of Golconda. He conquered territories, converted Golconda into an impregnable fortress and turned it into a safe mart for trading in diamonds. He planted the seed of the city of Hyderabad.
It is the fifth king, Mohammad Quli Qutb Shah, who laid the foundations of an unfortified city, unusual in those days, which would be called Hyderabad, in 1591. Even European travellers marvelled at its palaces, gardens, lakes and fountains. The last ruler, Abul Hasan, surrendered to Aurangzeb when he captured Golconda, and then ransacked Hyderabad. The machinations and jousting by various European traders to secure favourable trade deals are well told.
Nanisetti also made discoveries. Was the city of Hyderabad ever named Bagnagar, after Bhagmati, Muhammad Quli Qutb Shah's favoured queen? It was, he says. And who gave the Koh-i-Noor to Shah Jahan? It was Mir Muhammad Said, a Persian trader turned commander who fought battles for Abdullah Qutb Shah and later sold out to the Mughals. He committed this treachery on July 7, 1656, handing over the Koh-i-Noor and other dazzling diamonds from the Golconda mines in palm-sized velvet packs to the Mughal emperor.
And did Nanisetti get all the answers he was looking for. Like, how did the Nizam become so rich? "Hyderabad became prosperous because it was a safe place to trade in diamonds. Machilipatnam was a safe port," he says. Golconda became a hub of manufacture and global trade under the Qutb Shahi rulers. Artisanal steel ingots and pellets were exported and turned into the famed Damascus swords. Woollen carpets, Kalamkari and much more was exported.
While the first two kings were conquerors and warriors, the later rulers were inclined towards the arts, to building the city and to leading more redolent lives. The kings intermarried, learnt Telugu and encouraged a syncretic culture to blossom.
"The Qutb Shahi kings let other cultures thrive. On top of the Golconda fort there is a temple. They did that. The later Nizams saw themselves as Sunni. Then they realized this does not work so they worked with the local Shias. A syncretic culture was the key to prosperity," says Nanisetti who plans to write a sequel to his book.