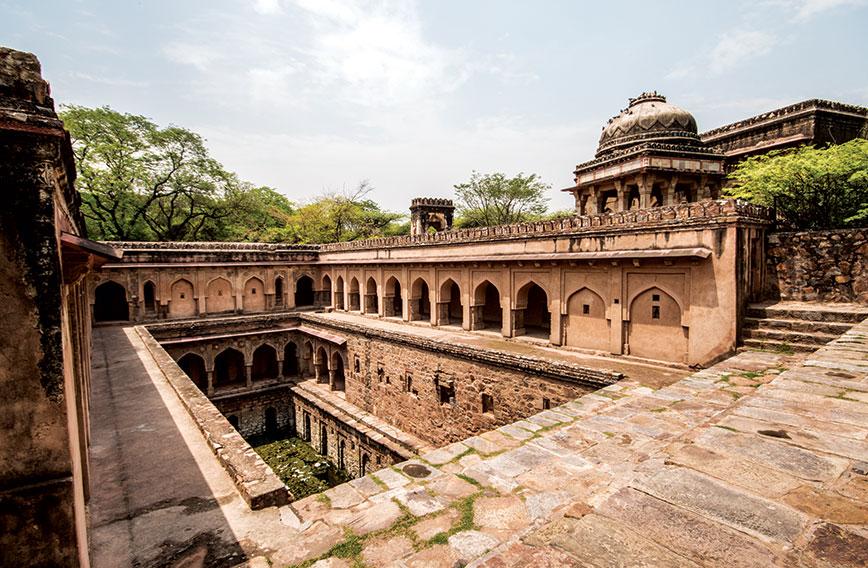 Rajon ki Baoli inside the Mehrauli Archaeological Park in Delhi
Mapping Delhi's water heritage
Narayani Gupta
Published: Nov. 29, 2019
Updated: Dec. 24, 2019
Vikramjit Singh Rooprai's disarmingly modest pocket book is truly a contribution to the cause of seeing baolis as heritage. It has a wealth of information, evocative photographs, bibliographical information and, most important, maps and drawings.
Rooprai speaks to the scholar as well as the school student. Ten of Delhi's many baolis are explained with details about their design, opening our eyes to the skills of the engineer and the architect of yore. They were wise, the people of those days, who lifted their hands in gratitude for the abundant Ganga, but also realised that for dense settlements in north India the river was not enough.
From the 12th to the 18th centuries they built and repaired canals, constructed elaborate stepwells which had landings on the stairs leading down, so that people could sit comfortably at different levels. The water table got recharged, and springs were topped up with the brief but abundant monsoons. In the 1950s, in the eagerness for high-rises, groundwater was enthusiastically pumped out and the city went dry. But processes can be reversed.
India is full of missed opportunities — the chance to write novels that bring such public works to life and make our baolis a stunning tourist attraction, the chance to see how they can be revived to rehydrate our cities and make baolis the wonderful public places they once were, connecting land and sky, a gathering point refreshed by nature with adjoining temples or mosques and madrasas, where poets declaimed, where in the quiet morning hours women gathered to fill their pitchers and where children raced up and down the steps.
In today's India, where the signature landscape of grey and red stone, quiet yet moving water surfaces and drooping trees, is disappearing, where water has become part of 'infrastructure', temperatures are regulated by air-conditioning, discussions and declamation have been imprisoned in auditoria, and children have forgotten how to play, it is imperative to revive lost landscapes.
For a year or two before the 2010 Commonwealth Games the Delhi government managed to convince us that it was going to revive the Delhi canals, and make the city 'the Venice of the East'. Instead, it covered the canals and turned them into car parks.
Within months, a nightmare destroy-and-rebuild project will be unleashed on Rajpath, substituting multi-storied buildings for government employees where there are water channels and avenues of jamun trees.
Cruel jokes seem to be part of official decisions. So it is not with a great sense of hope that I suggest that we use skills and imagination to revive the baolis in our north and west Indian cities. Rani ki Vav, not just the Queen's Stepwell but the queen of stepwells, has received homage and recognition. But the more modest ones can be integrated wonderfully into present urbanscapes.
Stepwells are inverted monuments. The Archaeological Survey of India leaves monuments above the ground starkly empty, and generally with only the minimal information communicated. Baolis, by neglect or ignorance, are equally empty, except that they hold out the perennial temptation to serve as litter bins. The Indian habit of leaving plastic garbage bins untouched and throwing litter in untended corners of monuments is a baffling pattern of behaviour which needs to be studied.
This book should be compulsory reading for thoughtful Dilliwallahs and for our schoolchildren. Rooprai, with youth on his side, with his enthusiasm and zest for investigation, may just have begun a much-needed conservation movement.