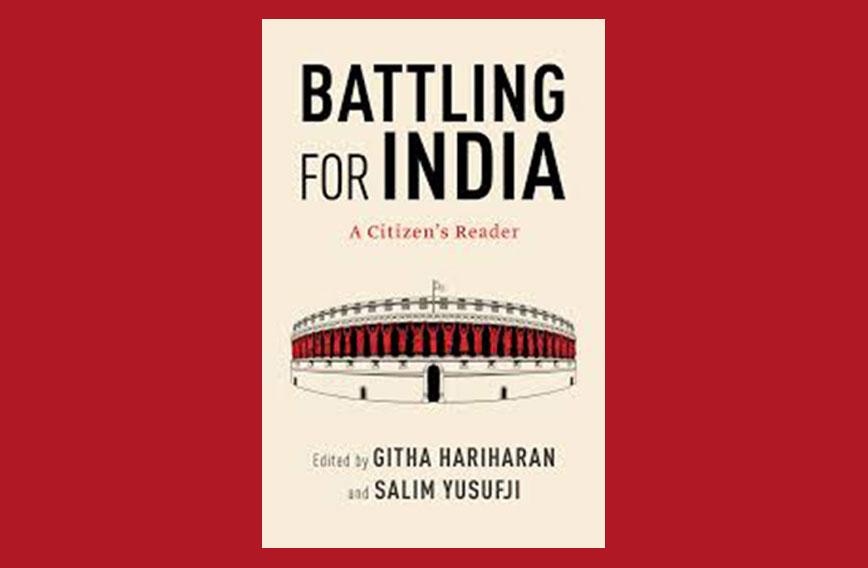 Stories from a dissenting India
Usha Rai
Published: Jul. 26, 2019
Updated: Jun. 28, 2022
Battling for India, A Citizen's Reader, edited by writers Githa Hariharan and Salim Yusufji, is very timely. It looks back at the series of protests that took place under BJP rule between 2014 and 2018. A wide-ranging anthology, it consists of reports penned by well-known writers and activists of various struggles in India.
On the one hand are those who are Battling for India. This group consists of Dalits, Adivasis, farmers, workers, minority communities, writers and artists, who are resisting oppression and intolerance.
They are pitted against the Battling India Parivar or the right-wing. It has its own police and seeks to regulate what we think, write, sing, eat and wear, how we pray or whom we love. The members of this group, write the editors, are mostly Hindus, upper caste, ideally male and heterosexual. Their friends are rich barons, major company owners and godmen.
There is a series of profiles of those who are battling for India. Like Alivelamma, a 35-year-old widow whose husband, a farmer, committed suicide in 2013. His groundnut crop was not giving returns, debt was mounting and moneylenders were chasing him. She now works as a tenant farmer and takes care of her son who is studying in an Industrial Training Institute (ITI). Then there is Huchangi, son of a devadasi, forced to live outside the village like other devadasis, in houses measuring just 10 square feet. They are landless. The women survive by begging during the day and doing sex work
at night.
There are also chapters on Rohith Vemula, the Dalit student driven to suicide and Chandrasekhar Azad and his Bhim Army which is fighting for the rights of Dalits. This Citizen's Reader tells you the story of Sukalo Rajkishor and Leelabati, about Adivasis displaced by big dams, water sources polluted, and mining in the Niyamgiri Hills of Odisha which favours multinationals and drives forest dwellers from their homes. Also included is Salima's story. Her husband, Jaffruddin, was killed in a fake encounter. She was threatened and her house raided. Her son, Salim, was killed by cow vigilantes.
The book is a throwback to all the controversies which have dogged the era of BJP rule. Since 2014, backed by the RSS, the BJP has tried to homogenise Indian diversity. The people have hit back. In 2015 writers returned their awards in protest. Protests also broke out on campuses, among Dalits, Adivasis, minorities, women and farmers.
The Sanatan Sanstha, a right-wing organisation, was charge-sheeted for killing Govind Pansare, a lawyer, trade unionist and communist leader in Kolhapur, in February 2015. In August, M.M. Kalburgi, a leading writer and scholar, was shot by two strangers in his home in Dharwad. In September, Hindi writer Uday Prakash returned his Sahitya Akademi award because he said free speech was being endangered by the BJP. Five Kannada writers returned their awards in protest against delay in investigation of the murder of Kalburgi. On October 6, writer and author Nayantara Sahgal returned her Akademi award "in memory of the Indians who have been murdered, in support of all Indians who uphold the right to dissent and of all dissenters who now live in fear and uncertainty". Then other national awards like the Padma Shri were returned. The film fraternity followed suit. A hundred intellectuals wrote to the president and constitutional experts to speak up.
There are essays by Shanta Gokhale, K. Satchidanandan, N. Pushpamala, Githa Hariharan, Nayantara Sahgal, Shashi Deshpande, Ghanshyam Shah, Lawrence Liang, Nikhil Wagle, Somok Roy, P. Sainath and Harsh Mander. Several articles used in the book were published in Indian Cultural Forum. Gokhale quotes from Mahasweta Devi's speech at the Frankfurt Book Fair in 2012 in which she describes Indian culture as "a tapestry of many weaves, many threads. Somewhere the cloth frays. Somewhere the threads tear. But still it holds". It will continue to hold as it has for centuries if only those who speak in the name of religion and culture would allow it, says Gokhale.
Part Two of the book is on the 'nucleus of struggle'. It analyses the death of Vemula, structural discrimination in higher education and how Dalits denied access to writing culture tried to retain it through memory of individual experience and, collectively, as social memory. Memory acts as a protective layer. Prabir Purkayastha writes about 'Gau Raksha and the War Against India's Poor'.
In an interview to Newsclick, Magsaysay awardee Bezwada Wilson asks who will clean the 12 crore new toilets built under the Swachh Bharat Abhiyan. The lack of technology adaptation will result in perpetual oppression of this particular caste of people. The Supreme Court in its judgment against manual scavenging in 2014 had asked the government to collect the number of fatalities and give `10 lakh as compensation. In the two years after the Safai Karamchari Andolan began collecting data there were 1,370 deaths of those cleaning sewer lines. The numbers are probably higher as many of those who died were contract workers or casual workers. The Swachh Bharat Abhiyan led to more septic tanks because there is no underground drainage system, Wilson points out.
The section, Citizens Against All Odds, highlights 'Violence against minorities: the new normal'. It tracks the Karwan-e-Mohabbat journey in 2017 across India, listening to victims of civil and State-sponsored violence and providing legal guidance and support.
There are stories of the half-widows of Kashmir still looking for husbands who have disappeared and there is no closure to their mourning. There is a conversation with Nandini Sundar, a professor of social anthropology in Delhi University, who filed a writ petition on the burning of hundreds of homes, rape and murder of Adivasis by police and security forces in Tadmetla and other villages of Chhattisgarh in 2011.
The book chronicles the 'growing anger and the growing resistance', drawing from websites like PARI and Newsclick. The long marches of farmers and trade unions to Mumbai and Delhi took place during this period. This is a must-read book for those who want to understand the underbelly of our democracy.