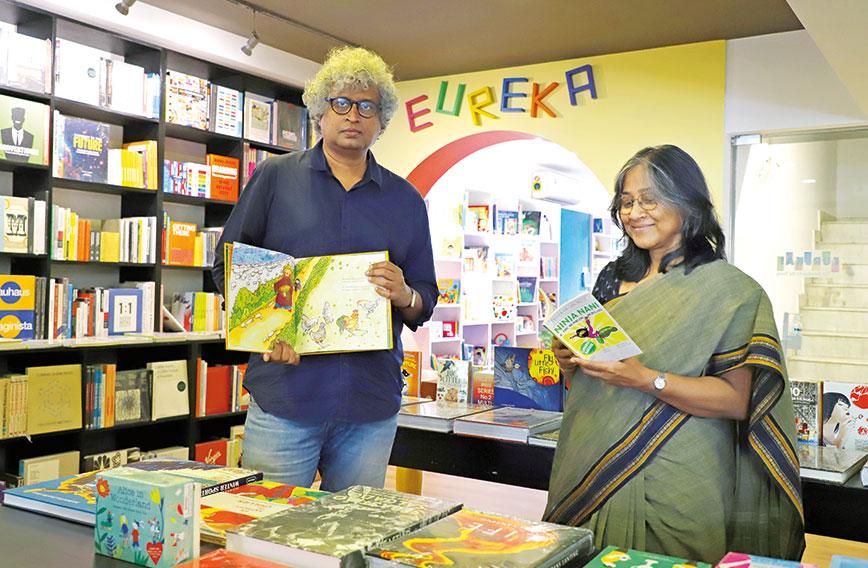 Venkatesh Swamy and Swati Roy at Eureka bookstore
Eureka is in a new home happily with CMYK
Sidika Sehgal, New Delhi
Published: Oct. 15, 2020
Updated: Nov. 23, 2020
In the midst of the pandemic, a small business which had closed down sprang back to life. Eureka, the iconic bookstore for children in India, had downed its shutters in 2014, hard-hit by e-commerce and high rentals.
Eureka has now reopened inside CMYK, a well-known chain of bookstores in South Delhi's Greater Kailash-II.
"High rentals combined with a drop in sales forced us to close at that time," recalls Venkatesh Swamy, who started the bookstore with Swati Roy in 2003.
Swamy and Roy went on to found Bookaroo, the famed literature festival for children in 2008.
In December 2019, Pramod Kapoor of CMYK and Roli Books called Swamy and Roy to discuss the possibility of sharing the space. "We keep books on art and design. Customers would ask for children's books. We wanted to partner with someone who is entrenched in that world. Swati and Venky are two of the best people in that space," says Kapil Kapoor, Pramod Kapoor's son.
"After we shut in 2014, we did suffer withdrawal symptoms. Now we've got the place, we've got the books and we've got the store up and running," says an upbeat Swamy.
Swamy and Roy worked out a rental and revenue sharing agreement with Kapoor in January and February. The space is shared equally. But the collaboration goes beyond that.
Roy describes the agreement as "two booksellers coming together to serve the community". They plan to do events together and develop the bookstore as a community space. They'd like people to come and talk about books and life, and authors to drop by.
"We want to feed off each other. CMYK doesn't have children's books which we do. We don't keep a lot of books for adults which CMYK does. Now customers will have a larger range to choose from," says Swamy.
These plans are on hold due to the lockdown. "I know there is fear right now of going to physical bookshops. But it will come to an end. It has to," says Kapoor optimistically.
When Roy, 52, and Swamy, 55, started Eureka in 2003, the idea was met with utter disbelief.
"People didn't take children's books seriously then and they still don't. Most people think children should just study their textbooks and that's it," says Sayoni Basu, publisher of Duckbill Books and their colleague in the world of children's books.
Swamy was working with Outlook magazine and Roy with afaqs!, a news and media website, when they decided to start Eureka. At that time they would open their bookstore only from 4 pm to 8.30 pm. They kept their jobs for a steady source of income and took the plunge three years later.
By then, the mission to encourage children to read had grown. Roy and Swamy would organize events for their young readers in their small shop. Authors like Ruskin Bond and Paro Anand dropped by and children lined up to get their books autographed.
"We felt that the events we were doing inside the bookstore were not enough. The Indian publishing industry was growing. There were so many new publishers and imprints who were publishing for children. So the time was right to start a literature festival for children. There wasn't any and we were the first ones," says Roy, about starting Bookaroo.
Since 2008, Bookaroo has travelled to 16 cities and done 37 editions including an international fest in Malaysia. A lot of thought goes into curation. "In an adult literature festival, you look at the name of the panelist. In a children's literature festival, content is supreme. We have to excite them with content because names don't matter so much in children's literature," explains Roy.
This year, Bookaroo won't go to other cities but Roy and Swamy hope to be able to organize the festival in Delhi, in late November. "We are toying with the idea of an online festival," says Roy.
Meanwhile, they have tried to keep children reading and excited about books. Once quarantine became a way of life, they created an online space called the BookarooLitHouse and organized six to eight sessions every month for children.
Paro Anand did a three-day writing workshop, Deepak Dalal led a session on nature and Ajit Narayanan undertook a workshop on cartooning. These were all paid sessions, to ensure that only children who were serious, joined. The modest fee, Rs 200 or so, was shared with the author.
Eureka's second innings is a testament to the value bookstores and booksellers add. Basu points out that brick-and-mortar bookstores help to build a relationship between the author and the seller and create a sense of community, unlike e-commerce platforms. "For a lot of Delhi authors, Swati and Venky help them do that," she added.
"They made reading fun. That's the impression my kids got when they spoke to Swati and Venkatesh. They would discuss characters from children's books with them. That personal relationship they built with the children was very endearing," says a doctor who used to take her daughters who are now grown up, to Eureka.
When old customers found that Eureka was opening again, they reached out to Roy and Swamy on social media and WhatsApp. Some customers brought them gifts and told them not to disappear again.
Roy shared a WhatsApp chat between three friends. One of the girls wrote, "Eureka was my lifeline growing up, I'm so happy they are back." Another girl from Gohana in Haryana wrote to Roy, seeking her help in setting up a library.
When Roy and Swamy were looking for a name for the bookstore, the operative phrase was "discover children's books". They worked backwards from discovery and zeroed in on Eureka. When they asked readers why bookstores were still around, they replied that bookstores were the best place to discover new books. One reader described it as a "treasure hunt".
A muted opening is hardly what Roy and Swamy had hoped for. "Nobody in their right minds would have started a bookstore at this time," says Roy. But now that they are back, they are more determined and excited than ever.