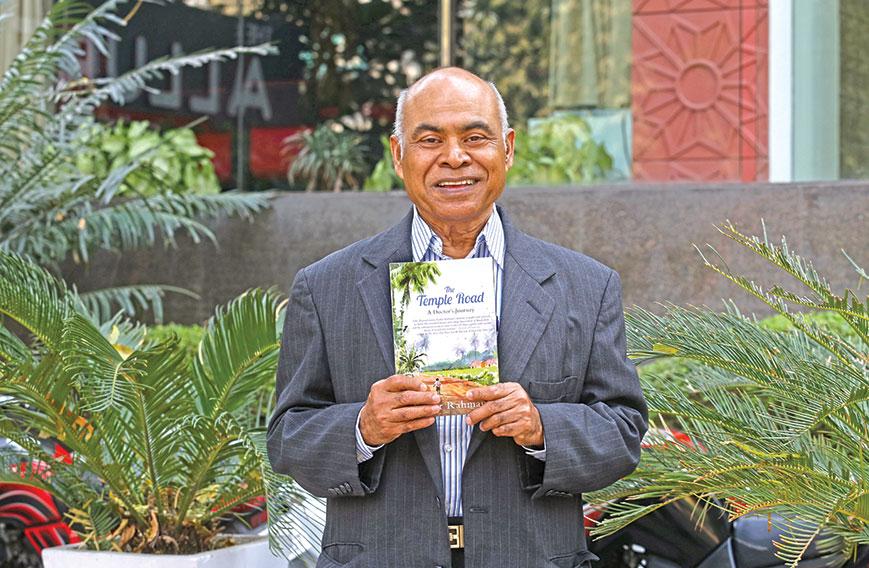 Dr Fazlur Rehman with his interesting memoir
'Empathy is important for meaningful medical care'
Kavita Charanji
Published: Jan. 06, 2017
Updated: Oct. 08, 2018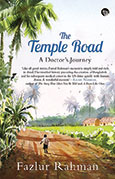 Dr Fazlur Rahman's inspirational new memoir, The Temple Road: A Doctor's Journey, begins with his mother's sudden death during childbirth. Just seven at the time, he went on to fulfil her dream — that he would become a doctor and save lives. But his beginnings were not promising. He was born and raised in the remote village of Pora Bari, now in Bangladesh, where people regularly succumbed to deadly diseases such as malaria, kala-azar, typhoid and tuberculosis. Rahman himself almost died of kala-azar, a parasitic illness.
Through sheer willpower, self-belief and hard work he finished school, made his way to Dhaka Medical College and finally to prestigious medical centres in the US like St John's Hospital in New York and the Houston-based Baylor College of Medicine.
Rather than being a small fish in a big pond, he became the first haematologist-oncologist in San Angelo in Texas. He has now lived in the US for over 40 years and won recognition as a front-ranking, empathic oncologist both in the region and the country. Retiring in 2011 from active medical practice, he teaches medical humanities and ethics at Angelo State University.
Civil Society chatted with the modest, unassuming Dr Rahman before the launch of his memoir in New Delhi.
How did your book come about?
The idea was there for quite a while because I had been writing on medical-ethical issues for different publications. Then I saw how much change there had been in Bangladesh. I wanted to capture my journey, where I came from and where I went and through that give an idea of history. So I thought that through my life I would not only illuminate myself but illuminate the society and culture I grew up in.
I had written parts of my memoir for Harvard Review and Lancet. Then the idea of the book came about and six or seven years ago I started putting things together.
What was the primary reason for your becoming a doctor?
My mother often used to tell me that someday I should become a doctor and save lives. I was only seven when she died but five, six or seven-year-olds remember more than we realise. I think the impact was greater because she died so suddenly.
Also, I was a sickly child myself and almost died of kala-azar. I saw a lot of suffering around me. People died of different diseases like malaria, kala-azar, typhoid, tuberculosis and smallpox.
What took you to San Angelo?
I did my senior residency at the prestigious Baylor College of Medicine in Houston. My mentor there, Dr Robert Hettig, told me, "It is better to be in a place where you are needed the most and it's a distinction to be a pioneer." My wife and I moved also for financial reasons.
San Angelo, a city in west Texas, had a population of about 75,000 at that time. I went into private practice in a group because I didn't know much about the business side of medicine. I began as a salaried employee in the first year and later became part of the group – West Texas Medical Associates. Our group started a non-profit hospital and a for-profit multi-specialist clinic that is now common in the US. Thirteen of us started it and now we have 40 doctors. I retired in 2011.
What accounts for your success as a doctor?
Partly my own suffering and the suffering I saw around me when I was growing up. One of my mentors, Dr S.M. Rab, at Dhaka Medical College, strengthened my belief that empathy is an essential part of medical care.
Another thing you learn in practice is that when a patient comes with cancer to you, his or her big burden is not only the disease but other problems in life like their jobs, children, spouses, insurance or the lack of it. It requires a certain amount of sensitivity and empathy to understand that. It was especially hard for me to forget the children at Dhaka Medical College Hospital who lost their limbs to cancer.
What are the contrasts and similarities in the treatment of cancer between the US and Bangladesh?
The poor have the same hurdles to cross whether in the US or Bangladesh. But you have better support organisations in the US. Palliative care too is much more advanced in the US.
Palliative care has physical, spiritual and emotional components. Hospices are well-equipped to gently and systematically take care of pain and the side effects of cancer treatment like nausea, vomiting and diarrhoea. The other aspects are psychological and spiritual care.
I took my own time to understand the concept of palliative care because I was trained to believe that my job was to save people rather than talk about death and dying.
What is your opinion of the current debate on medical ethics?
We are going through very difficult disagreements in the US. One side is talking about universal access to medical care. The other, capitalistic, viewpoint is that everybody should take personal responsibility. As a result, Obama's Patient Protection and Affordable Care Act has become very controversial.
In the West and other parts of the world I do see some abuse. You don't want to drain the patient's finances because that is not going to help the patient. But there is also the pressure to put the patient through MRI scans and they are very expensive. If we have palliative care it would be much less expensive and improve the quality of life.
Private hospitals are often accused of asking for such tests and procedures to boost revenues.
It is a problem in the US but I think there are checks and balances. In some parts of India and Bangladesh I see lots of MRI scan machines and other technologies. My belief is that the emphasis in developing countries should be on immunisation, pre-natal care, and public health and hygiene.
If you look at the history of medicine – and this is a sensitive subject even for my colleagues – most of the advancement has come not because of heart transplants or kidney transplants. Yes, they have saved millions of lives but most of the advances have come from public health and immunisation. We tend to forget that but that should be a priority.