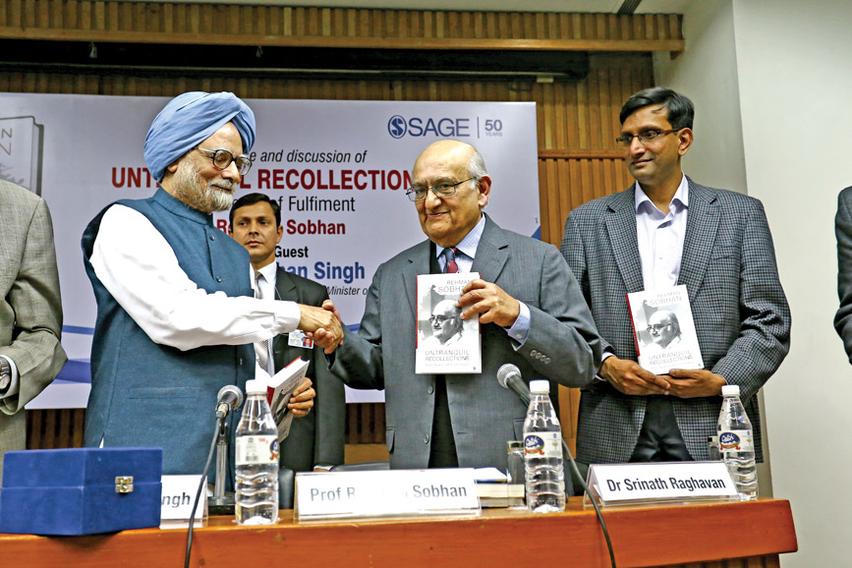 Kavita Charanji
Published: Mar. 11, 2016
Updated: Oct. 08, 2018
Professor Rehman Sobhan says he has sung four national anthems during his lifetime: God Save the Queen, Jana Gana Mana, Pak Sarzamin and Amar Sonar Bangla.
"I don't know if there are many people around who can make that sort of claim but it shows how one' s life has evolved over the years," Professor Sobhan remarked ruefully during the release of his recent book, Untranquil Recollections: The Years of Fulfilment, at the India International Centre in New Delhi. Former Prime Minister Dr Manmohan Singh, his Cambridge colleague, released the book.
Professor Sobhan is founder-chairman of the Centre for Policy Dialogue, a think-tank in Dhaka. Born in Calcutta, Sobhan went to St Paul's School, Darjeeling, and to Aitchison College in Lahore. He then studied economics at Cambridge University.
Professor Sobhan could have easily slipped into the privileged life of a businessman, had he listened to his father. Instead, he found his calling as a respected academic, economist and intellectual in erstwhile East Pakistan where he threw himself into the maelstrom of the freedom struggle that culminated in the bloody birth of Bangladesh.
Civil Society talked to Professor Sobhan about his book, his Cambridge days and his perspective on the formation of Bangladesh.
There is a good body of literature about Bangladesh's Liberation War. Where does your book break new ground?
My book is a memoir. It was not the Liberation War I was writing about. My intention was to highlight my trajectory which began in a fairly elite world. In the normal course of events I would have had no place as a participant in the Liberation War. It was this transition in my life that I have presented.
The climax of my story was the liberation struggle of Bangladesh, the great events that erupted, the peripheral role and, in some cases, quite active role that I played in the realisation of this new country.
I thought that my personal story had some resonance because there is an entire generation that has come from that background but moved on in different directions.
My main story is about the emergence of Bangladesh. It has been presented not just from the Bangladesh perspective, but from the perspective of someone who had firsthand exposure to the evolution of events as they led to the Liberation War.
A lot of books have been written on the subject, not only in India, but also abroad, like The Blood Telegram: Nixon, Kissinger and a Forgotten Genocide by Gary J. Bass which came out in New York last year. The main emphasis in this book was on the US response. The book was a major critique of the way Nixon and Kissinger reacted to the events that were taking place and how they tried to cover up because they wanted to maintain a good relationship with Pakistan. Simultaneously, Professor Srinath Raghavan's book, 1971: A Global History of the Creation of Bangladesh, also came out. It, of course, depended heavily on Indian documentation and papers. The book focused on India's participation in the Liberation War. A number of other studies have basically looked at the Indo-US element in the war.
The Bangladesh story has been underreported. I thought, in that sense, a perspective on how we – who were actually at the receiving end – viewed it was an important story that needed to be told. No one should believe that the liberation of Bangladesh was just the outcome of the fact that the Indian Army could seek the surrender of the Pakistan Army. The processes which led to that are very important but not the central element of the story.
Any particular reason you went into politics? You have mentioned that your political perspectives were shaped largely at Cambridge.
Since my university days I had this urge to play an influencing role in bringing about social change. If you have any sort of political inclination you have to locate it in some geographic political space, otherwise you end up as an international freelancer who writes articles in newspapers but can't really participate in the real world of politics.
As a university teacher throughout this process, l and others like me were actively engaged from a fairly early stage in trying to influence political opinion. Through that we were drawn directly into the world of politics. The leader of the political democratic movement in erstwhile East Pakistan, Sheikh Mujibur Rehman, drew on us and used our ideas. He brought us in to provide professional advice.
In your book you have mentioned Amartya Sen as one of your contemporaries at Cambridge. How did you relate to him?
Amartya Sen was one of my closest friends and remains so. I was the president of the Cambridge Majlis and he was the treasurer. The Majlis, a historical society that dates back to the 19th century, was a forum for students from the Indian subcontinent, then made up of India and Ceylon, to socialise and engage in political debate and discussion. The Majlis had among its alumni Pandit Jawaharlal Nehru and other prospective leaders of South Asia.
Dr Manmohan Singh was also in the Majlis. He was bookish, worked in the library and was exceedingly shy in his interactions but he became one of the top economists.
Why did your first book, Basic Democracies, Works Programme and Rural Development in East Pakistan, attract attention?
In my book I focused on the way Field Marshal Ayub Khan, who had taken over power in Pakistan, was using aid and development to try and build a support base for himself by channelling public resources to a small group of the elite in rural areas. Many people thought of this as a great success story.
At that stage, you were very critical of the World Bank?
We thought of the World Bank and the US government in the 1960s as the main patrons of the Ayub dictatorship. They were giving him enough aid to make what he was doing into a success story, not realising that their actions were basically sponsoring and strengthening the hold of an undemocratic regime led by the field marshal.
Interestingly, in 1971 the World Bank played quite a constructive role because they reported on the genocide in Bangladesh in the aid consortium meetings. The aid community then decided to suspend pledging US aid to Pakistan. While our political campaign in the US was directed at getting the US Senate to pass legislation to stop aid to Pakistan, we were also targetting the World Bank and the other members of the aid consortium.
This was my whole campaign in 1971 in the US, Europe and UK because we felt that the regime in Pakistan should not get resources which would mostly be channelled against us. Finally, in the US, they tabled this Bill known as the Saxby-Church Amendment that was designed to stop aid to Pakistan as long as they were committing genocide in Bangladesh. This Bill was passed in the Senate. This was another big success even though the Nixon Administration lobbied to defeat it.