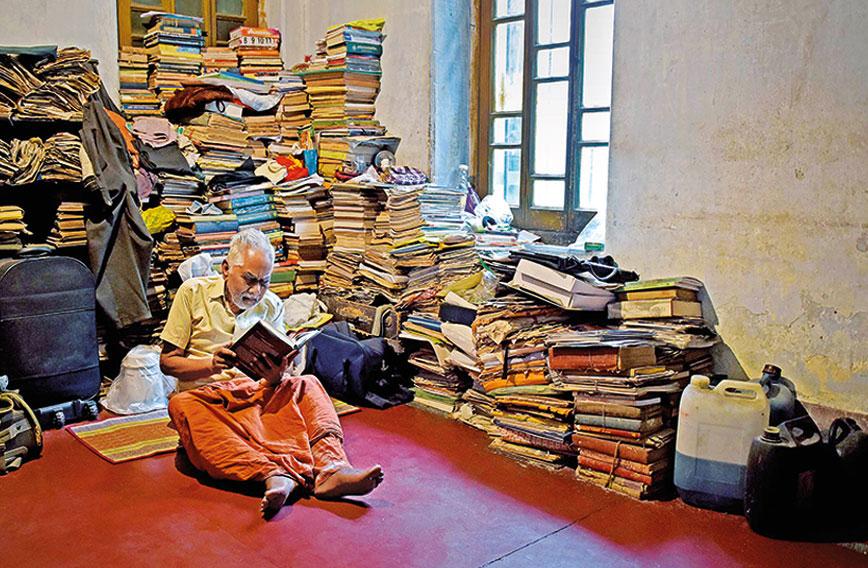 Nair at home : A spartan life in his two-room home in Kansaripara in Bhowanipore
Finding P.T. Nair among his old books in Kolkata
Soumitra Das , Kolkata
Published: Jun. 20, 2018
Updated: Sep. 04, 2018
At a time when every armchair heritage activist cries "blue murder" whenever an alleged ancient building is torn down in Kolkata, few have even heard of P.T. Nair. Way back in the 1970s, he was one of the first urban historians to make those who live in this relatively young city conscious of its eventful past, and of its legacy.
Parameswaran Thankappan Nair does not even have the requisite academic qualifications — he is only a bachelor of arts and a non-practising lawyer. Yet in the 2015 book Calcutta: The Stormy Decades, edited by Tanika Sarkar and Sekhar Bandyopadhyay, the latter wrote "...Calcutta owes a great deal to its resident Malayali scholar, P. Thankappan Nair, whose wide-ranging scholarship explored practically every aspect of the history of this metropolis, from the 17th century to the 19th century — touching on the origin of its name, history of its streets, the beginning of its press, the story of its High Court and its police system, and its more modern south Indian diaspora." Nair has 62 books and 600 articles to his credit.
If he is described as an "archivist", as opposed to historian, as some pettifoggers do, Nair should take pride in it. For a good part of his life he has spent hours in libraries and archives, poring over obscure documents to bring history alive.
He had a prodigious personal collection of 3,000 rare and valuable books, which he sold to the Kolkata Municipal Corporation (KMC) quite some time ago. Included among them were old directories of Kolkata. "When particular buildings were constructed directories gave their history," Nair says. His collection contained a complete set of Bengal Past and Present from 1907 up to present times. The books are preserved in the Town Hall library. "Most of my books were collected from the Dharamtala-Wellington crossing and College Street. At Dharamtala you can still get books on a particular subject, whereas in College Street books on various subjects are available," he says.
Nair still leads a spartan life in his two-room home in quiet Kansaripara of Bhowanipore, where he has been living since 1955. When I went to meet him after a gap of several years, his wife, Seetha, a retired teacher, welcomed us in. The only physical difference I noticed in Nair was his straggly beard. All of 85, he is still as spry as before, walking to the National Library almost every other day. "The National Library just takes 10 minutes to walk from here," he says casually, adding, "It is easy to travel anywhere in the city from here. You can get all the buses from here."
Nair emphasises that the National Library has a treasure trove of material on the city — a 300-volume Union Catalogue of the American Library of Congress and the 100-volume British Museum catalogue. And so "You needn't go anywhere." He collected documents on Job Charnock from Fort St George in Chennai which dispelled myths about the man who reputedly founded the city.
Nair has, however, mellowed. When I interviewed him last in 1999, Nair did not tire of repeating excitedly how Jyoti Basu had cut him to the quick by asking him if he had really authored the commissioned book on the KMC. This time he had to be reminded about it.
Nair was born in 1933 at Manjapra in Ernakulam district near Kalady where Adi Sankaracharya was born. In school, the focus was on Sanskrit, although he was taught English and his mother tongue as well. Armed with a certificate in shorthand and typing, he arrived in Kolkata in 1955. He used to live with friends near Deshapriya Park and after working as a stenographer in Dalhousie Square, he landed a job with the Anthropological Survey of India.
Nair recalls his early days. "From the day I came to Calcutta I started taking interest in it. Whenever I saw a building or monument I started collecting material on it — and in depth from other sources," he says. He used to take the tram from Kalighat to reach his office. "Dalhousie Square has not changed much in the last 50 years. No new building has come up except for Telephone Bhavan," he stresses. He concedes that Kolkata has expanded and changes have taken place mostly in the Salt Lake area. Nair's typing skills have stood him in good stead. Even now he uses his battered typewriter to dash off his books and articles.
He started his career by writing on things of "topical interest" like Christmas celebrations in Kerala, which was the first state in India to become "Christian", he says. He would make three or four copies of each article and submit them to various newspapers. When one newspaper published it, he withdrew his submission from the others. In 1967, he left his job and began working as a journalist. He began writing and editing for Engineering Times, whose office was behind the Indian Airlines office in central Kolkata. "Although I am not a technical man, I based my writing on common sense," Nair explains.
He feels that the city has changed very much, in the sense that "the days of political turmoil" are over. "There are few processions and now I can sleep peacefully," he says, without betraying a hint of humour.
On the question of Kolkata's built heritage, does Nair believe that all old buildings should be preserved? He makes it clear without equivocating: "All heritage buildings must be preserved and strengthened. Other buildings which have no heritage status can be demolished." Nair is in favour of development.
However, he added: "Beautiful buildings should be preserved. If the owner can't preserve it, the government or the Corporation should come forward to preserve it. Old buildings can never be built again." Nair's latest book related to Kolkata is almost ready. It is on Gandhi in the city.