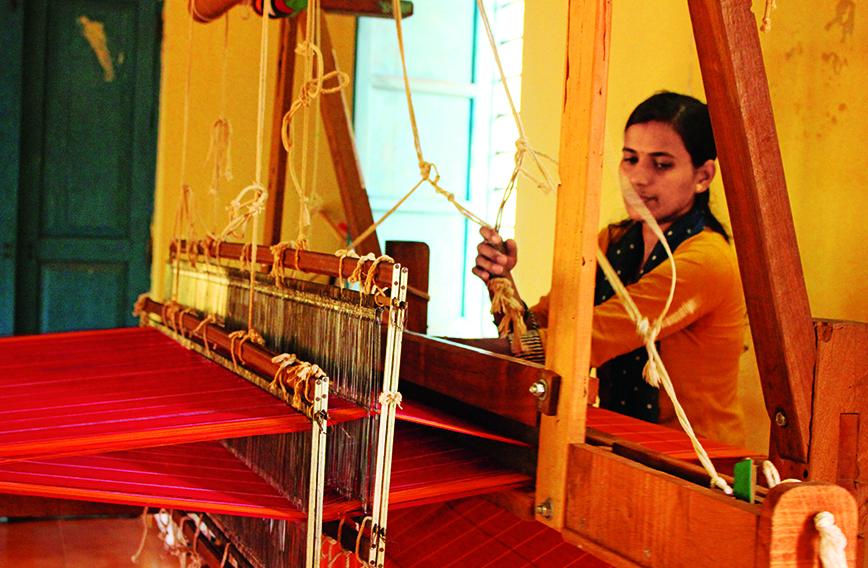 Baburao, the last Kunbi weaver, trains other weavers under a Goa government
Will the Kunbi weave survive?
Ashwini Kamat
Published: Mar. 24, 2020
Updated: Apr. 03, 2021
Babu rao Babaji Tilve's face lights up as he takes down the tarpaulin covering his loom and weaving tools. "I closed this loom down in 2015. A mild paralytic stroke weakened my legs, otherwise I would have gladly continued to weave till my last breath. This is the sacred legacy of my father that I served honestly for 68 years," says the 85-year-old master craftsman.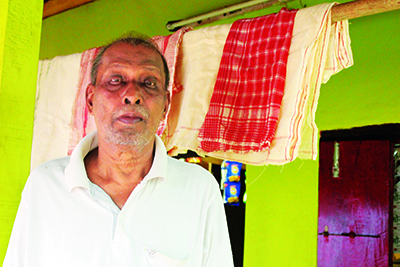 Baburao Tilve
Baburao and his eldest daughter-in-law, 56-year old Anuradha, now run a small grocery shop from their humble home in Paliyem, a laidback village 39 km north of Panaji. He began apprenticing at the age of 18 in 1952. When his father set up the handloom unit in a shed adjoining this house, around 450 to 500 looms were operational across Goa. Baburao's father taught him how to identify strong yarn and good quality natural dyes in Belgaum market and how to use these to create the checked Kunbi weave indigenous to Goa.
For almost eight decades, the Tilves sold their Kunbi loincloths, gamchas (cotton towels), handkerchiefs and bedsheets to shops in the famed textile market of Mapusa. A few locals, agricultural workers and even foreigners bought Kunbi products directly from Baburao's home.
"All this changed after Goa's liberation in 1961. Power loom fabrics from other states began to flood Goa's textile markets. These were cheaper, more colourful and hence more appealing. One by one, all our handlooms had to be closed down since we couldn't compete. I think I was the last to call it a day. There aren't any independent handloom weavers left in Goa anymore," Baburao says with his gaze fixed faraway on the horizon.
As income from weaving hardly made ends meet, none of Baburao's four children took it up as a profession despite being trained by him. Baburao's cousin, Umakant Sabaji Tilve, is the only other family member who pursued weaving. After acquiring formal training at the Indian Institute of Handloom Technology in Salem, Tamil Nadu, in 1979, he was employed at Goa's Department of Handicrafts, Textiles and Coir for 40 years until his recent retirement. "Mechanized factories located in the neighbouring states and elsewhere still dominate the textile market. Over the years, younger generations have been forced to move away from the looms for better income," says Umakant.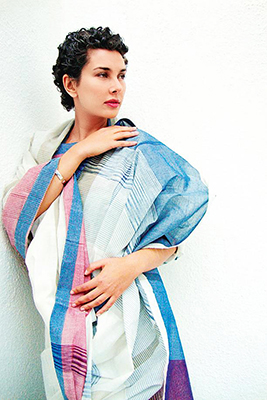 Dr Pratima Kamat, head of the Department of History at Goa University, confirms that, according to several records, Goa had a vibrant handloom industry at the time of liberation. Apart from the Tilves of Paliyem, there were several prominent families who operated handloom units.
"There was Narcinva Shankar Camotim in Candolim, who is known to have brought natural dyes from Japan in the 1930s. His son, Ranganath Kamat, who is now in his early 90s, continued the business. There were the Shettigars in Rasquinhas, Satardekars in Bardez taluka, Chafadkars in Ponda, to name a few," she says. Margao, the commercial capital of Goa, was well known for its textile markets. Exquisite Goan handloom fabrics, including the indigenous Kunbi weave, were sold there.
"What is at present being sold as Kunbi weave is not the original weave traditionally used by the Kunbis. The original Kunbi sari is 4.5 metres long and is woven using earthy colours to signify vitality," Dr Kamat explains.
Baburao speaks of how he was taught by his father to develop the pinkish red dye used for these saris with natural ingredients such as iron oxide and rice water. Sometimes, stripes of white, green, purple and indigo were added near the pallu. A 2.5 to three-inch wide dobby border in streams of white or gold ran along the sides of these saris.
The traditional Kunbi drape is known as dethli (knotted) due to the peculiar knot on the right shoulder which secures the pallu. The folds of the sari skirt flare out on the right, instead of the usual left. The sari is worn at least a foot above the ankle to enhance mobility while working in the fields. The garment is an identity marker of the Kunbi community, a Scheduled Tribe of Goa. The term "Kunbi" is derived from the Konkani words "kun" (people) and "bi" (seed). "Kunbi", therefore, literally refers to people who sow or germinate seeds.
This Kunbi weave shot to international fame in 2011 when acclaimed fashion designer Wendell Rodricks collaborated with Baburao and a gifted textile designer, Poonam Pandit, to design a collection of saris inspired by the traditional weave.
But, notwithstanding its fame and popularity, it is still difficult to find the traditional Kunbi garment in Goa.
With no government support since 1961, the cottage handloom industry in the state had a neardeath experience when Baburao stopped weaving. Fortunately, in 2016, Goa's Directorate of Handicrafts, Textiles and Coir began making targeted efforts to revive the handloom industry, especially the Kunbi hand-weave. As a result, the number of trained handloom weavers in Goa has steadily increased from zero to 37 in the last four years. Of these, 10 weavers have received advanced training to weave 100 thread-count checked Kunbi saris measuring six metres.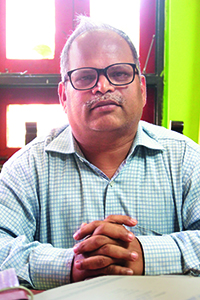 Arvind Bugde
Arvind Bugde, director of the handicrafts, textiles and coir directorate, has been overseeing the formal plan of reviving Goa's withering handloom tradition. "This is not a revenue generating activity for us. Our main intention is to revive the original weave and to position ourselves as a handloom weaving cluster of 200 to 300 weavers. Eventually, we will look to secure Geographical Indication (GI) for the Kunbi weave. We have identified certain focussed areas where the profession once flourished," he says, adding that by regenerating skilled labour in the sector, the directorate hopes to develop employment opportunities for women belonging to Scheduled Tribe and Scheduled Caste communities in rural parts of the state.
With this in mind, the directorate roped in Baburao and others to train its first batch of 10 weavers on two looms at the first training centre set up in 2016 at Madhlamaaj in Mandrem, Pernem taluka.
The handholding support programme spans six months or 75 hours of weaving practice. Having undergone a few tweaks since its initial batches, the programme now covers five training centres in North Goa. Two are located in the village of Korgao and one each in Harmal, Alorna and Mandrem. A total of 12 wooden looms and other instruments stationed at these centres have been crafted especially at the Directorate's Woodcraft Centre in Siolim.
Bugde says attracting students to the centres posed a mammoth task in the initial months. "Full-day training meant that the students had to give up other sources of income for six months. So, we began offering a monthly stipend of `1,000 for those wishing to be trained. But it was a totally new vocation and there was no guarantee of earning a comfortable livelihood. We have now reduced the training to half a day and the monthly stipend to `750," he explains.
At present, all fresh recruits are taught spooling, warping, using the loom to weave durries, towels and bedsheets during the first four months of their training. Batches are then sifted through for further skill upgradation and training to weave the Kunbi sari. Highly skilled weavers are offered employment as trainers and assistants at the handloom training centres.
While Kunbi fetches a good rate, Bugde admits that weaving it is a costly affair. Kunbi saris handwoven at these centres are sold at `2,500 each, of which around 70 percent goes to the weaver. Each sari takes anything between two days to a week to weave painstakingly and these saris are sold directly at the training centres. Around 600 to 800 gm of yarn is needed to produce one Kunbi sari. The directorate buys the yarn from neighbouring states where the rates are less volatile.
"Over the last six months, around 300 towels and a few dozen saris were produced in the five training centres. The production capacity is growing very gradually as more weavers are being trained. Eventually, we will employ a more economical way of training," he says.
For now, the directorate has decided not to waste its resources on weaving generic fabrics and saris in a market where it can't compete. Instead, its game plan is to focus on weaving Goa's own iconic Kunbi sari and to cater to the overwhelming market for this age-old piece of handloom.