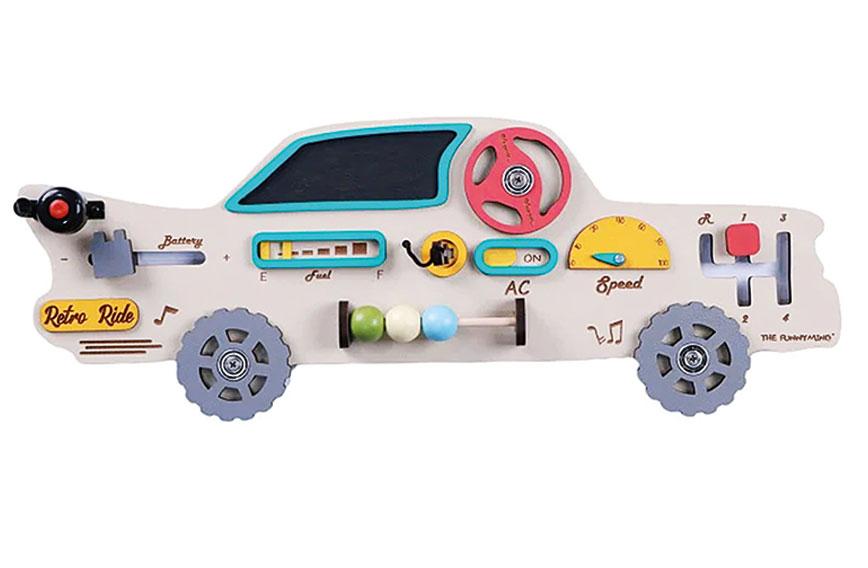 The Retro Car: Children can assemble and disassemble it
Toys you can trust: Eco-friendly creations on offer
Surmayi Khatana
Published: Sep. 16, 2022
Updated: Oct. 07, 2022
THE landscape for toys is changing rapidly. A number of e-commerce sites invent and sell toys and games that are educative, fun, easy to handle and tuned to early childhood learning. What's more, the new toys are eco-friendly and made of biodegradable material, unlike mainstream options made of plastic. Attractive and colourful, the games and toys are designed to develop age apprpriate skills in children and are passionately child-friendly.
Another advantage of such homegrown brands of toys is that they take care that their creations are culturally relevant to the child. Many of the games are gender-neutral and do not fall into the trap of separating types of toys by gender. Some of these companies are run by new parents themselves while some have been started by designers.
When Meeta Sharma Gupta returned to India from the US in 2012 she began looking for toys for her young boys. She realized that the toys available in the market were either made from plastic or had electric components. An alumna of IIT Delhi and Harvard, she founded Shumee in 2014 after watching her two boys play with simple wooden toys.
Shumee's toys are designed with the idea that the child can play with the toy or game multiple times in different ways and yet not get bored. Another important factor going into design is whether the toy allows the child to be creative and imaginative. The toy design should also encourage both independent as well as collaborative play.
All of Shumee's materials are eco-friendly, and most of their toys are made of wood. Other materials like cotton are used. None of the toys contains batteries, plastic, or electronic parts. All the toys and games are child-safe and use only water-based paints and beeswax for polish. They are designed by in-house designers and handcrafted by local artisans. Shumee's toys are ASTM-certified (American Society for Testing and Materials) for safety.
Shumee's wooden fruit lacing and threading set is the perfect way to introduce a toddler to a needle and thread set. The game is designed to hone motor skills and help hand-eye coordination as children learn to hold
and move the needle and thread. It also introduces the child to sewing and to how clothes are made.
The set includes two wooden colourful fruits, a pineapple and a strawberry with holes to pass yarn through. Two blunt wooden needles attached with soft yarn can be used to thread the fruits in different designs. It is a portable game and can hold toddler attention for long periods of time. The toy is priced at just `800.
The carnival-themed do it yourself (DIY) playset and colouring book combo works as a travel-friendly and creative game. The pop-out cutouts allow the children to create their own clowns, ballerinas, weightlifters, joker and to give them hula hoops, put them on a stage or on a seesaw. It requires no glue or scissors and is ideal for a no-mess arts and crafts session for the child.
An easy-to-follow manual comes with the game. The box in which the game arrives doubles as a background for the carnival. A colouring book with 20 carnival-themed pages and six organic crayons come in the combo. Placing all of the DIY pieces into thin slits helps with fine motor skills. The game also allows the child to be creative by putting the characters in different situations by switching their accessories. Fixing the paper cutouts together hones spatial awareness and logical reasoning. The game is priced at `2,000. Another DIY playset includes one on wild animals with paints instead of crayons, priced at `500.
Shumee also offers simple stack-up games like a wooden rainbow arch, a handcrafted Montessori toy that helps in understanding the colours of the rainbow. The pieces double as bridges for pretend play or as a hands-on stacking toy.
Also available is a Wooden Modular Playhouse, the parts for which are made from birch plywood and non-toxic paints. The 12 pieces fit together to make 10 different kinds of houses. The playhouse is a parent and child activity. It helps them build and bond together and then serves as a toy for the child to play with. The house comes with mini ladders and furniture pieces as well. It is a gender-neutral toy and takes away from the gendered stereotyped dollhouses and instead converts it into a toy for any child to have sessions of pretend play and use their imagination. The game also has an eco-friendly muslin bag to store the furniture pieces and accessories.
The team at Shumee believes that teaching the child to build the playhouse themselves will instil healthy ownership and responsibility towards the toy. The game also builds fine motor skills. The open-ended design allows the child to build a completely different house every time they play. The game is for children aged three and above and requires parental supervision for the building. It is priced at `6,000. In similar building games, they offer castles with wooden blocks and characters or cities with cars.
The child can also build a chair. With pieces of beechwood and large colourful screws made from ivory wood pieces, children can create their own furniture. A child-safe hammer, spanner, screwdriver, along with colourful screws and nuts, are in the kit. The kit, for `2,800, also comes with extra planks to help your child create other furniture or add more to the chair. The chair can be used as a prop or as a shelf.
The building helps the child's fine motor skills as they handle the tools to build their own chair. Putting together different parts of the chair and screwing them in place can help to create problem-solving abilities.
Child safety is a major concern for toys. Many of the toys have certifications and have gone through testing to ensure they are as safe as they claim. But with the large number of tests and standards, these certifications may be lost on the average consumer or confusing. If a toy has EN71 certification, it meets the European Union standards for toy safety. The ASTM certification is given by the American Society for Testing and Materials on child safety. The Bureau of Indian Standards has 10 standards to be met on safety for toys. The toys passing these tests bear the ISI mark.
On The Nestery website multiple manufacturers of safe and stimulating toys can be found. The founders, R. Vaishnavi, T.S. Vishwanathan and Aparna Vasudevan, started The Nestery in 2019. It was born out of personal need as Vaishnavi, a new parent, was trying to look for the right information and safe products. The Nestery is a website for parents made by parents. There are listings of tried and tested toys that other parents recommend. Although many manufacturers are available and listed, you can buy directly from The Nestery's website and do not have to go to another website.
One of their listed toys is a Retro Car wooden busy board. Created by the people at The Funny Mind, the vintage car board is designed to keep children busy. They can take out parts and put them back in and rotate the wheels. The game allows the child to move parts of the car in a zigzag pattern or spin it. With the retro car they can play with gears, manage the mini driving wheel, ring a bell, and monitor the fuel sign. The Funny Mind has similar games with rocket ships and aircraft. The game is light-weight and portable. The aim is sensory play. The boards range from `800 to `1,200.
The Nestery also has its own toys and games. The collaborative puzzle with Tulika Publishers is based on Ashok Rajagopalan's Gajapati Kulapati series, a story about an elephant that catches a cold. The puzzle allows the child to play with all the characters of the storybooks, the teacher, the flower-seller, the milk-man and the pattiamma. The puzzle comes in one size for toddlers and another for older children. You can get both puzzles for `800.
Another outfit, FroggMag, sells folk, tribal and miniature art jigsaw puzzles. Shalini Ghosh, the founder, is a former student of National Institute of Design. She began FroggMag to promote Indian art styles through engaging games.
FrogMagg's toddler puzzles come in a set of six and range from `500 to `600 and are available in Bhil art and Gond art. Their 63-piece puzzles for adults and adolescents are priced at `600. The puzzles are made with Santhal art, Kalighat Pat, and Madhubani, among others. All the games are designed by women folk artists who learnt the art forms from their families and tribes.
FroggMag offers memory-based games of mix and match. Their memory game, Goa Windows, helps appreciate the architecture and art of Goa while playing a matching game. All puzzles and games are beautifully painted and work to preserve art forms of India. The memory games are priced at `600. They also offer magnetic puzzles.