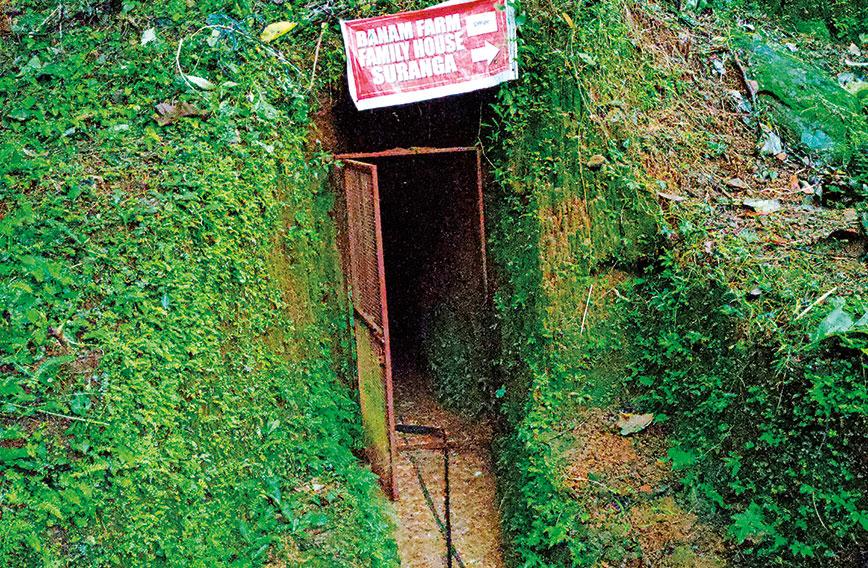 An iron gate prevents wild animals from entering Jayakrishnan's suranga
Inside Kasaragod caves: Visiting the unique suranga
Shree Padre
Published: Dec. 10, 2022
Updated: Apr. 07, 2023
THE coastal town of Kasaragod is gradually realizing its tourist potential. True, it doesn't have the Taj Mahal or the Hawa Mahal. But it has the unique suranga, a narrow cave dug inside a hill which yields crystal-clear water. The suranga, a traditional water-harvesting structure, is an engineering feat.
Kasaragod district has thousands of such surangas owned by farmers. For some of them, it is the sole source of water. My own village, Padre, has nearly 100 houses without an open well or borewell which rely on a suranga. Kasaragod district probably has around 10,000 surangas.
It was 56-year-old P. Jayakrishnan Nair, a local farmer, who first started suranga tourism in the district. Six years ago, he invited tourists to see his suranga at his Banam Farm Stay near Parappa. He drew up a 'suranga tourism package' which included a homestyle meal of fresh vegetables and tubers plucked from his farm.
"It was my childhood dream to attract foreign visitors to our farm and show them our suranga and farming practices," says Jayakrishnan, who grows a variety of crops like arecanut, coconut, paddy, and rubber in this picturesque part of the Western Ghats.
Jayakrishnan's suranga was dug by his grandfather, Kelu Nair, and extended by his father, Mullachcheri Nanarayanan Nair. The suranga provides drinking water and irrigates around three acres of his farm until the end of summer.
Surangas are at most 100 metres long. Generally, they are between 30 to 40 metres. But Nair's suranga is a rare one since it is a km long.
What really motivated him were training workshops held by the Bekal Resort Development Corporation (BRDC). Bekal Fort in Kasaragod is one of Kerala's biggest forts. It faces the Arabian Sea and has been attracting international attention. BRDC, a state government undertaking started in 1955, promotes environment-friendly and responsible tourism. Their tourism promotion activities have resulted in more than 50 homestays coming up in Kasaragod and Kannur districts.

Although Banam Farm Stay's suranga tourism started in 2014, it took two years for word to spread. After a brief hiatus caused by the Covid pandemic, visitors are again coming to see Jayakrishnan's suranga. They mostly arrive in groups coordinated by different tour operators. "For us it is easy to cater to groups because we also serve food," he says.
A visit to a suranga takes half a day or at the most the whole day. Jayakrishnan has placed LED lights inside his suranga without which it would be completely dark even during the daytime. He takes only three or four persons inside at a time. "I lead the way. As a precaution, we don't take visitors through the entire length of the suranga. We stop at, say, 150 metres. They get a very clear idea of our suranga," he says.
Once they emerge from the suranga, tourists can taste suranga water and chat with Jayakrishnan's wife, Savitha. They are usually surprised by the quality of the water. It is cool, pure, clear and sweet. Some people drink the water while others fill their bottles.
Tender coconut water is served as a welcome drink. For lunch, Savitha cooks a variety of seasonal vegetables and tubers fresh from their farm. The dishes that are served include unniyappam, eleyada, boiled tubers and kandhari (bird's eye chilli) chutney and stir-fried cashew kernels.
"The tourists are very happy because the suranga experience is not available anywhere else. This is their first experience," says Jayakrishnan proudly. "Groups are usually 10 in number. But if there are just four or five people who are water lovers and want to have this experience, we welcome them." The Banam farm will soon offer accommodation to groups of 15 or so. Right now, only day visits are available.
There are some concerns which tend to restrict suranga tourism. Since the suranga supplies drinking water to the family, people stepping inside should not pollute its water. For this, Jayakrishnan has constructed a sub-soil pipeline to channel the water out so that footfalls inside the suranga do not contaminate the water. Secondly, small animals like bats, pigeons, porcupines and even snakes might take refuge inside the suranga. To prevent any unpleasant encounters, Jayakrishnan makes two inspection trips before he takes tourists in.
HIDDEN TREASURE Unfortunately, surangas aren't very well known even in Kasaragod. Many people haven't heard of them or entered one. How a suranga is dug, what it is like to go inside, what the risks are and so on make for a memorable experience.
But this is an issue not limited to Kasaragod. Although India has some outstanding traditional water harvesting structures, they haven't been promoted as tourist attractions. Government agencies were unaware of their tourist potential. That is changing.
Says U.S. Prasad, manager, BRDC, "We have been including surangas in our presentations. On two occasions recently, we recreated a sample version of the suranga in our events in Thiruvananthapuram and Ernakulam. During the three-day Kerala Travel Mart at Ernakulam, we built a 13-metre-long suranga with a small paddy field in front. Entering it in semi-darkness was a novel experience for visitors and a big attraction. It was the first time they were entering one."
More people have started adding a suranga experience to their itinerary. BRDC now gets requests from academicians, students of groundwater related studies and ordinary tourists who specifically ask to see surangas. If they have sufficient time, they are directed to Banam Farm Stay. A few villages like Bandadka and Bayaru have thousands of surangas. But those are not always suitable for tourists. In some there could be a shortage of oxygen. Others are so narrow that a plump visitor wouldn't be able to go inside.

Some government agencies are planning to include surangas in tourist maps. "We are working on a 'Tourist Circuit' in which we would like to add suranga tourism," says E.P. Rajmohan, special officer, Kasaragod Development Package (KDP), a state government body formed a few years ago for all-round development of the district.
According to Rajmohan, they will list tourist attractions in Kasaragod for a one-day trip as well as three-day tours. KDP will help build infrastructure for start-ups in responsible tourism. The focus will be on a few surangas and arrangements for tourists to visit them.
Lijo Joseph, secretary of the District Tourist Promotion Council (DTPC), is from Thrissur. He hadn't heard of surangas until he came to Kasaragod. Struck by their uniqueness, he visited Kunhambu (Civil Society, August 2016) to gain a working knowledge of the system.
"We have specific plans to make such tourist attractions known widely. We will get some bloggers and YouTubers to visit the district and document these. Once they are impressed, they will spread the message effectively," he says.
ADDED ATTRACTIONS Mohankumar Naranthatta, vice-president of ART-M (Association of Responsible & Experiential Tourism Entrepreneurs of Malabar), has been running a homestay since 2015 in Kasaragod. He says surangas alone won't be enough to attract tourists. "We have to include riverside walks, forest walks, local places of interest and so on to provide a more attractive package."
Water activist S. Vishwanath of Rainwater Club, Bengaluru, recalls: "In 2002-03 the Centre for Science and Environment (CSE) started a unique tourism initiative called the Pani Yatra. People could go and see the wonderful water works of Tarun Bharat Sangh and Hiware Bazar. It got water-harvesting structures national attention." His suggestion is to conduct two- or three-day tours along similar lines with homestays and local food. Vishwanath points to the example of Indonesia where tourists are taken to see the wonderful terraced paddy fields and water distribution systems which are managed by irrigation supervisors.
Other amazing water tourism experiences, he says, are in Yazd, China, and in Tupan, Iran. Interestingly, at both places the water system resembles the suranga. It is called karez in China and qanat in Iran.
"They have a cafeteria offering local food, museums and photo exhibitions showing their ancient water systems. All travel information is provided to tourists," says Vishwanath.
Kasaragod has many attractions which could be included in a suranga tour. Not far from Banam Farm Stay is Kunhambu, a suranga digger who has half a century of experience in making surangas. Sheni Suranga near Perla has three to four unique features like air vents, an indicator of the amazing engineering skills of old suranga diggers.
In Manila village, Manimoole Govinda Bhat's farm has 22 surangas, all yielding water. He irrigates his areca gardens using gravity. Drinking water and bathing water come from the suranga.
Amai Mahalinga Naik, who was honoured with a Padma Shri this year, is also a suranga maker. When he started digging surangas on a barren hilltop, everyone ridiculed him. Five surangas, one after the other, were failures. Mahalinga didn't let disappointment get the better of him. His sixth suranga finally yielded water. He developed a nice little garden, constructed a house and is living there happily.
The time is ripe for a new kind of tourism.
Contact: P. Jayakrishnan Nair, Banam Farm Stay—96451 78948