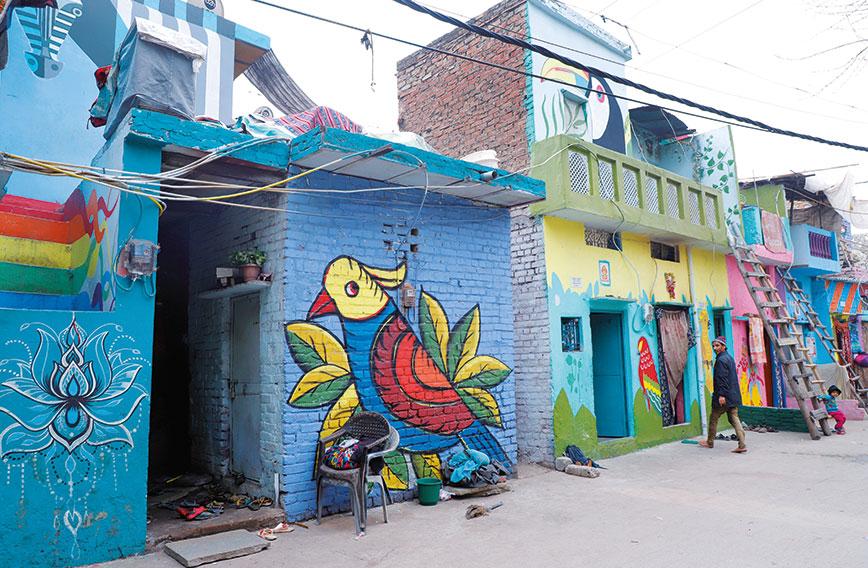 A street in Raghubir Nagar basti | Pictures by Shrey Gupta
Pirates, camels, parrots in Raghubir Nagar
Sidika Sehgal
Published: Feb. 27, 2020
Updated: Apr. 03, 2021
Raghubir Nagar, a low-income settlement of about 900 jhuggis in West Delhi, is an eye-catching sight. The walls and doors of homes in the basti have been painted with bright murals of birds, faces and silhouettes. From across the street, the basti looks astonishing.
The murals have been done by Delhi Street Art, which was founded by Yogesh Saini in 2013 to promote public art. "It gives a different sense of pride to the people living there. They don't feel like they are living in a slum. It's turned into a destination of sorts for locals," said Saini.
In Raghubir Nagar, the community thrives on barter — they collect old, unused clothes and trade them for utensils. On average, a family makes `300 to 400 per day. Their lives are difficult and uncertain, but the wall art makes them feel important because politicians and journalists have been visiting and interacting with them.
The Delhi Street Art team started working a week before Diwali and it took a little over a month to finish. Geeta Vaishnavi, one of the artists who worked on the murals, said, "It was like a Diwali gift. Previously their homes were not painted. They were just made of bricks."
One house has a silhouette of Jack Sparrow from the film, Pirates of the Caribbean. It is the favourite character of the young man who lives there, and he requested the Delhi Street Art team to paint Sparrow. Another family asked for a mural of Ganesh, yet another of Krishna.
"We kept in mind that these are their homes. As artists, we may be drawn to some things or we may get inspired. But we have to keep in mind what they like because they live here," said Vaishnavi.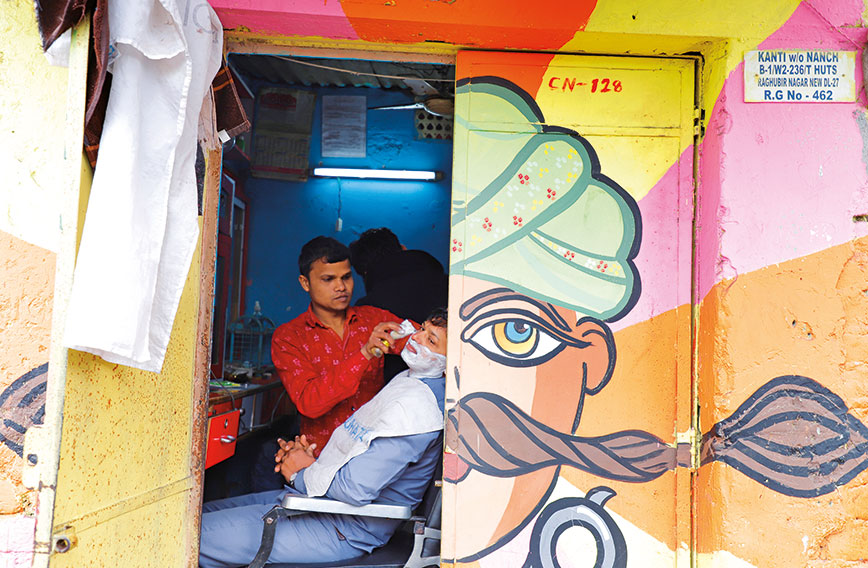 The door of a barbershop was painted by Delhi Street Art
A young man with a barbershop requested Vaishnavi to paint something related to his profession. She painted a man with a big moustache on the door of his shop. There is also a pair of scissors in the mural. Ajay, a 22-year-old resident, has become a minor celebrity after the artists clicked a picture of him and painted his face on a wall.
"They've done such amazing work, obviously we welcomed it," said Ajay. Lalitha, a 48-year-old resident, also feels the same way. Vaishnavi recalled that a young couple would invite the artists into her home so that they could sit down and eat lunch.
Some residents also helped in painting. Vishal, who is 18 years old, painted a camel and Gujarati women walking across the desert on the wall outside his house without much help from the artists. It took him two days to finish the mural and his elder sister helped a little.
"We discovered a lot of talent in the basti," said Vaishnavi. Twelve-year-old Manisha helped to paint a wall with birds on it. The Delhi Street Art team sketched it for her and she filled in the colours. Many children in the community, including Manisha, don't go to school. Delhi Street Art's project was an opportunity for them to explore their talents and express themselves.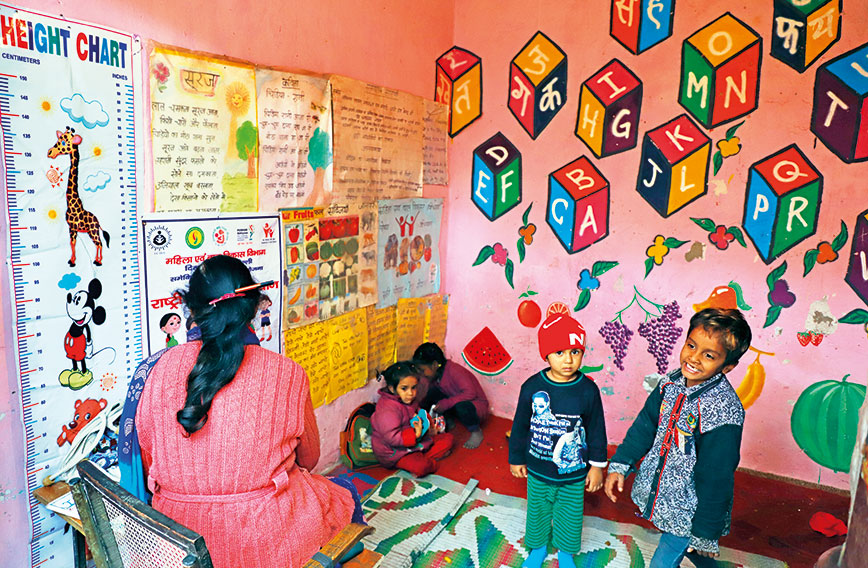 Letters and fruits on the walls of an anganwadi
An anganwadi in the locality has also been painted. The walls have become a learning aid with letters, numbers and fruits painted on them. There is also an 'aquarium corner' in the basti, with dolphins, starfish and octopuses painted on the wall.
Ten to 15 artists worked in Raghubir Nagar and volunteers dropped by for a day or more. In total, 30 to 40 artists were involved, says Saini, who anchored the project.
Saini began Delhi Street Art when he moved back to Delhi after living abroad for many years. Part of the reason was his desire to connect with his city again.
Saini used to run in the Lodhi Gardens and one day he thought, Why not paint the garbage cans lying around? That was the first painting event he organized. After three months, artists found out about Delhi Street Art through word of mouth or social media posts. They haven't really had to look for artists since then.
Saini is an engineer and an MBA graduate, and he was always artistically inclined. "I was drawing and sketching in school. I turned to photography for many years." He could have turned to canvas painting, but street art was a conscious choice.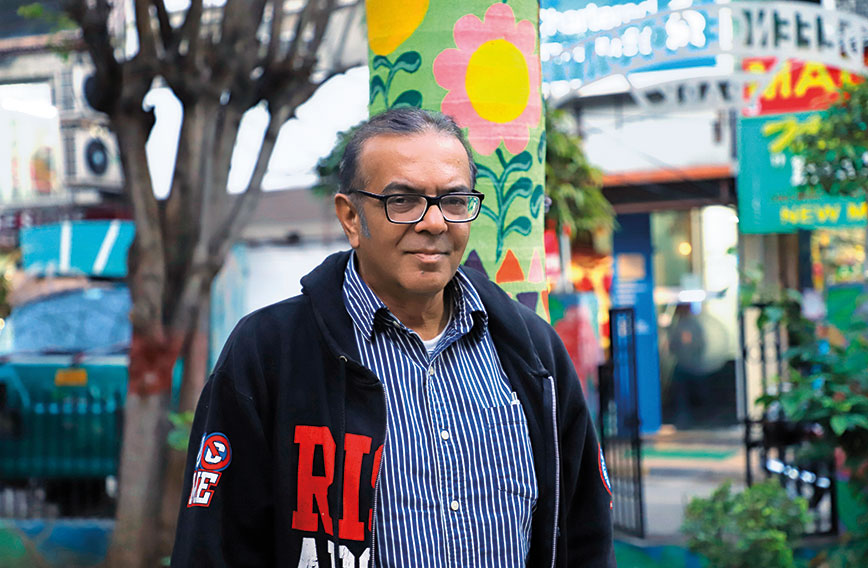 Yogesh Saini, founder of Delhi Street Art
"I used to visit galleries and see canvas paintings. But I found those quite repetitive. I didn't find it exciting. On the other hand, there's nothing repetitive about street art. Every place is different and what you create is different. You're not driven by monetary gain because it's not that you must have a show at the end of it. You're not bound by any of those expectations in street art." n