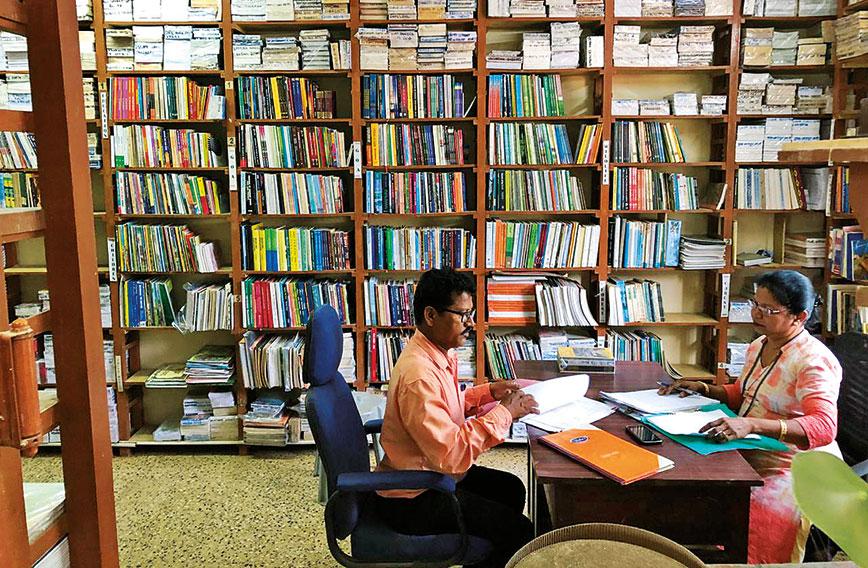 The bookshop when it was trying to survive
Other India Book Store finally calls it a day
Frederick Noronha
Published: May. 14, 2022
Updated: May. 27, 2022
IMAGINE a bookstore run like a mini Amazon.com, long before the latter was even thought of. The Other India Book Store (OIBS) used the mail-order approach, and very successfully, a decade before Jeff Bezos famously began operations out of his garage in the US in 1994.
Sadly, in March this year, OIBS, iconic bookstore that it has been, downed its shutters for the last time — no longer able to cope with the fallout of the pandemic, as also the current pressure that bookselling, publishing and distribution face because of deep discounts and digital editions.
OIBS was yet another of a long list of bookshops across Indian cities and towns that have folded up in recent times, in a country that already lacks sufficient bookshops.
It follows the closing down of bookshops in Pune (Popular, Manney's, Twist 'n Tales), Mumbai (Strand), Srinagar (Landmark), New Delhi (Full Circle) and Hyderabad (Walden), besides possibly other smaller and unnoticed ones.
In Goa itself, bookshops have been struggling. The charming and quaint People Tree (run in both Delhi and Goa) along the Anjuna main road shut recently. So did the Candolim outlet linked to Khalil Ahmed's Broadway, a network which changed the face of bookselling in Goa. Some time back, operations linked to hotels like Fidalgo, Nova Goa or the Mandovi, which once kept interesting selections of Goa-related titles, dried up too.
Yet, the passing of OIBS is different. It began with a vision in the mid-1980s. It had a unique approach to books, to bookselling, to readers, and to building an interest in books.
At first it was known as the Third World Bookstore Society and its goal was to "celebrate and promote" literature from Asian and African regions.
Its conceptualizers and founders were Norma Alvares and her husband, the environmentalist, Dr Claude Alvares. Both are well known names in the world of campaigns. Norma is a green lawyer of standing. Claude began as a freelance journalist and has made a nationwide impact as an environment campaigner. They were among the disaffected youth who returned to Goa, opting out of the rat race in the big cities of India, in the 1970s.
But, to understand more, one needs to see the vision and impact this tiny bookstore had. Goa is a small state, with limited book reading. Not for this reason alone, the OIBS focus was mail order.
It understood that there were many Indian cities which simply lacked a bookstore in those days. Plus, there was the reality that a whole lot of alternative information was being brought out in India, but was not easy to access. The bookshop helped to bring all this material together, make it visible, and also distribute it nationwide through postal deliveries.
To begin with, the bookshop focussed on alternative and NGO literature, content from English-speaking Asia and Africa.
"We knew there was a wealth of literature, so many authors, and India knew nothing about them. We also reached out to countries in Asia and Africa for books," Norma told Civil Society.
They got a grant and went to Uganda, Tanzania and Kenya to scour bookshops. There was no single source, no master catalogue. They had to identify titles and take a call on what the interest in them would be.
African bookshops wanted Indian buyers to pick up their books through London, where the prices were marked in pound sterling. So OIBS negotiated to find ways to get the books across, and sold, at more affordable rupee rates.
OIBS became an institution that lasted several decades — not just for Goa but also for a huge clientele all over India and even people in other countries who had heard about it from diverse sources as word about them spread.
In a short while, it set up what was probably the first exhaustive collection of books about Goa. Many were self-published, once again making it tough to put together a definitive list of titles.
The bookshop was located in Mapusa, the main commercial town in North Goa, which is better known for its spices and colourful Friday market than books or things intellectual.
The modest and cluttered premises were atop an old hospital with the entry at the rear of the building. Yet, thanks to mentions in the Lonely Planet travel guide, which discovered it early, OIBS would draw many (especially young) foreign tourists who would drop in after visiting the town's popular Friday market.
OIBS was a not-for-profit, but did good business. At its peak, it attained a turnover of `25 lakh, a significant sum in those days.
Lonely Planet labelled it "the best bookshop" in Goa, noting that the bookstore stocked no titles from Europe or America — only publications from Asia, Africa or Latin America.
In the late 1990s, OIBS' then manager, Jerry Rodrigues, told this writer they were proud of making "this concept work" and "able to compete even with mainstream outlets".
Initially, it aimed to promote books and magazines published in other parts of Asia, especially Malaysia and the Philippines. That led to a search for other Asian publishing on development, environment and Third World concerns.
In a world dominated by Eurocentric ideas, OIBS focussed on alternative Indian thought and writing from Asia and Africa. Among its selections were literature from Mexico, children's tales from Bhutan, a Malaysian lawyer's analysis of TRIPS and primers to understand Hindutva politics or the Lankan conflict.
It also helped network diverse not-for-profit and activist groups across India, by making their publications visible. Its USP was that the books would arrive "at your door", packed well to withstand the rigours of Indian weather conditions and train journeys of thousands of kilometres.
The clientele grew. From NGOs to universities and colleges. Scholars recognized that NGO publications could often be closely tuned in to the grassroots. Bigger bookshops too began picking up what OIBS was distributing.
Their masterpiece was a carefully crafted catalogue of the books they offered and another on Goa books. Done with care and wit, the catalogues became collector's items as well as a source of information for book buyers.
One such catalogue listed a thousand titles, in tabloid size. This led to orders from Meghalaya and even the Andaman Islands. India Posts worked well in taking across the books.
The bookshop's partner, Other India Press, brought out some valued works like the Organic Farming Source Book, a 344-page tome that highlights the work of innovative and pioneering organic farmers across India. Former Union minister Maneka Gandhi's Heads and Tails, a book on animal rights, has gone into 13 editions.
OIBS' bestseller was undoubtedly One Straw Revolution by the Japanese guru of natural farming, Masanobu Fukuoka, with over a dozen editions. Fish, Curry and Rice was a widely-noticed environmental report on Goa. Its works on Dharampal changed the discourse within India.
Regrettably, the closure had been in the offing for the past half-decade. The book business had changed. People were reading more and buying less with the ways that technology made possible. It would no longer do to send parcels of books by post. Greater online savvy was called for — all of which became too much for a standalone business to cope with. There just wasn't the cash to burn.
As Norma puts it: "We could not find anyone else who wanted to carry it on, in the same tradition it was run. Our manager left four to five years ago. The two staffers who had been with us for 25 years continued running it. But COVID-19 delivered a fatal blow. Sales just dropped. People were not at all interested in buying books. There's an overall crisis."