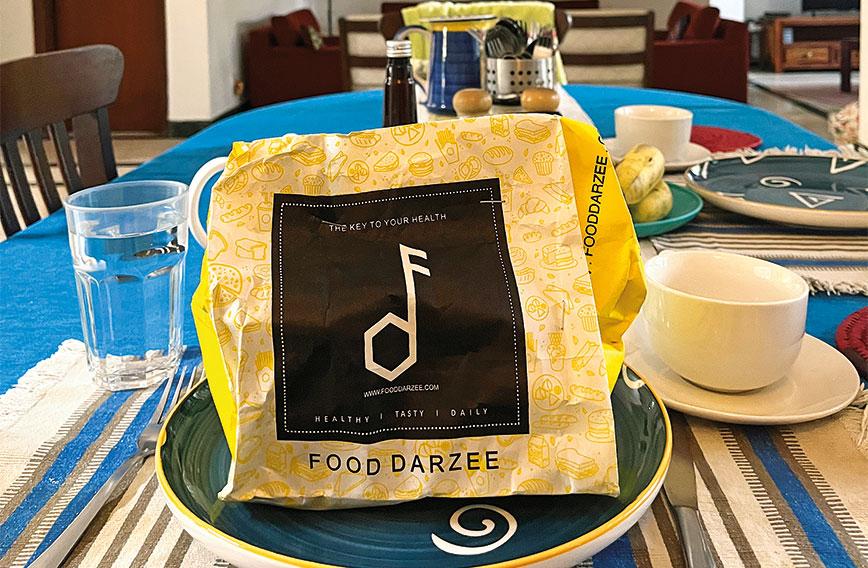 A homestyle meal comes home:The portions are just right. Photo: Civil Society/Umesh Anand
The new daily dabba with tailormade meals
Civil Society Reviews
Published: Oct. 06, 2022
Updated: Oct. 25, 2022
LIKE many people these days, chances are that you aren't much into cooking at home. But you also want to eat healthy and be smart about your meals. The daily dabba or tiffin carrier from a neighbourhood kitchen won't do because it is too oily, full of carbs and tastes like nothing. Where then do you find food that is good for your health, fun to eat and turns up at your door every morning?
You could sign up with Food Darzee, one of several new customized meal services. We in this magazine have done so twice. Once much before the pandemic and again when we were down with COVID-19 and our kitchen was closed. On both occasions, give or take a few glitches, we weren't disappointed.
By 8.30 am lunch and dinner would arrive in small microwaveable containers with our names written on them and go straight into the refrigerator to maintain the cold chain. At meal time we would take out our packs and heat them. We went in for main meals, but for the record, breakfast and an afternoon snack were also available. Each main meal per person cost `350 including delivery.
Food Darzee offers a range of diets. You could choose from ketogenic, vegan, low-carb-high protein and a balanced or homestyle meal. We chose homestyle meals because we had no fads, didn't need to lose weight and had no troubling ailments which required dietary restrictions. Our only interest was in well-made and wholesome food with just the right number of calories. One of us was vegetarian.
When the meals arrived, we were pleasantly surprised. All the boxes had been ticked and, despite the careful calorie count, we weren't depriving ourselves of anything. Think butter chicken, prawn curry-rice, choley, rajma with brown rice, paneer dishes and rotis from millets. Sounds too homely? There was also pasta, pizza, Thai green curry, grilled chicken, grilled paneer, shepherd's pie with the vegetarian version made with soya granules, noodles and chilli chicken. And the portions were just right, ensuring you didn't overeat.
Our tryst with Food Darzee on both times began with a fairly detailed interaction with one of their nutritionists. Height, weight, age, diseases and expectations were listed. So were preferences, the most basic being whether one is a vegetarian. But you could also get choosy such as by asking for more protein.
All such detail is put together to design meals that give you what you want to eat with the right number of calories. Food Darzee, as the name suggests, attempts to customize what you eat. These are tailormade meals so that you stay healthy but, equally important, don't feel you are missing out on what you like. So, it is not just the body type but personal preferences too that are taken into account.
START-UP AT HEART
Food Darzee began in Mumbai around 2018. Its founders are four young men who are all friends from school. Dr Siddhant Bhargava, a medical practitioner, came up with the idea. The other three, Anirudh Ganeriwal, Devaj Jhunjhunwalla and Anik Bhandari, are chartered accountants.
In the style of start-ups, everyone did everything in the beginning. The ideas came from personal experience, the meals were those they liked to eat themselves. Their own health concerns were those that they saw their customers addressing, losing weight being one of them. Better health is really the focus and selling point at Food Darzee with diet being the answer to lifestyle diseases and of course, obesity itself.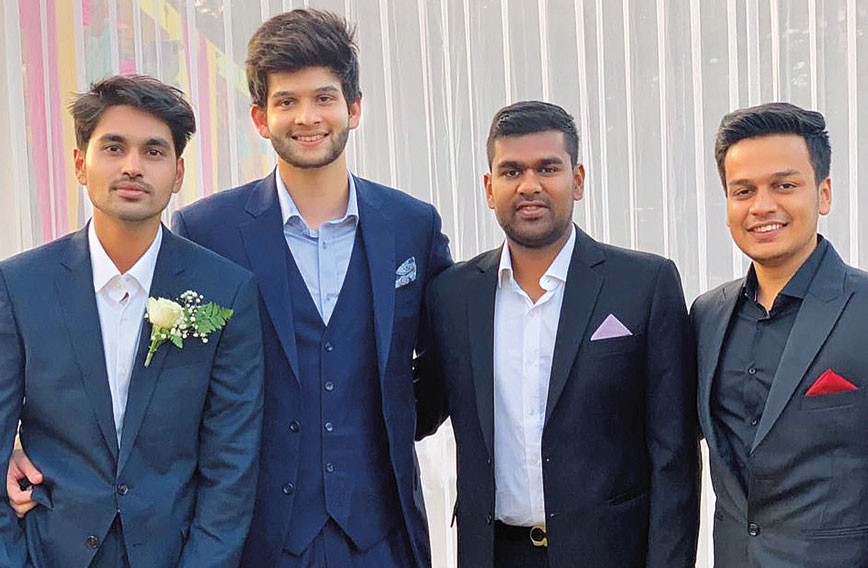 The founders: Anik Bhandari, Siddhant Bhargava, Anirudh Ganeriwal and Devaj Jhunjhunwalla
Beginning in Mumbai, Food Darzee now operates in six cities through a network of kitchens monitored centrally. It provides 3,500 meals a day and if its social media advertising is any indication, sees great prospects for itself.
"For me personally I always wanted to do something of my own. I am a huge foodie and so is Anik. Siddhant and Devaj were fitness buffs. We wanted to do something wherein health meets tasty food and that's how we started," says Ganeriwal. "Our nutrition is different from what everyone else does."
Dr Bhargava explains: "The entire concept was really down to three things: taste, variety and health. Healthy food is different for different people. Vegetables doesn't mean health: it has to be a meal with all the micronutrients. So, by giving food which is very real, the diet is sustainable. By giving people just rice bowls or salad bowls, eventually people are going to get bored of it."
But the array of meals and different diets? Where did they come from? Was there a lot of experimentation, consulting of chefs and so on? Balancing Indian meals so that they are friendly to the palate and also healthy seems so difficult to do.
"Actually, whatever the four of us liked to eat we just put that together and made it healthy. That's all. We realized it's not that difficult to make a dish healthy. Like butter chicken. You can count the oil, the portion of chicken, and then it is individualized for each person," says Ganeriwal.
MENU PLANNING
But Dr Bhargava says: "Let's give ourselves credit. Menu planning is definitely an art. If you get roti in one meal you don't want roti in the second meal. If you get bread for breakfast, you don't want it in a snack. So, you make sure it's not repeated and the meals too are not repeated the next day and the day after. And we try to cater to people's likes and dislikes. You, for instance, didn't like Indian food, so how do we plan meals which are not Indian food? We do wrack our brains to ensure every person gets the opportunity to enjoy food."
Over time, a four-week menu was put in place to ensure a dish does not repeat, across breakfast and lunch, assuming of course that the customer doesn't have dietary restrictions.
Initially, there was just the four of them and the bare minimum of staff.
There was also no known model to go by. Quite literally, they put on the menu what they liked to eat themselves. As they grew over a year and a half, professionals came in.
"Professionals do it now and we oversee them. We don't have any food and beverage background. Three of us are chartered accountants and Siddhant is a doctor. We hired chefs and a couple of consultants to help us but we monitored them very closely. There were in the early days seven or eight people in the kitchen. There was also less variety. Now we have a lot more," says Ganeriwal.
Making good meals is one thing. Delivering them in good shape, daily, on time, is an altogether different challenge. Our food packs would turn up in Gurugram before 8.30 am, the time we had suggested. For sure there were glitches such as just one meal instead of two arriving. But these were initial problems and the phone calls, though irritating, were tolerable because the delivery man was truly apologetic and the nutritionist got into the act soon enough to make amends.
CHILLED DELIVERIES
Food Darzee's meals arrive chilled instead of hot as meals on Zomato and Swiggy are delivered. This may at first seem surprising, but there is a logic to it because food goes stale between temperatures of 20°C and 55°C. The meals are delivered once a day and, when they arrive, they are meant to go directly into the refrigerator where they stay fresh till they are heated and eaten.
Says Dr Bhargava: "We realized early on that food goes stale between temperatures of 20°C and 55°C. That is the environment which is warm enough for bacteria to proliferate. The idea is to get the meal below 20°C. Once the cooking is over, everything is done in a cold environment to make sure there is no bacteria happening."
Dr Bhargava explains: "Say, your lunch got cooked at 4 am and to when it's delivered at, say, 9 am it's all going to be at a temperature of 5°C. Because at that temperature you are ensuring there is no bacterial growth and food is fresh. This should be the SOP for all home deliveries."
The median time for making deliveries from kitchens to customers is 90 minutes. With ice packs it is possible to keep the meals at 5°C based on a calculation of the last destination.
SIX CITIES
Now that Food Darzee is in six cities its staff has also increased. It has 485 employees and 30 nutritionists based mostly in Mumbai. Not all of them are full-time hires, but the nutritionists are because they have a key role to play.
"They primarily communicate with the customer in trying to customize the client's food in the best way possible. This is relayed to the operations team which relays it to the kitchens team. It's quite structured. Six cities, six kitchens and a hierarchy where you have got chefs, a packaging team and a logistics team for deliveries. It's four-five teams working in tandem and that's how food is procured, processed and delivered," says Dr Bhargava.
Standardization is crucial. Achieving it daily can be challenging. Problems can vary from disappointment with the food to wrong deliveries. We experienced wrong delivery. Despite an app which is meant to provide instant responses, it was easier to just phone the nutritionist.
"It is tough but we have processes in place. We have quality check measures in place. A lot of it is monitoring on WhatsApp because we can't be in every place. There are SOPs and processes at every stage," says Ganeriwal.
"We are a very evidence-heavy company. We say we are giving you calorie counted food and when we say that, it is, and that is what sets us apart from most other companies," says Dr Bhargava. "We have pictographic evidence to show that it is measured during pre-cooking, cooking, post-cooking and packing."
Dr Bhargava explains that their 2,000 customers are a floating population pan-India. Most of them subscribe for around 45 days and they take two and a half meals. Serving them can be challenging because Food Darzee prefers to go beyond diets.
"Rather than associating ourselves with serving diets we take pride in delivering the results the customer wants. If a customer wants to lose weight, this much kg in this much time, we deliver," says Dr Bhargava.
Food Darzee currently seems to be on a roll. Advertisements with Alia Bhatt in them and growing levels of visibility are intimations of big plans.
"Everyone consciously or sub-consciously wants to be healthy. In the last three years that trend has really picked up. We want to cater to it in whatever way possible," says Dr Bhargava.