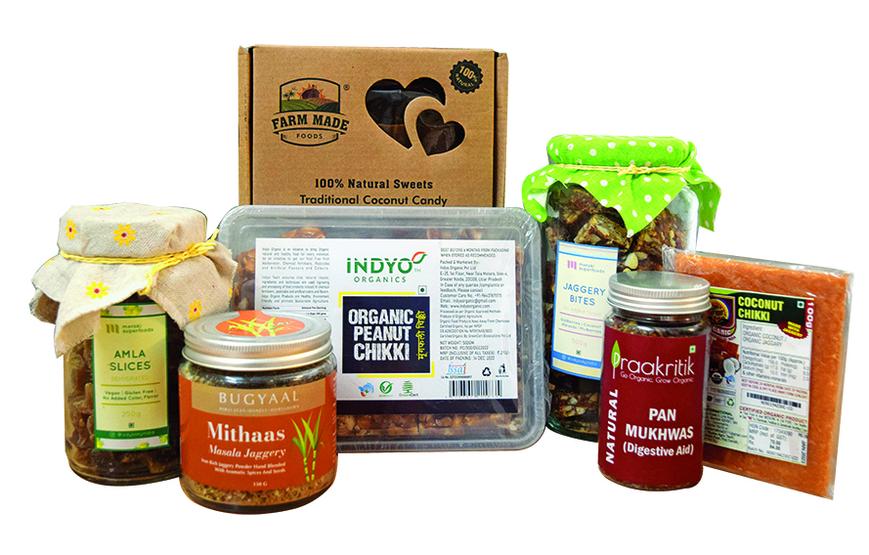 Two-bit dessert: In search of the healthy sweet
Civil Society Reviews
Published: Jun. 09, 2023
Updated: Jul. 29, 2023
NO meal is ever complete without something sweet to round it off. But what should it be? On a leisurely day, after a sumptuous repast and plenty of time to spare, the spirit is weak and the longing for dessert could lead to all kinds of excess from gulab jamuns to ice-cream to chocolate cake or whatever.
Such indulgence regularly would, however, be insane. For their own good, no one should be soaking up so many calories and that too after a full meal. The sugar alone would be disastrous. There are also reality checks that come with working days. There could well be the inclination, but never the time or for that matter the opportunity.
So, how should an office lunch end with the greater satisfaction of something sweet but not so overpowering that you fall into a post-prandial slumber? Is there that little something that can possibly be packed into your tiffin? What is it that you can nibble once dinner is over at home and it is already close to bedtime?

Realizing that these are serious and troubling questions that affect most of us, we decided to look around, as only Civil Society Reviews can, for healthy but tasty alternatives to sugary closures. We realized we would have to find worthy substitutes for standard decadent favourites. They would have to be good but memorable too. Above all, they would have to be satisfying in just a couple of pieces. We were in search of the two-bit dessert.
COCONUT CANDY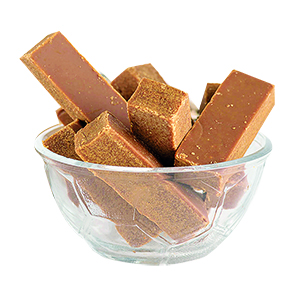 High on our list is Coconut Candy from Farm Made Foods. This is an easy one because we had been having it for some time at home. It comes in 200-gm packs of 12 bars. Each bar is about one and a half inches long and square with a width of about a quarter of an inch.
Why are these dimensions important? A single bar is perfect after a meal. It is not too much and not too little. If you happen to be overcome with greed, another bar will not be too much and will do no harm either. But so tasty is this confectionery that you must exercise self-restraint. It is a good idea to stop with the first bar. Don't yield to temptation.
This is traditional coconut candy made from pure gram flour, pure ghee and completely natural coconut blossom sugar. It has a low glycemic index and is supposed to be 'diabetic friendly'. It comes in a trendy cardboard box with declarations like 100 percent natural, no chemicals, no preservatives.
Coconut Candy is perhaps especially good because it comes out of a slow business built on a whole ecosystem of love, care and respect for the environment. Farm Made Foods, based in Tamil Nadu, are primarily in the egg business.
The eggs are excellent and after having them for some months we connected with the company to get to know a thing or two about how the business runs and what inspires the people behind it. We were more convinced that we were onto something special. (See Civil Society August 2022.)
We learnt that chickens need a happy, stress-free atmosphere to produce truly nutritious eggs. It won't do to treat a hen as though she is an-egg producing machine. Chickens need space to scratch around and generally hang out in the open instead of being cooped up as they invariably are in the poultry business. As a consequence of being cheerful, they produce fewer eggs. But if you are a slow business that is just fine.
Coconut trees are a natural part of such a gentle and harmonious setting. Coconut Candy is a byproduct that follows. Its unique taste is undoubtedly the result of it being made with traditional flourishes and ingredients. Like the eggs, it comes out of a slow lane and not a machine in an assembly line.
Coconut laddoos are also made, but we haven't tried them. We suggest you check out farmmadefoods.com.
JAGGERY BITES
This one comes to us for the first time from Nature's Soul, a store in Defence Colony which is packed from ceiling to floor with organic products. We've tried Jaggery Bites and the quality seems excellent.
Each Jaggery Bite is a small square consisting of goji berry, mulberry, almond and coconut all made to merge together with jaggery. It is packed with nutrition. There is also plenty of roughage. No sugar is added.
Goji berry is counted among superfoods and provides Vitamins A and C. Mulberry and almond belong in the same league. The jaggery provides the healthy sweetness you are looking for. It is better than sugar.
Just one Jaggery Bite is as much as you are likely to need to satisfy that sweet tooth. We were okay with one. A second one could be filling, which makes it the perfect quick sweet after a meal.
Jaggery Bites come in a tall bottle with a net weight of 500 gm for `650. There are many pieces in the bottle and chances are that they will last through the month unless you have a go at them every day.
CHIKKI
Nothing beats a piece of chikki as a healthy sweet conclusion to a meal. It is easy to store and a small piece is all you need. Carry it with a packed lunch or nibble on it after a home meal. Whatever you do with chikki works.
Traditional chikki is made either with groundnuts or sesame seeds. Jaggery is common. But there are variations as well. For instance, we have come across coconut chikki which holds out the promise of being a certified entirely organic product. Produced in Gujarat and marketed from there, a small 100 gm pack comes for `84 and is available in stores.
Indyo Organic packages and markets organic peanut and sesame chikki. Each serving size is 100 gm. The packs carry certification stamps from Jaivik Bharat and India Organics, which essentially means it has been through some degree of evaluation.
The company says that it ensures 'natural inputs, ingredients and techniques' are used for its chikki and other food products instead of pesticides and chemical fertilizers. It believes in sustainable agriculture.
Chikkis are very much what they are: nuts or sesame in jaggery and ghee. If an organic version is available, it makes for a better choice. Either way, chikki, if eaten in moderation, is light, nutritious and tasty — and sweet.
MASALA JAGGERY
It can be had after a meal as a digestive. Marketed as Mithaas by Bugyaal, it is iron-rich jaggery powder blended with black and white sesame seeds, ginger, cardamom, fennel and carom seeds.
Located in Uttarakhand, Bugyaal's story is that it wants to protect the heritage of the mountain state and make the goodness of the Himalayas accessible to people in cities.
Its mission is to create livelihoods for women artisans and farmers and give them the opportunity to be financially independent, especially so after the pandemic, which has thrown small rural households into disarray. As Bugyaal builds itself into a brand it expects the women it connects to be the ambassadors of their traditions.
Masala Jaggery is available in select stores but we suggest you check out bugyaalindia.com for many more products.
Healthy desserts based on traditional recipes exist in communities across the country. It is just a few of them that are making it to shop stores, packaged and ready to eat. Many more
are passed on within families. Civil Society Reviews will be looking for them and bringing them to our readers in the belief that even in these calorie-conscious times the right sweetness is needed.