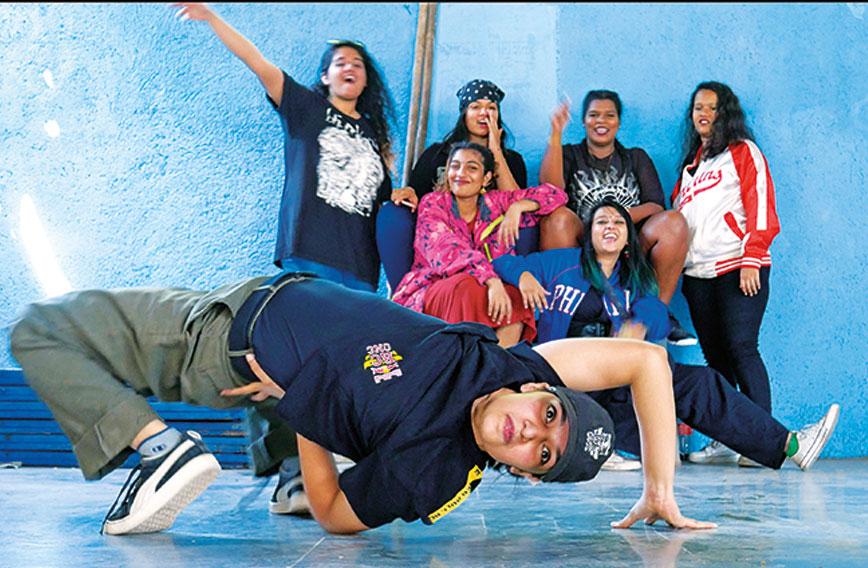 Wild Wild Women: 'The idea is to make a wholesome collective and broaden our horizons as a community powered by women'
Watch out for Wild Wild Women of hip hop
Surmayi Khatana
Published: Apr. 03, 2021
Updated: Apr. 03, 2021
IN the midst of graffitied walls in Andheri East in Mumbai, seven women found a common beat to vibe to at an all-women's cypher, coordinated on a WhatsApp group, and "just gave it a shot".
Now they hang together as Wild Wild Women, turning that initial bolt of raw energy and bonding into a serious claim to space in the Indian hip hop and rap community so far ruled by men.
If hip hop is all about identities and personal journeys, and if it is rising fast in India, women need to be in it too. These seven women put that message out loud and clear.
"The idea is to make a wholesome collective, and broaden our horizons as a community powered by women," they say.
On Women's Day this March 8, they released their debut song,

'I Do It For Hip Hop'. With hard-hitting lyrics and brilliant flow, the song introduces the six rappers and one breakdancer who make up the group.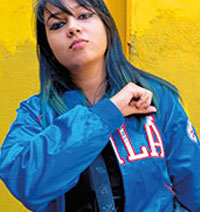 Ashwini Hiremath (Krantinaari)
The cypher happened on January 3 with Ashwini Hiremath aka Krantinaari and Preeti N. Sutar aka Hashtag Pretty realizing the number of female rappers they knew. They decided to bring some of them together at Marol Art Village's Bharat Van Park in Andheri East.
"Honestly, until I went there for the first time and we actually met at our first cypher I could not believe that there are so many women who rap," says Pratika E. Prabhune aka MC PEP. "It was quite exciting because there were no male MCs for the first time and it was just an all-girls thing."
While not all the women who were present at the cypher became a part of the final group, it was an experience that catalyzed the existence of the Wild Wild Women. The response they received at this informal freestyle gathering had them wondering about their future prospects on their common WhatsApp text group."Let's just do a song together and see how it goes from there," they agreed. And they sing:
Power in the game, about to flip your aims
All-girl gang, we ready to burn in flames
Repping our city, getting wild in the lanes
It's Wild Women Cypher, all out of your range!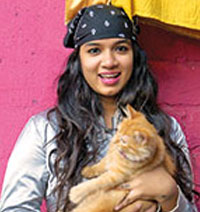 Preeti N. Sutar (Hashtagpretty)
The song has a vibrant energy to it. The music video begins with all the girls posing in front of the camera exclaiming amongst themselves about the weather being too hot and not being able to hear the song, shushing one another and fixing their poses, before the beat kicks in. These first 10 seconds encapsulate the organic nature of their coming together.
The switching from English to Hindi to Marathi and to Tamil throughout the verses of this diverse group will have you on your toes while hearing the song. Along with the diversity in language, the song features a great amount of range in their vocals, balancing between dark and bright singing overtones.
With verses from each rapper that will have you nodding your head, we are sure they'll make their way to your playlist. The song ties together their individual experiences with rap and their journeys.
It all started on a tiny little street called Chapel Road
And life's been tough, but a woman's gotta stay bold!
It's always been an uphill struggle.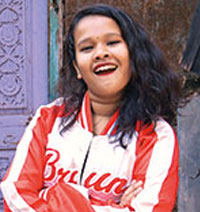 Shruti Raut (MC Mahila)
The Wild Wild Women include 19-year-old Shruti Raut from Sahar in Mumbai who raps about women's issues while balancing a job and studies for a college degree.
Sutar organizes camping and music events in her hometown, Vasai. Hiremath, rapping about her experiences as a woman in India, is the author of a book on sustainability called Earth and one-half of India's first female rap duo Won Tribe along with Prabhune.
A beatboxer and rapper, Jacqulin Lucas aka JQueen, who raps in English and Tamil, has featured in a rivetting rap scene in a web series called HIGH.
Prabhune does a range of vocal styles, including growl and scream vocals. She was previously a bassist and vocalist for Chronic Phobia, a metal band in Mumbai. Her role in Wild Wild Women apart, she sings jingles for advertisements, does music marketing and event management.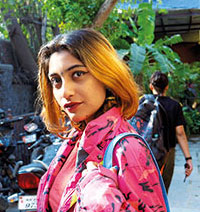 Driti Panchmatia (Demyth)
The youngest of the lot, 17-year-old Driti K. Panchmatia or Demyth is an underground rapper and one-half of a male and female rap duo in Mumbai while studying for her Class 12 examinations.
Bending the boundaries of what makes up a rap group, the collective features a B-girl, Deepa Singh, known as FlowRaw who has represented India in the Queen16 B-Girl Battle, Germany, in 2018 and was the runner-up at Red Bull BC-One Cypher, India's B-Girl Battle in 2019.
In their own words, they say, "We are not confined to being just rappers, we also have a B-Girl, a graffiti artist, and we plan to expand further to create a sustainable community using the strengths of different individuals."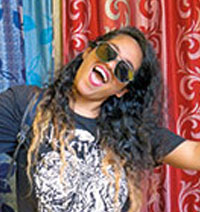 Pratika E.Prabhune (MC PEP)
Individually, the young women have gained a good amount of social capital on the hip hop scene. They are between 17 and 27 years old, capturing multiple diversities in this 10-year age span.
In a male-dominated hip hop scene, their goal is clear to them, "The aim with Wild Wild Women from the very start has been simple. We want more women to work together, collaborate, and find out the various talents they have that can be brought to the table."
Apart from the team onscreen, behind the scenes the production of "I Do It For Hip Hop" has involved young women at every step. The song's upbeat and energetic music has been produced by 17-year-old Anirudha Khavale, known as Poshak, and the video has been shot and edited by Prabhune. "Many of us are still young and new to this whole world of music releases, and there's a lot that goes on," she says.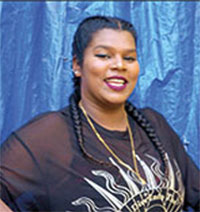 Jacqulin Melvin Lucas (JQueen)
The song has seen success on the internet in just a few days of release. The reception and engagement of the audience have been supportive, "The reaction has been really good, surprisingly! We've crossed some 5,000 views organically over the past few days. For a debut we did a good job!"
On the kind of themes they hope to rap about together in the future, they say, "We are in tandem with the ideas of feminism, optimism, and making a difference socially ... Every day, our goal and aim in life is to overcome obstacles, work hard, and be the voice for women in this country who cannot stand up or raise their voices. We want to give them the confidence to feel and think differently, and that's what we'll do!"