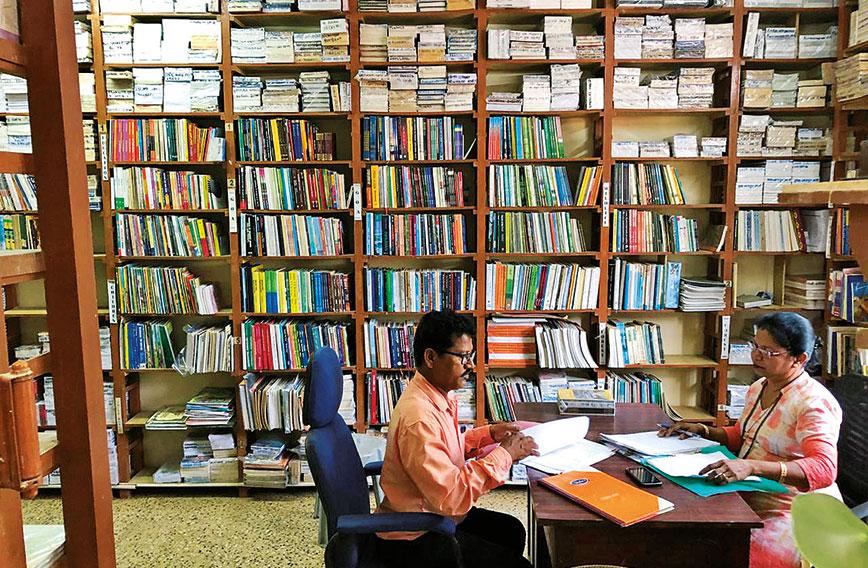 Alternative bookstore holds its own in Goa
Arti Das, Mapusa
Published: Jul. 26, 2019
Updated: Apr. 08, 2022
The Other India Bookstore (OIB) at Mapusa in Goa is unlike any other bookshop. Lined with books from the floor till the ceiling, it houses unheard of books. This well-curated bookstore is the brainchild of Claude and Norma Alvares, a very reputed environment activist couple in Goa. It was started in 1986 with the intention of selling books from the global South — Asia, Africa and Latin America — and to develop India's intellectual culture, rather than blindly follow the West.
"The book trade was dominated by publishers from the West and only their books were available in our bookstores. We resented this domination and set up OIB to market books on social issues published in our part of the world. That is how OIB was born," says Norma.
Their initial publications included The Other Face of Cancer by Dr Manu Kothari and Lopa Mehta and One Straw Revolution by Masanobu Fukuoka. The books they publish are not just for casual reading, but are food for thought and socially relevant. Many titles on organic farming, environment, health, wildlife, education and development politics are published. This is only natural, given their involvement in environmental activism. Claude and Norma spearhead the Goa Foundation and have fought many landmark legal battles to preserve the landscape of Goa.
These books are a source of information and knowledge for those "who are fed up of the dominant system and are looking for alternatives," says Norma. The bookstore's readers include teachers, students, researchers, professors, librarians and other booksellers. They have a unique collection of books on Goa, which is a crowd-puller among visitors to the state.
Claude, director of the Goa Foundation and author of Fish Curry Rice, a report on Goa's ecology and lifestyle, says, "The manuscript must have original ideas and not be a replica of views already held by others. The book must be published anywhere within the global South – this is important as it also makes the book affordable."
Running OIB and its publishing arm, Other India Press, which was set up in 1990, is an ardent task in the era of e-books and social media. However, the couple says that it is the uniqueness that keeps the venture afloat. They are confident of the titles they publish and sell. "We don't keep potboilers or trashy stuff or school textbooks just so that we can make money."
They also stock a lot of material published by NGOs and social activists — pamphlets and monographs — which one may not find in a regular bookshop. "Such publications are often better than academic titles, as they provide up-to-date facts and figures which are useful to those interested in these subjects," says Norma. Contemporary topics like organic farming, home schooling, and health have an endless market, she says.
For ethical reasons, books are priced at minimal rates. Their cheapest book is just Rs 20. "Many of our books have gone into several reprints but we never raised prices except if paper costs went up," explains Norma. Their objective is also to increase access to literature on alternative ways of living. Turning in a profit is not their priority.
The bookstore keeps its head above water because it is self-sustainable. Creating an empire or a franchise was never the goal. Being small has helped them survive. Norma says other bookstores that have followed this model have survived too. This does not mean that they are unaffected by factors like social media or e-commerce and the like.
"Self-publishing has become possible and social media is a great way to advertise your works. So we might as well call it a day, knowing with satisfaction that we did serve a purpose," remarks Claude while mentioning bookstores like Altermedia in Thrissur, Earthcare in Kolkata and Banyan Tree in Indore, which are engaged in similar work.