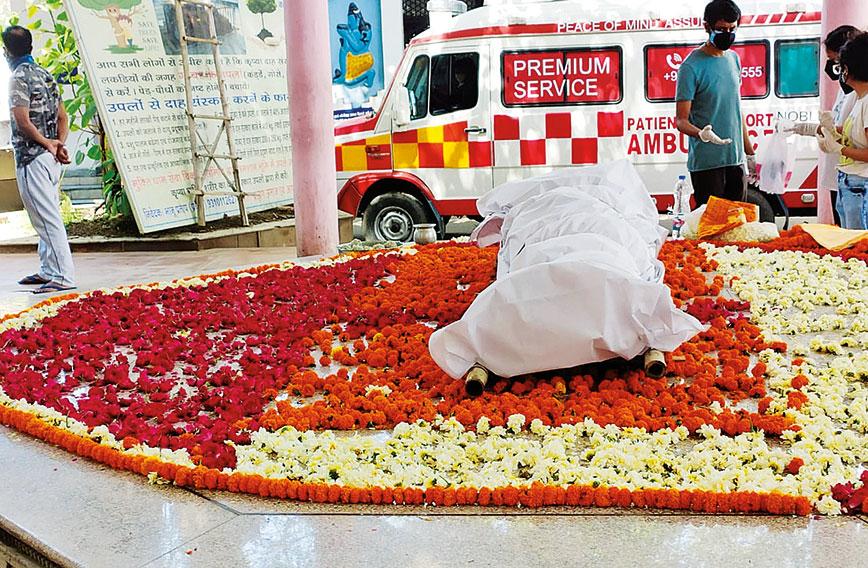 Noble Sparrows takes care of all aspects of the last journey
A fitting farewell with the Noble Sparrows
Surmayi Khatana, New Delhi
Published: Nov. 16, 2021
Updated: Nov. 19, 2021
SUNK in grief after losing their loved ones to COVID-19, many families had to undergo the painful process of performing the last rites in stultifying circumstances. Crematoriums in India are in abysmal conditions and there is also cumbersome paperwork to be done. At a time of grief, one is left to figure out the logistics of a grim ritual.
Trying to ease the pain is Noble Sparrows, a funerary service that takes on the paperwork, ensures a dignified goodbye and allows the bereaved family to spend the last moments with their loved one in peace.
Set up in January 2021, Noble Sparrows has organized over 1,000 cremations in the past eight months. "We cannot reduce the pain of losing your loved one but we can take care of you and give a respectful farewell with complete rituals," says Jatin Bhargav, who founded Noble Sparrows. "Our mission is to help people during such an emergency when empathy and care are most needed."
Noble Sparrows, a 24x7 service, takes care of all aspects of the funeral, from transportation, embalming and cremation to obituaries and prayer meetings. A slot at a crematorium or a burial ground is booked right after a call from the family or friends of the deceased.
A state-of-the-art ambulance or hearse arrives to carries the deceased to the venue or home.
After that the Noble Sparrows team, with certified professional embalmers, prepares the body for the last rites. Bathing, clothing, and make-up are all taken care of. Priests, pandits or maulvis for religious rituals and prayer meetings are arranged as well. At the crematorium or burial ground, the acquiring of materials like wood, water and other requirements is handled by the team — affording the family time and space to grieve.
After facing bereavement himself during the first wave of the coronavirus pandemic, 43-year-old Bhargav, a resident of Gurugram, realized the critical need for funerary services in India. "In my hour of need, I faced many issues which my organization now tries to address. Everything is chaotic and everyone is clueless at such a time. We end up relying on family and friends who might live far away," says Bhargav.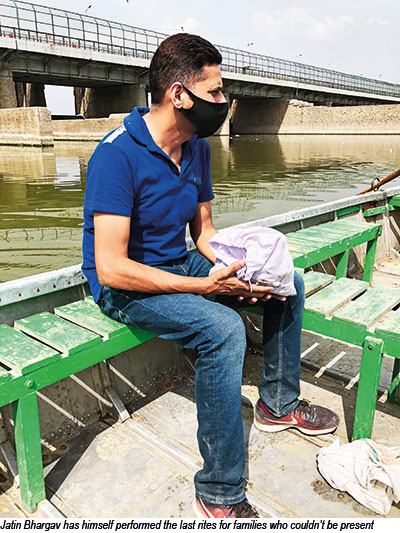 After a 20-year career in the services and events sector, working with brands like Samsung Electronics and Citibank, Bhargav proposed the idea of starting a funerary service to his friend, Ujjwal Sarin, an entrepreneur. Sarin came on board at once. They both recognized the need for funerary services in metropolitan cities since so many people migrate from towns to big cities and live in nuclear families.
On special request, Noble Sparrows makes calls on behalf of the grieving family. They also help organize online and offline prayer meetings. The team takes all COVID-19 precautions, especially since their occupation requires them to be in proximity to people who have been infected. All employees are fully vaccinated and wear PPE kits. Everything, including the vehicle, is sanitized in front of the family.
During the pandemic, due to family and friends either recovering or suffering from the infection, the team gladly went beyond the call of duty to get bodies discharged at hospitals or even carry out funeral rites and rituals like asthi-visarjan or collect the ashes after cremation. Bhargav attended almost every cremation personally and performed the last rites for around 100 of the dead whose families could not be present.
The organization has expanded rapidly and now has staff in Kolkata, Ahmedabad, Mumbai, Bengaluru, Delhi-NCR, Chennai, Hyderabad, Chandigarh, Lucknow, Patna and Indore. The website has complete details.
The Delhi team has seven members. Each city has 'city managers'. Bhargav travels to help organize services with the local teams and train them.
"We are very careful about the people we choose. Empathy is more important than being a business. We do not want any family thinking that 'yeh toh business kar rahe the' (these people were just doing business). We want the family to feel at ease and realize that everything was taken care of."
Noble Sparrows also offers freezer services to ensure family members living far away can pay their final respects. One can even plan one's own funeral in advance with the pre-planning services.
Coordinating with local police stations in Delhi-NCR, Noble Sparrows also arranges a dignified farewell for unclaimed and unidentified bodies. "Just due to sad circumstances of death, a person should not miss out on a dignified cremation," explains Bhargav.
They offer cremations for pets as well. Given the lack of infrastructure, they have tied up with burial grounds in South Delhi, West Delhi and Gurugram. Their service offers planting of a tree in memory of the pet.
Another important decision made by the team at the outset was to not charge for funerals of infants or children below two years of age.
The team organized a free funeral service for a rickshaw-puller in Lakshmi Nagar. "If someone is grieving we don't say no. If someone needs us, we will be there, no matter what," says Bhargav.
With Noble Sparrows, Bhargav hopes to improve the standards of the funerary industry in India and make it less chaotic and unstructured.
There are many problems like crowded and unhygienic crematoriums in cities. Urban housing is also not well designed for funerary services. "There would be times when elevators in high-rise buildings could not accommodate a stretcher," says Bhargav.
Being in a grim business, Bhargav has to ensure his staff remains positive and sees their work as not just a job but a mission. "I believe that God gives us the strength to be a pillar of support for the family in their hour of need," he says.