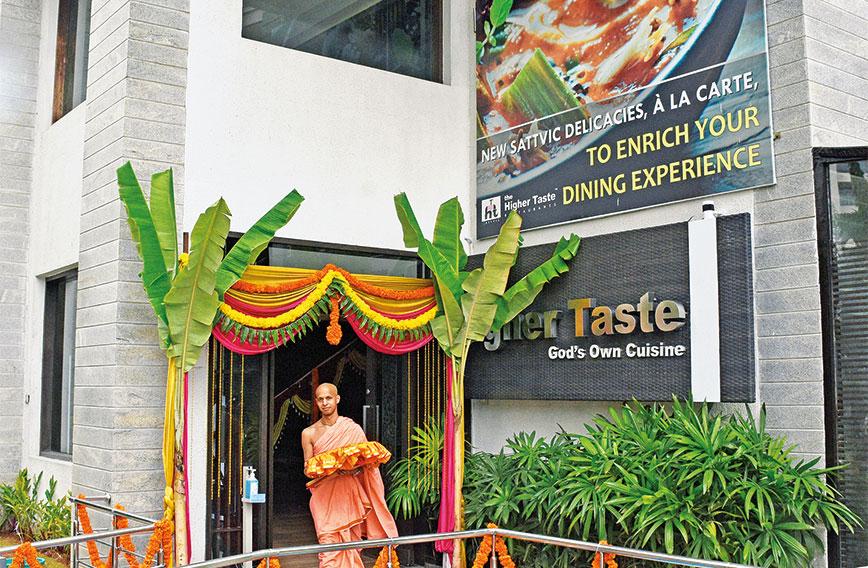 Higher Taste offers a unique dining experience
The sattvic meal: Higher Taste offers a Vedic menu
Susheela Nair
Published: Nov. 18, 2022
Updated: Feb. 17, 2023
LIKE any global city, Bengaluru offers a range of flavourful gourmet dining options. But Higher Taste at ISKCON is significantly different. It is India's first sattvic food restaurant, offering unique and delicious dishes. Eating at Higher Taste is a heritage culinary journey definitely worth taking.
The master chefs at Higher Taste have conjured up a rare dining experience offering a plethora of flavours, textures and seasonings in a range of dishes culled from across India. Some of the Higher Taste dishes date as far back as the Chola dynasty. The spices are freshly ground every day and the food is prepared keeping Vedic customs in mind. By introducing local, national and international food in their menu, other restaurants in Bengaluru are rediscovering sattvic cuisine too.
"Every dish consumed here is first offered to Lord Krishna and thus in effect, what you consume at Higher Taste is prasadam. Sattvic food helps in elevating the consciousness and the overall transformation of a person. The impact of sattvic food is profound," says H.G. Ratnangada Govinda Dasa, Head-TSF, ISKCON Bengaluru. He recalled how Srila Prabhupada, Founder Acharya of ISKCON, succeeded in persuading some hippies in New York to abstain from drugs through sattvic food. He brought about a transformation in their lives and they became his followers.
To the uninitiated, sattvic food conjures up visions of bland, boring vegetarian food, sans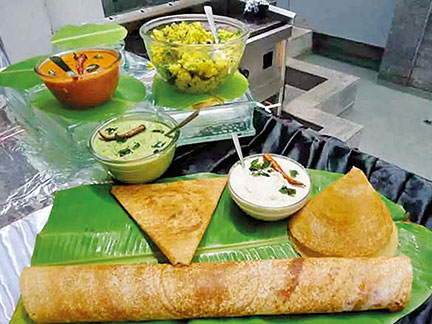 Dosas, chutneys and poha
onion, garlic, mushrooms, caffeine, and, of course, minus fish and meat. Traditionally, sattvic food was limited to temples serving only local items relating to rice preparations.
Sattvic cuisine is a diet based on fresh vegetables, fruits, legumes, lentils and pulses, milk, ghee, honey, jaggery, wholegrains such as rice, wheat, oats, millets and nuts and inspired by Ayurveda. Sattva is a Sanskrit term that is generally translated as balance of harmony. The Vedas define sattvic foods as being juicy, wholesome and pleasing to the heart, thereby providing nourishment for positive vitality.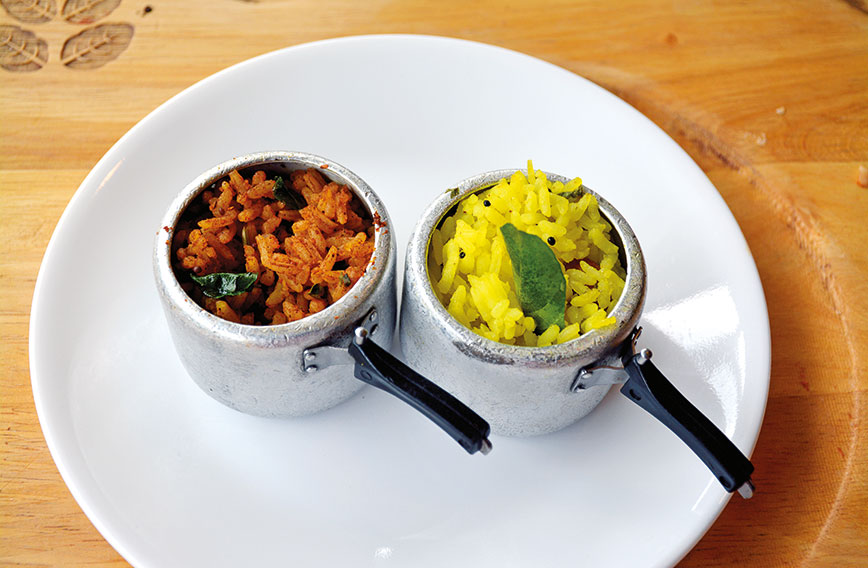 Food served in tiny pressure cookers
Some foods that a sattvic diet recommends avoiding are indeed unhealthy like candy, sodas, processed food like chips, frozen meals and white bread. Sattvic food excludes animal proteins, fried foods and white sugar. Dairy products that are of high quality may be consumed in moderation. Microwaving food and frying also renders it tamasic. What makes sattvic food so unique and pleasurable is that all dishes are prepared fresh. Leftover food is never served or consumed.
A sattvic diet is high-fibre, low-fat, vegetarian and conducive to a balanced and harmonious life. Sattvic food uses only the purest ingredients (no eggs, onions, garlic, asafoetida or caffeine), vegetables that won't induce tamas (inertia) and freshly-ground spices in recipes that strictly adhere to age-old tenets. A sattvic diet is high in micronutrients. Ayurveda believes that sattvic food could be responsible for longevity, strength and a healthy mind. The aim is to increase the duration of life, purify one's existence and give strength, health, happiness and satisfaction.
We start our meal with the Kesar Sikanji, a lemonade infused with saffron and slivers of dry fruit. It is a refreshing start to the buffet. For crispy starters, we dug into the Palkatti Varuval — strips of paneer, marinated in a tangy masala and deep-fried to exceptional crispness — and delectable golden fried Vazhaipoo Vada made from banana flower, dal and traditional spices. We also savoured Potato Milagu Fry, a yummy potato fry tossed with Chettinad spices, crushed pepper corn and curry leaves.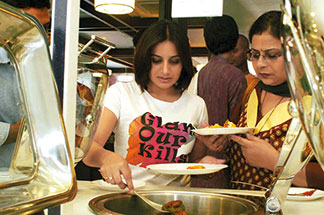 Regional and international dishes are freshly cooked
This was followed by the main course comprising Raja Bojanam, a ghee-rich peppery curry of almonds, cashews and pistachios, and Vetrilai Thakkali Saatham, a heavenly rice preparation with a rare blend of betel leaf and tomato. The chefs also rustle up international dishes like pasta with red sauce, and American Chopsuey sauce.
Chefs at Higher Taste have delved into North Indian culinary traditions to conjure up dishes like Dry Fruit Tehri Rice, a saffron flavoured Lucknow pulao, luscious with dried fruits, and Jafrani Kofta, paneer ovals stuffed with nuts, enveloped with a rich and creamy cashew-based saffron-flavoured gravy, served with breads like Benarasi Paratha, a juicy vegetable stuffed paratha and Hariyali Kulcha, stuffed with greens and vegetables. Other delicacies include the delectable Kabulisthan Biryani, an Afghan-style rice with tandoori cauliflower and potato.
We moved on to some delightful desserts, delving into Higher Taste's signature Elaneer Payasam made with coconut milk and lots of soft tender coconut and served chilled. The Paan Ice Cream is actually a whole paan that is ground and then blended with the ice-cream mix and set. It is divine and doubles as a palate cleanser, mouth freshener and a digestive. There were other mouth-watering desserts like Sunehari Halwa (made from corn) and assorted pastries.
"We have adapted to the changing taste of the customer over the years, especially to suit the palate of the millennials. Traditional food is also served in a modern restaurant space. Fine porcelain crockery is used to ensure the millennials have comfortable dining here. Modern unique presentation of the food laid out at the buffet with miniature serving portions for many preparations are presented so that each guest can try the maximum number of dishes. We have adapted the sattvic style of cooking to suit multiple regional and international cuisines which has resulted in an exhaustive buffet of more than 60 preparations," says Arvind Chowdhury, co-founder of the restaurant. The buffet has everything for everyone in the family right from sattvic pasta to traditional curd rice and lemon rice in mini pressure cookers. Live pizza and pasta counters and ice-cream counters are a big hit with kids and adults.
Sri Sri Ravi Shankar also alludes to the idea that a sattvic diet is one that is conducive to a balanced and harmonious life. The manner in which it is prepared is as interesting. The sattvic food is cooked using steam produced from environment-friendly boilers using briquettes (bricks of compressed sawdust and ground groundnut and coffee shells). This articulates food preparation with both therapeutic and environmental concerns.
This high-energy vegetarian food which increases the prana, the subtle life force in the body, is said to be clean, wholesome and known to promote harmony and positive thinking. Cooked food consumed within three to four hours of preparation is also considered sattvic. If you follow a sattvic diet, you will ingest foods that are light and healthy and ideal to maintain the balance and harmony of your body. This simple food has no extremes of taste — neither too sweet, nor too salty or spicy.
The perception that sattvic food is generally insipid has changed with the changing times. Now it is an integral part of the new health trend in India, besides yoga and meditation. Today's emphasis on a healthy lifestyle and the pressure of looking good and staying fit mean that dining out has to be as nutritious and environmentally responsible as it is great-tasting. More and more people are adopting natural eating and sattvic vegetarian food. Now there are restaurants specialising exclusively in sattvic gourmet cuisine.
The pandemic has made people realize the goodness in a sattvic diet. People are becoming increasingly conscious about their immunity and hence curious about the sattvic diet. Consumers are adopting a healthy lifestyle and choosing pure and natural ingredients. The change in behaviour is a welcome move because sattvic food helps build immunity and keeps harmful problems at bay. The rise of restaurants dedicated to sattvic gourmet cuisine shows its growing popularity.