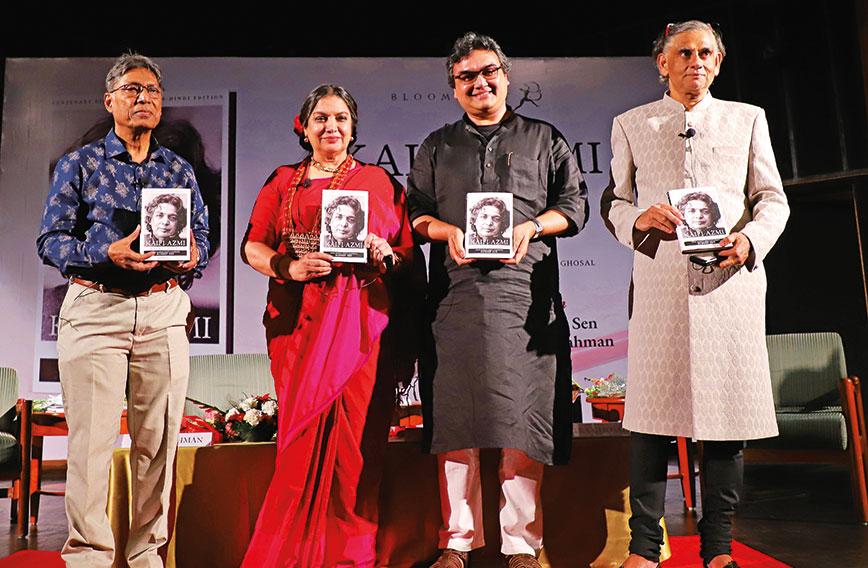 Left to right: Anisur Rahman, Shabana Azmi, Sudeep Sen and Sumantra Ghosal | Photograph by Shrey Gupta
Remembering Azmi, the poet of hope
Saibal Chatterjee, New Delhi
Published: Jul. 24, 2019
Updated: Jul. 26, 2019
In today's climate, it is important to remember people who used their art as an instrument of social change: it was with these words that actor and activist Shabana Azmi prefaced her tribute to the life and work of her late father, acclaimed Urdu poet and film lyricist Kaifi Azmi, at the Stein Auditorium at India Habitat Centre in New Delhi, on June 10. The occasion was the launch of an English-Hindi bilingual anthology of 50 poems "selected, introduced, edited and co-translated" by Sudeep Sen as part of a year-long celebration of the centenary of the poet's birth.
"This series of events," said Shabana, "isn't aimed only at celebrating Kaifi Azmi, but also at highlighting the spirit that his poetry and thoughts represented." In an essay on his own poetry, the towering Urdu man of letters had written: "When was I born? I can't remember. When will I die? I don't know. All I can say with any certainty about myself is that I was born in an enslaved Hindustan, grew old in a free Hindustan, and will die in a socialist Hindustan."
Not only does the dream of an egalitarian India remain unrealised, it has only receded with growing inequality in recent decades. How did the poet feel at the turn of events during his lifetime? Shabana replied: "Kaifi Azmi was ever an optimist. He never lost hope. That was his strength. He believed that if an artist loses hope, it is society that loses."
But Kaifi Azmi definitely wasn't given to pipe dreams, as his poem Aadat (Habit), a part of the just-launched anthology, clearly reveals. "I want illumination, I want moonlight, I want life… the illumination of love, the moonlight of friendship, the life that leads to the gallows," he pleads even though he is acutely aware that "there is no illumination, nor moonlight, nor life/Life is but a dark night…"
The book, Kaifi Azmi — Poems/Nazms, New & Selected Translations, published by Bloomsbury, has contributions by four other translators, one of whom, filmmaker Sumantra Ghosal, was on the stage alongside Shabana, Sen and academic Anisur Rahman, who moderated a panel after the three discussants read a few of the iconic poems included in the anthology — Aurat (Woman), Ek Bosa (One Kiss), Ek Lamha (One Moment) and Makaan (Building) — in Urdu and English. The other translators who have contributed to the book are Husain Mir Ali, Baidar Bakht and Pritish Nandy.
Rahman, former professor and head of the English department at Jamia Millia Islamia and a senior adviser to the Rekhta Foundation, referred to the book as a veritable Kaifi Azmi reader. "It introduces you to his whole world as a poet and an activist. Kaifi saab wasn't just a poet of love, but of much larger human predicaments. This book traverses the entire gamut."
Azmi was born in Mijwan village of Azamgarh district in eastern Uttar Pradesh on January 14, 1919 — the exact date of his birth, Shabana recounted, was not known until his friend and legendary documentary filmmaker Sukhdev intervened and settled on January 14. The centennial show has been on the road since early January this year with the aim of furthering the legacy of Azmi's politically and socially charged poetry that addressed the plight of the dispossessed and the mounting dangers of communalism, among other challenges that have faced the nation since its creation.
Among events that have been organised since then are Raag Shayari, a musical tribute to Kaifi Azmi featuring Zakir Hussain, Javed Akhtar, Shankar Mahadevan and Shabana Azmi (Tata Theatre, NCPA, January 13) and Kaifi Aur Main, a theatrical presentation based on Yaad Ki Rahguzar, the memoirs of the poet's wife, Shaukat Azmi (presented at IIT Delhi and Kala Mandir, Kolkata), segments in the literary fests in Jaipur and Hyderabad and a Pen Festival dedicated to Kaifi Azmi at Nehru Centre, Worli, Mumbai. Two more anthologies of his poetry have been planned. One, Kaifiyat by Rakshanda Jalil (Penguin Random House), is already out; the other, The Past on my Shoulders by Husain Mir Ali (Westland) is due for release.
Azmi was a radical, progressive poet who could be profoundly lyrical and romantic with the same conviction. He was a protest poet and a lover, a keen observer of society and a human being with deep empathy for the marginalised, a master wordsmith and an activist who could turn out delectable but direct lines that were both wrenching and uplifting.
These apparent dichotomies weren't ever in conflict within him — they flowed into and out of each other, creating a consonance so complete that one could only marvel at the enormous breadth of his ideological vision and creative canvas. "He wasn't a man of the world," said Shabana. "He had no attachment to worldly possessions, but he prized two things more than anything else — his Communist Party card and his Mont Blanc pens, not a very Communist liking."
One of the contributors whose work is featured in the new book, New York City-based Husain Mir Ali, writes in his note on the translations: "Kaifi and his comrades worked tirelessly, first for independence from colonial rule, and then later for an egalitarian and non-sectarian society, but his dream remains a work in progress. His poem Inteshar (Anarchy) ends with a demand: koi toh sood chukaye, koi toh zimma le, uss inquilaab ka jo aaj tak udhaar sa hai (Sudeep Sen's translation: if only one paid the interest, if only one took responsibility/for that revolution, which even now seems as a debt)… For Kaifi, the revolution is a debt that is still owed to him."
In the lead-up to the readings and panel discussion on June 10, Sen, an English-language poet of repute, admitted that the two-year-long translation project has changed him as a person. "I immersed myself completely not only into the poetry of Kaifi saab but also into the history of the progressive writers' movement. The depth, range and latitude that I discovered in the process was astounding," he said.
Azmi's fierce opposition to religious divisiveness was always at the heart of his poetry. In Saanp (Snake), translated here by Husain Mir Ali, he wrote: "The day Hindus and Muslims start thinking of themselves as human beings/That is the day this wretched creature will die", the reference being to "This snake, that stands on my path, its hood raised".
The auditorium was filled to the rafters well ahead of the start time of seven on a Monday evening. Many could not get in and there were frayed tempers at the entry gates. Shabana was understandably taken aback a tad by the phenomenal show of enthusiasm. "It is really encouraging to see such a packed house for an evening dedicated to Urdu poetry," she said at the outset, setting the tone for the rest of the programme.
The audience, which hung on to each line that she subsequently read in Urdu followed by the English renditions by Sen and Ghosal, frequently burst into spontaneous applause. The audience stayed on for the screening of Kaifinama, a documentary by Ghosal woven primarily around an interview done with Azmi in the late 1990s.
It was obvious that the relevance of Kaifi Azmi, who breathed his last on May 10, 2002, hasn't diminished one bit although the nation that he and his political co-travellers dreamed of has not quite taken shape. Hope, after all, was the leitmotif of his creative output.