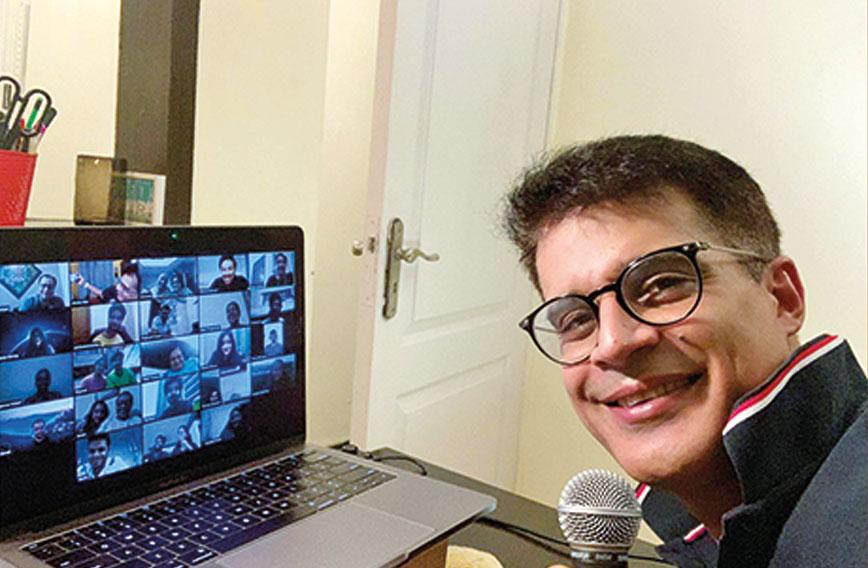 Anshu Mor, a stand-up comedian, found an interactive audience online
Comedians readily go online with a laugh
Sidika Sehgal
Published: May. 28, 2020
Updated: Apr. 03, 2021
You can't shut up a stand-up comedian. Faced with cancelled shows and a grim future, this creative tribe has found a way to reinvent itself during the lockdown. Without much fanfare they resurfaced on the digital medium.
Zoom is their chosen platform and they are doing what they do best — making people laugh. The themes are contemporary. There are jokes on what it's like to be home during lockdown and on WhatsApp groups that advise gentle home remedies to take on the deadly coronavirus.
After all, who doesn't want to laugh. Especially during corona times when the world outside looks bleak. Recession, job losses and a circumscribed lifestyle are staring us in the face. A bit of irrepressible humour mitigates anxiety, for a while.
Besides, comedians too have bills to pay. They are finding new ways to get around that by monetizing online comedy shows. They are finding audiences online willing to pay tickets worth `200-300 each for a show on a digital platform. And some of them have even got together to raise funds for NGOs who are helping vulnerable people most affected by the lockdown due to the coronavirus pandemic.
Two weeks into the lockdown Anshu Mor, a 47-year-old stand-up comedian in Gurugram, did his first successful online show. He followed it up by doing over a dozen paid shows including "Just a Bad Guy" and "Mor the Merrier".
"There is a breed of artistes who are very excited right now," he says.
Comedy in digital mode is completely different. A comedian measures success by gauging his audience's reaction. Live feedback is crucial. Silence can be disconcerting. When Mor does an online show, he asks his audience to keep their sound and video on.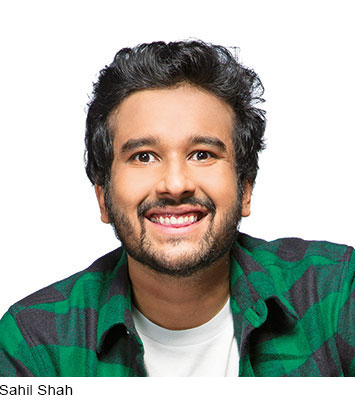 "I too need to hear people laugh," explains Sahil Shah. Twenty-nine-year-old Shah is a founding member of the East India Comedy collective. Keeping the sound on does mean there is background noise which could disturb the performer. Someone's child could be crying or someone could be called for dinner.
The stand-up performer also has to speak slowly during an online show since there could be a lag. "In the club, the general rule you follow is that when the crowd is laughing, you don't talk. Online, you have to wait for the last person to stop laughing because everyone on call is at the same volume," Mor explained.
But once the performer gets used to the online medium, there are benefits. They can reach wider audiences — people who always requested them to come to their city for live shows can now watch them perform. There is opportunity in such volumes, Mor says.
Plus you don't really need to step out of your house for the show or worry about logistics. "Every person who didn't get the opportunity to do a live show because a venue wasn't available, will do it now because it's so easy to set it up. The digital space will get crowded," says Shah who performed his show, "Be Curfewl", online.
There is some consensus that online shows are more intimate than live shows. Shah was once doing an interactive show, talking to people and improvising jokes. When someone switched off their video, Shah speculated that it was probably to use the bathroom and cracked a few jokes around that.
"The stage makes you a celebrity. There are lights, you walk into a soundtrack. People are literally looking up to you. Online is so personal. I've had people eating dinner during online shows. It gives a completely different flavour to comedy," Mor remarked.
The downside is that people in the audience can record an online show and put it up on YouTube. Sometimes, people buy one ticket and the whole family watches the show for the price of a ticket.
At the moment, a lot of comedians are taking recourse to jokes they had written before the coronavirus pandemic. But they agree they don't have to look far for content. "It's all around you. Take this whole thing with the alcohol shops opening and the lines outside. Jokes are being written for you," Shah said.
Comedians are used to working from home. But the stimulation from going out and observing mundane things is missing. "Comedians are also normal human beings. A human response to the outside world comes before an artiste's response," says well-known screenwriter and comedian Varun Grover.
Though Grover has not been doing online shows, he posted a few videos on Instagram to spread awareness about the coronavirus. With a straight face, Grover mocked those who bragged that Indians had a stronger immune system. He joked that the coronavirus is not the same as eating "roadside golgappas" and that immunity alone isn't enough.
Shah feels people won't pay as enthusiastically for online shows as they do for live shows. "People will pay if you give them a professional show. They've been paying so far," Mor said. He has relocated lamps in his house to create a spotlight effect and he has audio equipment so that his voice sounds clear.
Mor also does shows for companies. He expects that number to increase because large corporates will want to invest in employee satisfaction and bring them together for a laugh.
Going forward, a suitable revenue model will determine who can continue doing comedy and who cannot. Mor and Shah were supposed to be on tour in May with their solo specials.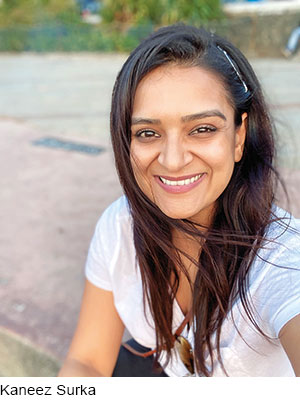 Comedians who have a large following may be able to tide over this period, but those who just started out might have a rough time. "We can't do live shows, in my opinion, for the next six months. Maybe even eight months," Kaneez Surka said.
But people want to laugh. "People are looking for happy things. Right now, I'm watching all the Disney movies. I'm looking for light and happy content, the kind of stuff that'll make me laugh. Comedy can be a relief in these times," Surka said.
Some comedians with a large fan following decided to contribute and help those hit by the lockdown. They organized online fundraisers and collected small and large sums.
Surka, Tanmay Bhat and an entertainment lawyer, Amshula Prakash, organized a two-day livestream show, "Stay Home for India" with over 80 comedians and influencers. Surka, 36, made 90-odd calls in a day and got popular comedians like Kanan Gill, Biswa Kalyan Rath and Sumukhi Suresh together for a show.
Many comedians had been playing online games so Surka and Bhat thought they could stream it and raise money. Over a two-day 'streamathon' on April 11 and 12, they raised nearly `17 lakh. People continued to contribute for the next few days and the final amount came to `25 lakh.
The proceeds went to Covid India, which is procuring personal protective equipment (PPE) for healthcare workers, and Kashtakari Panchayat, which is supporting waste-pickers by giving them PPE and ration kits.
Prakash had identified the two charities. "Covid India was a big organization but Amshula was also looking for obscure NGOs that don't get much publicity. Kashtakari Panchayat was the one we zeroed in on," Surka said.
Shah has also done ticketed online shows to raise funds. "We raised `12,000 from two shows. There is a limitation to how much we can raise in a ticketed show. But no amount is big or small. What you raise is what you raise," he said over the phone, while setting himself up for an online show at his home in Mumbai. The proceeds went to Khaana Chahiye, a Mumbai-based NGO.