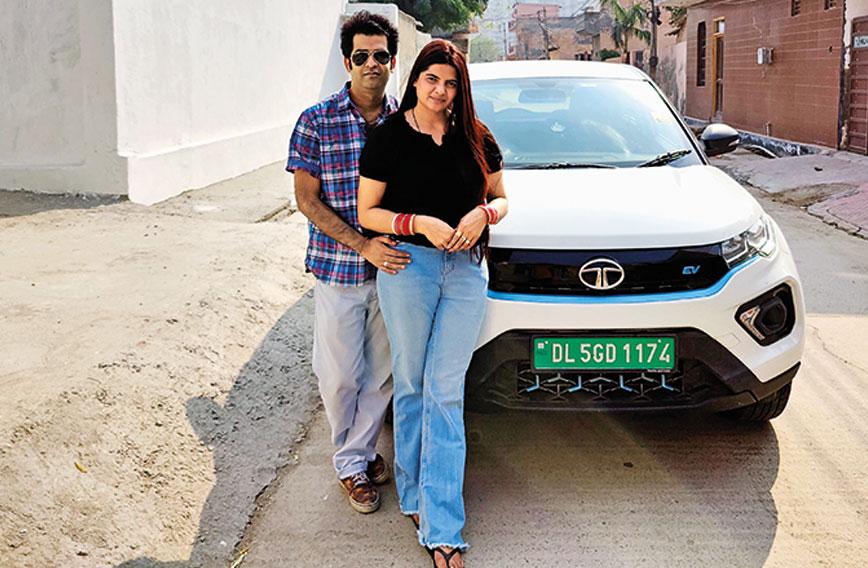 Aarti and Abhinav Bainslay with their Nexon: In the first month of ownership they spent just Rs 5,000 on charging their car and that included the trip to Mussoorie
My cousin's electric car and how it went to Mussoorie
Surmayi Khatana
Published: Apr. 08, 2022
Updated: May. 27, 2022
WHEN Abhinav Bainslay found it was time to junk his old car, he and his wife, Aarti, went through days of indecision over what to buy. They wondered whether to just play safe and choose another petrol/diesel car or be bold and make the switch to an electric vehicle (EV).
After weeks of doing their homework, they decided to go the EV way and now Abhinav, who is 30 and my Mamaji's second son, can't stop talking about the Tata Nexon that they bought.
As family, I listen, and with interest, because we live in Gurugram on the Dwarka Expressway and are keen to beat rising fuel prices. But here is Abhinav's story of making the switch to clean mobility and not regretting it.
High on the list of Abhinav's EV anecdotes is the recent trip he and Aarti made to Mussoorie. It cost them just Rs 500 in terms of the price of charging the Nexon. But, more important, with a strategy in place, the charging was done easily — just twice on the way up from Delhi.
Fast-charging stations can be found across cities and states using the Tata Power EV app or with a quick Google search. There are 377 charging points in some 170 stations in Delhi currently, the number of which is expected to increase by June. Fast charging takes only 30 to 60 minutes for a full charge.
After charging the car at home for the trip to Mussoorie, Abhinav made a stop at a charging station in Muzaffarnagar to top up the battery while he and Aarti grabbed a quick bite.
Another recharge was done at a charging station near Mussoorie, which was enough to travel locally in the hills. An interesting statistic is that it took only five percent of the battery to cover the 33 kilometres between Mussoorie and Dehradun since the road is downhill.
They took along a 20-m cable to make it more convenient to use a portable charger. The cable helped them charge the car at a dhaba along the highway on the way back to Delhi.
The reality of Abhinav's life is of course far removed from chilling in Mussoorie. He does a daily commute of 70 to 80 km as he goes between Noida, where he lives, and Delhi, where he works. He is an entrepreneur and so there is other moving around to be done as well apart from the home-to-office-and-back thing.
While with his combustion engine car he would spend somewhere between Rs 20,000 and Rs 25,000 on petrol in a month, with the EV he has spent only some Rs 5,000 in his first month of ownership and that includes the trip to Mussoorie!
His daily travel distance of 70 to 80 km would require him to refuel his car often. Now, after charging his car at night every day, he comes home with 50 percent of the battery intact.
A regular charger with a power plug comes with the Nexon as it does with other EVs. With this it takes seven to eight hours to recharge the car and the cost of the electricity would be about Rs 240.
A home charging point is installed for free at your residence by Tata Motors when you buy a Nexon. The charger can be connected in both independent houses and apartment buildings. Abhinav's is directly connected to his flat's electricity meter.
The point comes with an authorization system to ensure that no one else uses your home charging point in your parking space. Once the battery is fully recharged, the charger goes off automatically.
The Tata Motors ZConnect app allows for remote commands, security, trip analytics, speed limits, and battery levels. It also helps you get a general diagnosis of the car.
A Tata Power EV app shows you the nearest charging stations and also allows you to pay for the charging online as well as check your battery level.
Some vendors also sell extensions and heavy-duty DC chargers which come in three variations of 15, 30 and 50 KW. While a recharge takes place quicker with these, they are expensive and prices range from Rs 3.5 lakh to Rs 5 lakh.
Abhinav is thrilled that there is no clatter in the car and one feels little to no vibrations.
"It makes for a very fatigue-free drive. It wasn't till I sat in my EV that I realized the amount of noise we put up with when we travel by a petrol or diesel car," says Abhinav.
The car functions on a motor instead of the internal combustion engine of petrol and diesel cars. An EV's motor is inherently more silent and requires less maintenance costs. The motor is powered by a lithium-ion battery which has a warranty for 160,000 km or eight years, whichever comes first.
The first three services are free. But even afterwards Abhinav anticipates that he will make big savings on servicing. An EV requires almost no maintenance in comparison to an internal combustion engine for which the oil, coolant and air filters have to be changed.
The car has a good suspension and the on-road experience is on par with, if not better than petrol and diesel cars. The smooth drive makes one feel like you are in an expensive vehicle.
"The drive feels much closer to that of a luxury car," says Abhinav.
In Delhi-NCR traffic the car can easily cover 230 km to 240 km on a full charge, which means each kilometre costs a little over a rupee.
"I have come to enjoy Delhi's slow-moving traffic and even traffic jams," says Abhinav, who admits to chuckling to himself whenever he crosses a petrol station now.
We spoke to reputed automotive journalist Murad Ali Baig about what he thought of Abhinav's experience.
"EV's have a huge advantage over IC vehicles as their electric motors deliver full power at all times. A typical 100 hp IC engine may only deliver some 20 hp at 1,000 rpm, 40 hp at 2,000 rpm and full power at high engine speeds unlike an EV that will always deliver full power," says Baig.
"An EV does not have a gearbox. As a result, acceleration is quick. Having few moving parts, an EV also needs very little maintenance," he explains. "Instead of expensive and time-consuming engine repairs, the mechanic can quickly replace a faulty motor. Even the cells in the battery pack can be easily removed and replaced."
But what really works in the EV's favour is energy efficiency. Not only is Abhinav saving on the huge sums he would be spending on fuel, he also feels good about saving the environment. An EV is a far more efficient user of energy.
"The engine and transmission of a petrol or diesel vehicle may have 5,000 parts as compared to about 200 in its electric counterpart," Baig tells us.
"A good petrol or diesel IC engine only has an efficiency of about 30 percent because a reciprocating four-stroke engine wastes most of its energy in sucking in the fuel, compressing it before combustion and expelling the burnt gases.
"By contrast, an electric motor constantly rotating in one direction has over 70 percent efficiency and electricity is also usually cheaper than fossil fuels. Thus, the users of EVs not only benefit from lower energy costs but enjoy a 'feel good' emotion that they are doing something positive for our threatened environment," Baig says.
Technologies take time to find popular acceptance and reach economies of scale. The EV has already come a long way globally with electric two-wheelers taking over streets, especially in China. So, change is round the corner.
All leading car manufacturers are investing in electric. Many models exist globally and though Tata Motors has been an early mover there are others as well and the market is poised to grow.
Baig points out that the imported lithium-ion battery packs are currently very expensive, taking up the cost of all EVs, but their price is slowly coming down.
The battery packs also have the disadvantage of being very heavy, making a typical electric car like the Tata Nexon heavier than the 1,200-kg petrol model. Stronger suspension and braking systems are therefore required, says Baig.
The EV's range of 200 km to 400 km is commonly seen as a disadvantage, but early buyers could take a lesson or two from Abhinav who has found easy ways around this problem. There are also charging stations coming up all over cities and highways too. Battery swapping is already possible for trucks and two-wheelers and there is no reason to believe that cars will be far behind.