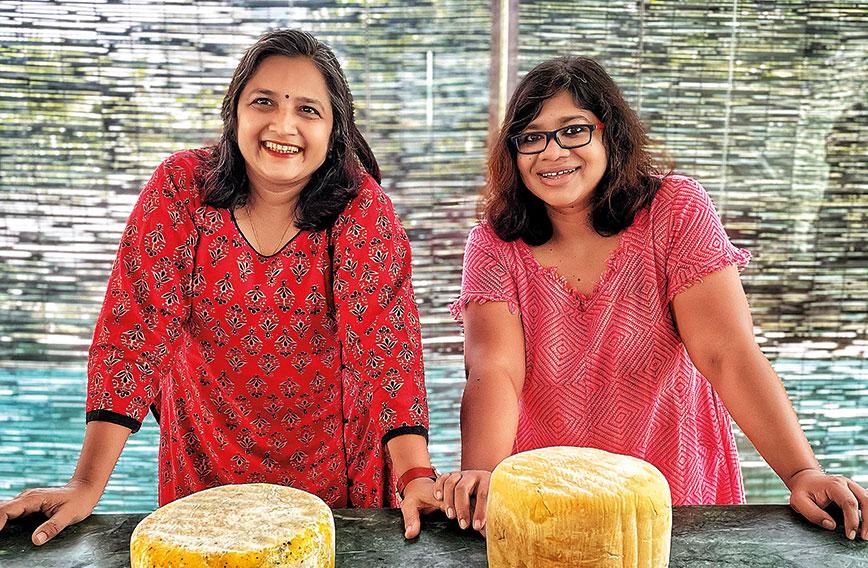 Founders of Käse, Anuradha Krishnamoorthy and Namrata Sundaresan: 'We decided on the ethical sourcing of milk'
Looking for ethical cheese? Try Käse in Chennai
Surmayi Khatana
Published: Jul. 01, 2021
Updated: Aug. 12, 2021
IF you are looking for interesting cheese to buy, you had better first know what you are getting into. The variety these days is mind-boggling. For an idea of how nuanced it gets, drop in, like we did, at Nature's Soul, a small organic food store at Defence Colony in south Delhi. Or just check out Nature's Soul on the internet or Google for cheese in India to connect with several similar stores and websites. You will feel overwhelmed while trying to make a choice.
These days there are more brands of cheese on offer than you could possibly know about. And they are sourced from producers all across India — each cheese maker's story is an interesting entrepreneurial journey full of as much character and flair as the cheese.
Clearly a quiet cheese revolution has been taking place, shaping new markets and discovering customers. It has got a lot to do with changing tastes in a smaller and connected world. Long gone are the days when in India you waited for a tin of Kraft's cheddar to turn up or a tough-to-open tin of Amul cheese was all that you could get.
Fresh homemade paneer strung up overnight and ready to eat next morning will perhaps remain in a class of its own. But who has the time? Plus, you are missing out on a lot of the action if you don't bone up on feta, gouda, mozzarella, edam, emmental and parmesan and the endless innovations in using them.
Cheese comes to India from all over the world and so there are many imported brands to choose from. But it is the cheeses made in India that are interesting and they come from places as far removed from each other as the Himalayan states and the deep south. You should discover the artisanal creativity with which they are crafted by Indian producers.
Many such cheese producers are small businesses driven by a passion for quality and sustainability. So, try them out as much for the inventive cheese as their evolved values.
Vegetarian cheese is firmly in with the use of plant-based enzymes for curdling milk instead of rennet taken from the stomachs of young calves. Also in, but not necessarily common, is the sourcing of milk from small dairies with indigenous species of cows.
Likewise, natural breeding gets better marks than artificial insemination. There is also an attempt to be inclusive with animals and thanks to such sensitive entrepreneurship, cheese from the milk of camel and goat has been making it to shelves.
Are these just fringe efforts by individuals having some public-spirited fun? Not entirely. Take the example of Käse, which is a brand launched in 2016 from Chennai. Since then, its sales have gone up from 100 kg of cheese a month to 700 to 800 kg and it's a continuously upward graph.
Brands like Käse begin small and with focus, but in a networked world get noticed. Customers, shops and producers discover each other. Numbers increase, but it is essentially a standalone mantra. Want to buy Käse cheese, go to Nature's Soul, Krishi Cress, Tall Tree and more such outlets. Or just go online.
Käse has begun shipping nationwide since January. But it is local loyalties that matter most both in building identity and moving stock quickly. So, as of now, we are told, 70 percent of Käse's market is in Chennai and Bengaluru while 30 percent is elsewhere in India.
STARTING OFF
Käse was started by Namrata Sundaresan and Anuradha Krishnamoorthy when they were wondering how they could help train young women with disabilities.
Sundaresan suggested that cheesemaking would be a good skill to impart. She had had her first brush with cheesemaking during a farm stay in Coonoor. She now has formal training in cheesemaking.
Käse began with finding a local doodhwala (milkman) and experimenting with basic kinds of cheese. Initially two girls with hearing impairment were trained. They made feta and mozzarella cheese for friends and family, who strongly approved.
As word spread, in the mail came an invitation to a farmers' market for which logo, packaging and a website were quickly put together in a day's time. Käse acquired the identity it has today. By 2017, Sundaresan and Krishnamoorthy had registered Kirke Cheese Pvt Ltd and their little effort became a company.
Within a few months, they had a retail presence using a chain of organic stores. Everything was happening in Chennai and their own Käse store in the city remains the hub of their business.
LOCAL AND ETHICAL
It is a business which underlines the need for being strongly local right from accessing milk and working with local micro-dairies, to recycling useful byproducts from the production process.
"We realized that the dairy industry can be unstructured and unethical because of how commercial dairying is done. Ethically sourcing milk for our cheese was one of the first things we decided," says Sundaresan.
Since only a small percentage of the milk is used to make cheese, it leaves behind whey as a by-product. For Käse, being a sustainable operation means providing this by-product to Blue Cross for their animals. They also occasionally send a healthy broth rich in proteins made from the whey to local orphanages to provide nutrition for children. As a long-term goal, they hope to create an ecosystem of producing cheese on farms with the communities themselves, as by-products can then go back into the farm in many ways.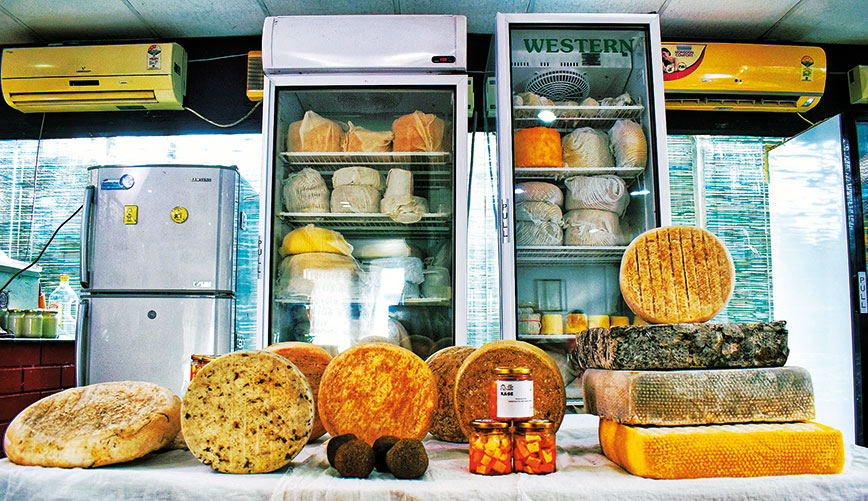 Käse offers 35 different kinds of cheese. This includes a smoked mozzarella with sun-dried tomatoes and rosemary in their aged cheeses and a variety of feta in their fresh cheeses priced between Rs 300 to Rs 500 for 150g.
CHEESE KIT
Käse wants to be a one-stop shop for everything related to cheese. So, it also offers a cheesemaking kit. The kit is complete with a mould, cheesecloth, a detailed instruction manual and rennet.
"The challenge with cheesemaking at home is that rennet, which is one of the most important components of coagulating milk, is not available for one to buy in small quantities," says Sundaresan, who hopes to provide individuals at home with an opportunity to experiment with fresh cheese like feta, mozzarella, cream cheese, or ricotta through the kit. Priced at `3,000 it makes for a great gift.
Most of Käse's workforce is made up of young women with disabilities. They are trained not only in making cheese but also given transferable skills needed to run a small business such as accounting, packaging, inventory management, labelling etc. Women with visual disabilities learn to take customer support calls.
"These are exceptionally smart women in their early 20s. One of the challenges is that the families of the girls do not want them to 'work in a kitchen'. It is not looked at favourably. So, they are trained in cheesemaking along with accounting, printing, packaging and keeping inventory," Sundaresan explains.
Another challenge is that some of the trained women, once they get married, do not continue to work with Käse, yet having transferable skills enables them to have the option of re-entering the workforce later in life.
ONLINE COURSE
If you have always wanted to learn more about tasting and making cheese, but have not been able to travel or find the time for it, you can take Sundaresan's three-day Online Cheese Course with the Academy of Cheese for Rs 18,000. You can learn the process of making cheese, maturing and preserving along with presentation and regulation of cheese. For the cheese-tasting lesson, 15 different types of cheese would arrive at your doorstep anywhere in India.
Krishnamoorthy's experience is with social enterprises. Sundaresan has been a business consultant, but as a foodie she has pursued cheesemaking as a hobby. She travels to learn methods of cheesemaking and tries to adapt them to local resources in her cheese studio in Chennai.
She has learnt traditional cheddar making at the Westcombe Dairy in Somerset. She has been a student of David Asher, a legend in natural cheese-making and she has completed a course at the New America School of Farmstead at Vermont. Sundaresan also helps individuals who wish to set up their own artisanal cheese-making business. Käse comes out of this happy mix of expertise, passion and social concern that Sundaresan and Krishnamoorthy stand for. In so many ways, the cheese is as original as Käse's founders.