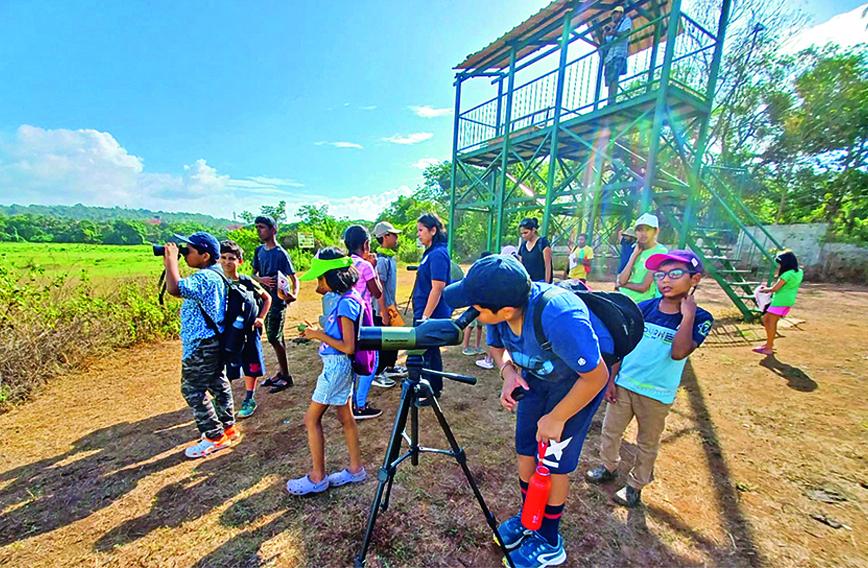 Observing birds creates emotional bonds with nature
Joy of birding: Walks for children from Early Bird
Usha Mahadevan
Published: Aug. 12, 2023
Updated: Oct. 07, 2023
BIRDS make the world go round. But where in the hurly-burly of cities should some joyous birdwatching begin? Try your balcony or the tree across the street or the neighbourhood park. Birds wait to be discovered everywhere.
Better still, check out Varsha Sridhar's Early Bird, which is part of the Mysuru-based Nature Conservation Foundation. They are on a mission to connect people, particularly children, to nature through birds.
Merely observing birds creates emotional bonds with the environment. It enriches the way people understand and respect their surroundings. In India it is easy enough to get connected because 13 percent of the world's species of birds are to be found here in diverse habitats.
It is the magic of the moment that becomes memorable and revealing. Watching birds in flight and hearing their calls can be unforgettable experiences and intimations of the intricacies of the natural world.

Early Bird aims to dispel the common misconception that birding must take place in faraway jungles or dense forests and requires expensive equipment. "The notion that wildlife exists solely in jungles is false. In reality, wildlife is all around us, and we are inherently connected to it," says Sridhar.
Myths, songs and folklore further make birds a part of everyday life. These links may be weakening, but so deep do they run that bringing them back may be simpler than it seems. "We are dedicated to nurturing and reviving this connection, particularly through our work with children, as they can take it forward in the future," says Sridhar.
For the past year, Early Bird has been organizing monthly bird walks exclusively for children in Bengaluru. Various public bird walks are being held by different groups in various cities but none of them caters specifically to children.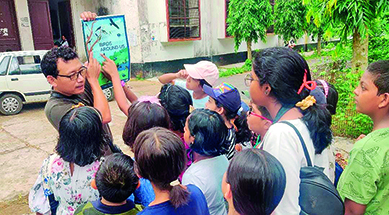 In Agartala, children gather round
When an opportunity arose for Early Bird to collaborate with the Rainmatter Foundation, the initiative was expanded to other cities. Tier 2 cities were chosen rather than large metropolises to hold the bird walks for children.
Early Bird reached out to its network of nature and bird educators to lead these sessions in Agartala, Dehradun, Panaji, Mysuru and Tirupati on June 10, 2023. During these walks, age-appropriate activities designed for children between nine and 13 years were conducted.
The walks followed a thematic approach such as bird habitat or behaviour. Typically, a walk begins with an introduction to the gathering and the itinerary, followed by about 45 minutes of birdwatching. The walks end with a session where children can express and share their observations, insights and newly acquired knowledge. While the walks are usually free, a nominal fee is charged for the materials provided such as field and spotting scopes.
POSITIVE RESPONSE
The response to the walks in all cities was positive, with children thoroughly enjoying the experience and expressing a desire for more frequent walks. They were seconded by their parents.
In Agartala, the walk was organized in collaboration with the Wild Tripura Foundation and was led by Dipak Sinha at the MBB College campus. The lush surroundings and abundant water bodies provided a picturesque backdrop for the event. The walk, divided into groups, allowed children to observe diverse bird species and learn about their habitats, behaviour and feeding patterns.
A captivating birdwatching session was held at Carambolim lake, Panaji, known for its rich birdlife and biodiversity. The walk was organized in collaboration with Arannya Environment Research Organization.
Using field scopes, the children were able to spot a variety of birds, including pied kingfishers, painted storks, oriental darters and more. A bonus was five crocodiles in the vicinity.
The walk in Mysuru's Kukkarahalli lake was an exploration of bird behaviour and habitat. It was led by Kiran Bagade of the Dharitri Collective. Observed here were nesting activities as well as a territorial fight between a coot and a spot-billed duck. Brahminy kites were seen soaring and little grebes preening. The feeding behaviour of bronze-winged jacanas was observed. The walk involved the categorization of bird behaviour into feeding, breeding and protection, along with a habitat memory game.
In Dehradun, the bird walk was organized at Gandhi Park, where young participants had the opportunity to observe hornbills through a spotting scope. Children were introduced to the essential elements of a bird's life: food, water and shelter. The walk was in collaboration with the Nature Science Initiative and was led by Raman Kumar.
The walk in Tirupati's Regional Science Centre was held in collaboration with the Indian Institute of Science Education and Research (IISER), Tirupati and was led by Raja Sekhar Bandi. This was an action-packed walk. A rat snake was mobbed by squirrels and babblers on a tree. A shikra hunted a rufous treepie and flew away with it, while the parents chased after it. Two hours flew by.
EDUCATIONAL MATERIALS
While birdwatching and bird photography as popular hobbies have grown rapidly, there is relatively little material for children on the subject. Early Bird has developed a variety of educational materials which can be used in the field, at home or in the classroom.
They include posters on common birds, a set of flash cards featuring 40 common species of India, and foldable pocket guides on familiar birds of different regions of the country. These are available in various Indian languages. Instructional videos have been prepared for facilitators, teachers, parents and children on effective use of the flashcards as learning aids.
The Early Bird website has several free downloadable birds-related activities and games for beginners. The interactive posters in eight Indian languages displaying common birds with their calls and descriptions can be accessed on the website. In an attempt to leverage the vast number of amateur birdwatchers in the country, the organization reaches out to enthusiasts who are interested in being bird and nature educators.
Early Bird has conducted more than 15 half-day workshops called "How to be a Birding Buddy" which are meant for educators, parents and individuals working with children. In these workshops, the skills needed for taking birds to children, as well as the material (print and digital) required are provided. Several workshops have also been conducted specifically for schoolteachers, some of them in collaboration with other organizations such as the Azim Premji Foundation, Agastya Foundation and Aakanksha Foundation.
Several webinars have been conducted on various bird-related topics, two online quizzes have been held for young birders, and talks given by scientists and bird enthusiasts. These webinars were conducted not only in English but also in Hindi, Kannada, Tamil and Telugu.
The organization is working towards creating a Young Birders' Network to help enthusiastic young avian watchers develop their passion for understanding birds.