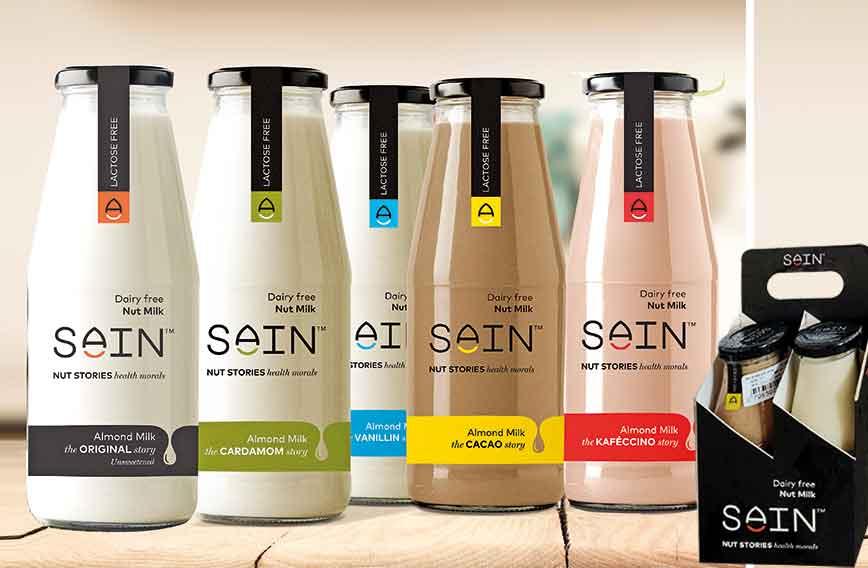 If you are off dairy, try the goodness of nut milk
Surmayi Khatana, New Delhi
Published: Aug. 12, 2021
Updated: Sep. 20, 2021
IF you are lactose intolerant, have dietary restrictions or are just vegan by choice, chances are you are looking out for non-dairy milk and can't find it. So, we did some searching for you and this is what we came up with online.
But first, for the uninitiated, non-dairy is what you get from plants and nuts. It could be extracted from almonds, cashews, soy or oats, among other options.
There is actually a growing variety of non-dairy milk in India and though you will get it in shops, the best place to look is really the internet because small producers ensure quality and freshness.
Often called 'Mylk', replacing the 'i' with a 'y', it puts a 'why' on the manner in which one consumes dairy.
We decided to test the market by buying almond milk from SAIN, a small producer in Gurugram who delivers quickly within the National Capital Region (NCR).
Fresh almond milk arrived at my door in sleek black packaging and glass bottles with SAIN stamped on the side. 'Cacao Story', the chocolate and hazelnut almond milk, rivals fancy milkshakes at coffee shops, with the benefit of having no added sugars and a boost of magnesium.
SAIN's journey began in a non-dairy milk aisle, when founder Sheena Jain could only find very limited options for plant or nut-based milk. Concerned about the health impacts and unethical nature of dairy milk, for "purely selfish reasons, I did not want to feed that to my children," so in 2017 SAIN was set up by Sheena and Tarun, her husband.
The great thing with SAIN is that you can customize your order. With a diverse range of options in nut milks, they offer milk made from oats, coconut, macadamia, hazelnut, and cashew. But they specialize in almond milk.
"With COVID it has been tricky. We are producing and delivering three days a week instead of daily and we have limited staff coming in," says Sheena.
Yet, a silver lining has been the support of their customers who have called and messaged and fitted themselves into the new SAIN schedule.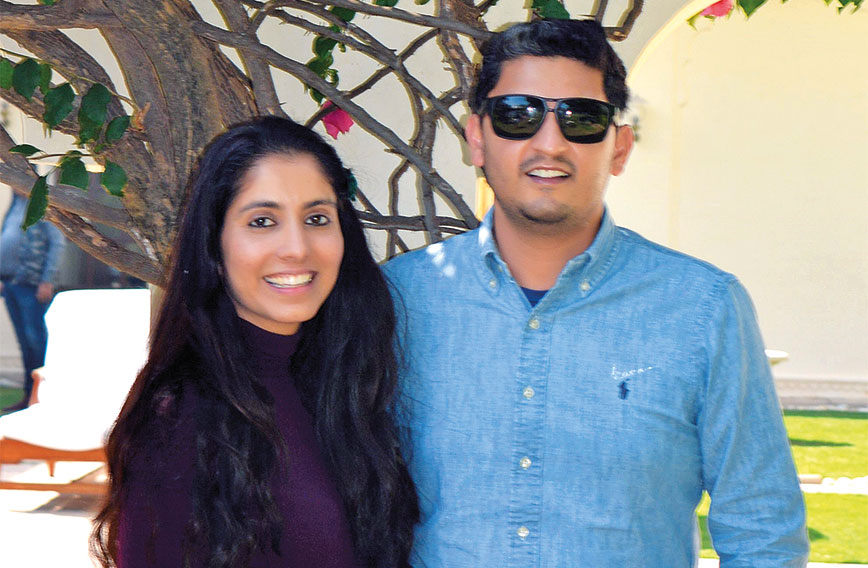 Sheena and Tarun Jain
Sheena says, "We have had a pretty good response. We feel very fortunate that the customers who started out with us are still with us."
In almond milk they offer a variety of flavours apart from their unflavoured original milk. Uniquely called 'stories', the almond milk includes the Cardamom Story with a strong flavour profile, a kick of caffeine in the Kaffeccino Story and there is also the Vanillin Story and the Cacao Story, which we went for. Each has a rich, creamy taste and comes in a 210-ml bottle.
SAIN prides itself on 'fresh' almond milk. "The milk is manufactured and delivered on the same day," says Sheena. One can place orders through WhatsApp, like we did ours, and be greeted with an enthusiastic and cheerful voice, ready to get your milk delivered in a hassle-free manner to your doorstep.
As with any innovative business, communication and information are important and extremely tricky. "People would sometimes think it is 'badam milk', or dairy milk with almonds in it and not milk made from almonds," explains Sheena, recounting her visit to an organic market in Gurugram in the initial days of her business.
Informing people about the benefits of almond milk in terms of the protein it provides and how it differs from (or is similar to) dairy milk has been a challenge. "Communication is an ongoing journey," she says.
The almonds are well-soaked to combat the hot weather of Delhi-NCR. Most of the milk production is done mechanically, avoiding touch, especially due to COVID.
"The product that comes out of our unit is something that will come to my home as well for my children," says Sheena.
A large percentage of Indians are lactose intolerant, which in a dairy-heavy country leaves individuals with very few mainstream options.
Ravi Kumar, co-founder of Bevry, realized the need for and potential of alternative milks like oat milk while searching for options for his lactose intolerant nephew. He got together with Pradeep Sanker and Avinish Jain to create an oat milk brand.
"We source our oats from Australia. We soak the oats for an hour and the enzymification process follows. After that the grinding of oats takes place," explains Sanker.
With the founders themselves functioning out of the three cities of Chennai, Delhi and Gurugram, Bevry delivers vanilla-cinnamon and choco-hazelnut oat milks pan-India. They also offer cold-brew coffees in a variety of flavours.
One can place orders online on their website. The oat milk company is glad to have consolidated a loyal consumer base in two years of functioning, "Almost 75 percent of our customers are repeat customers," says Sanker.
An outfit from Bengaluru called Goodmylk offers cashew and oat 'mylk', with the aim of making plant-based dairy accessible and affordable. Set up by Abhay Rangan, a vegan activist, Goodmylk started from his mother Veena's kitchen. She would make peanut curd that Abhay would deliver.
They now include vegan alternatives to paneer, butter and mayo. Their cashew and oat mylks come in an unsweetened original form, a sweetened variety and a chocolate flavour. And they deliver in different cities across India.
There are imported options too, like walnut and hazelnut in a rice base from Borges, which is a company with a hundred years behind it. You can find it on Big Basket or Vegan Dukan.
But if you want our advice, go for the products from the smaller outfits, preferably in your own city. They are produced with passion and care and can be customized to your taste.