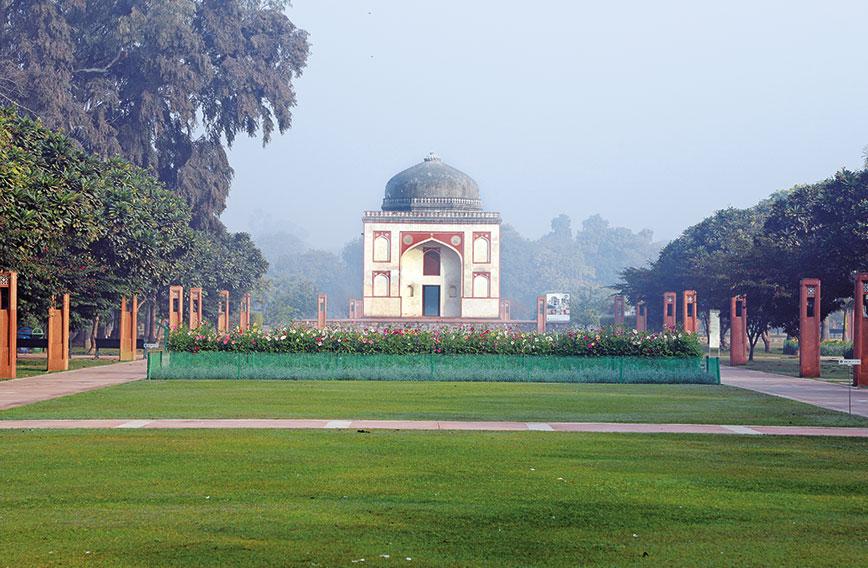 Sunder Burj as seen from the entrance of Sunder Nursery | Photograph by Shrey Gupta
At Sunder Nursery, history and nature come together
Rwit Ghosh, New Delhi
Published: Feb. 04, 2019
Updated: Jan. 30, 2020
New Delhi now has a vast green space in the middle of the city with resplendent trees, a sparkling lake, 15 historical monuments, a nursery, an arboretum and wildlife. This expanse of 90 acres is part of the Humayun's Tomb complex. Known as Sunder Nursery, the park was built by the Mughals in the 16th century and its original name was Azim Bagh.
After zealous revival efforts led by the Aga Khan Trust for Culture (AKTC), Sunder Nursery, now a heritage park, was opened for people to visit a year ago. A few finishing touches are being added.
When you walk into the park, the first monument you will see is the Sunder Burj. Stroll inside and note the intricate carvings of different ayahs (verses) from the Quran adorning its walls. Beautiful motifs line the monument and go all the way up to the inside of the dome. The intricacy of this art work is a reminder that Sunder Burj is no ordinary place. Though its tombs have long disappeared, the structure still stands, anonymously, since nobody knows who it was built for.
Mughal gardens always have flowing water. Inspired by this feature, behind the Sunder Burj there is a central axis through which water flows. Fountains in the shape of the lotus intersperse this clear channel of water. On either side there are places to rest, carved out of a single block of red sandstone with tiny motifs on the sides. Flower beds, tenderly maintained, flank the central axis.
Follow this channel of water and you will arrive at an artificially created lake that tinkles quietly. To your left is the Lakkarwala Burj, another UNESCO site. There is a miswak tree here, now completely hollow, that was brought back from the brink of death by the AKTC. They watered it, cared for it and kept it in isolation. Surrounded by smaller plants, the tree is now an impressive example of revival and heritage. All around the artificial lake are pavilions for people to come and sit and perhaps reflect.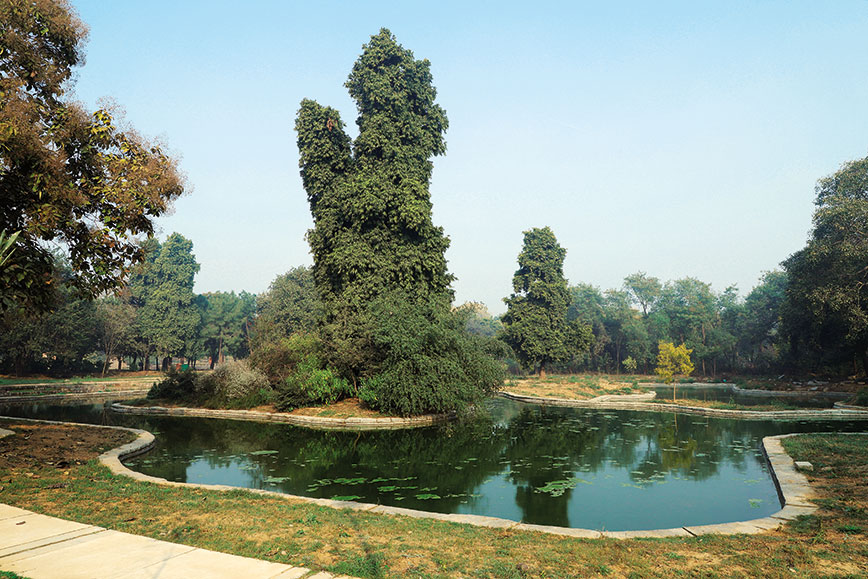 The park has lakes and channels of water | Photograph by Shrey Gupta
The path to Lakkarwala Burj is flanked by a bed of roses with 30 species on display. It is a sight to behold. Lakkarwala Burj, like Sunder Burj, has intricate art work inside. The difference is that it has an additional room attached to it which, many believe, was the home of the caretaker of the tomb, whose room is easily distinguishable by the lack of ornamentation. But, just like the Sunder Burj, no one knows for whom this monument was built and what its real name was. It was locally called Lakkarwala Burj and the name stuck.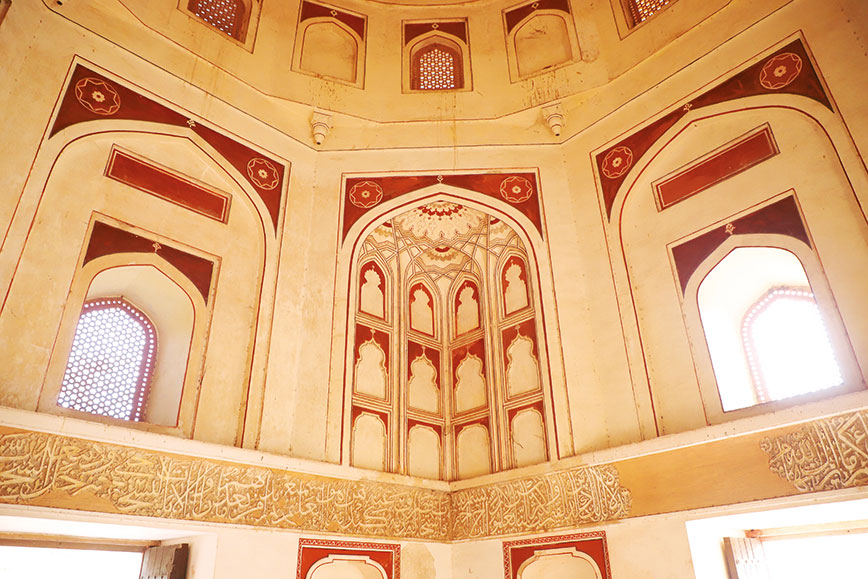 The interiors of the Lakkarwala Burj | Photograph by Shrey Gupta

Pause here and see if you can spot the owl who has become a permanent resident of the Lakkarwala Burj. The owl can usually be found sleeping in its nest on the western face of the monument or roosting on a tree to the west. Peacocks live in the tall underbrush here and appear from time to time. There are flowering trees here that serve as home for butterflies and migratory birds.
Delhi has four types of ecosystems and all four have been integrated into the park. You can find land that is dabur (marshy), kohi (hilly), khadar (riverine) and bangar (alluvial). These habitats attract insects and birds and are an educational tool that teachers can use to help their students learn about biodiversity and nature.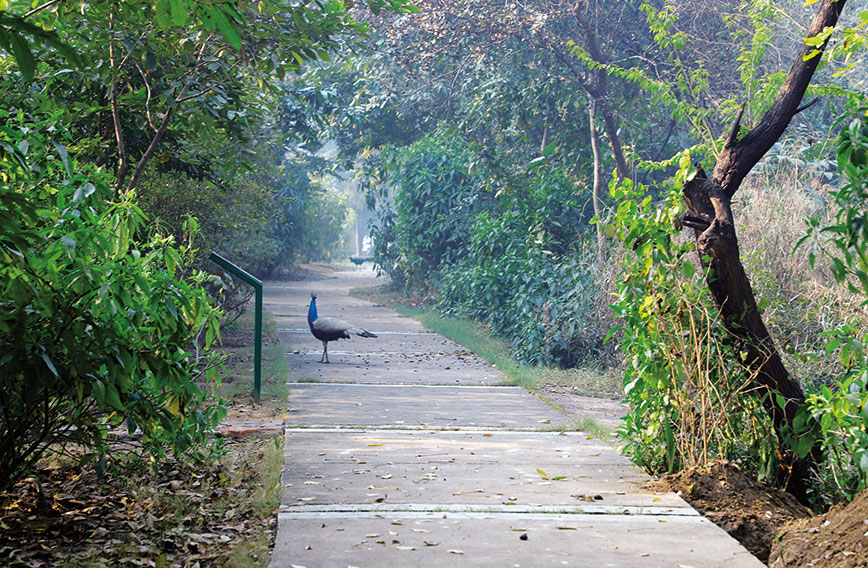 A peacock struts across the pathway in the biodiversity zone of the park | Photograph by Shrey Gupta

The eco areas make up a significant portion of the park. They have been left relatively untouched save for a single path that winds its way through the undergrowth and is ideal for reflection or quiet observation of nature or maybe just a nap in the sun on a winter afternoon. Often, a peacock might cross your path and stare at you languidly before retreating into the underbrush until he thinks it's time for a flourish of feathers.
What is particularly striking is the absence of litter of any kind in the park. Staff working here go to great lengths to ensure that Sunder Nursery is spick and span. There is an abundance of trash cans all around to ensure that waste disposal is never a glaring problem.
East of Sunderwala Mehal, a nobleman's tomb, there is an amphitheatre perfect for theatre, music or an artistes' gathering. It can easily seat 300 people and there's more space on the lawns behind. The amphitheatre is asking to be used. It is looking for groups to perform in it.
Plans have been drawn up for play areas for children to keep them occupied while their parents walk around. A restaurant is also in the works, to extend the park experience into the evening. Park authorities have ensured that there is ample space for people to picnic.
Entrance to Sunder Nursery is Rs 35 for Indians and Rs 100 for foreigners. An annual pass costs Rs 3,000, perfect for enjoying a park as impressive as Sunder Nursery.